Velvet Thruster Sex Toy Review (Frankie Thrusting Dildo, 7-Inch)
The Velvet Thruster Sex Toy was kindly sent by Velvet Co free of charge, in exchange for my fair and honest review here at the Cara Sutra sex blog. There are various types of Velvet Brands Thruster Dildos available; I have the Frankie in a playful mint green colour, which is a 7-inch handheld thrusting sex toy. Kinda like a mini portable sex machine!

Related: Sex Machine reviews | Huge Dildo reviews | Vaginal Toy reviews
Unboxing
Velvet Thrusters arrive in discreet outer packaging – just a plain brown cardboard box. The Velvet Thruster Sex Toy was packed securely inside, to keep it safe and from rattling about during transit.
The Velvet Frankie Thruster Sex Toy is presented in a glossy outer box, which has a modern design and features plenty of information about the adult product housed within.
Inside the box you find the Velvet Thruster Sex Toy – as mentioned, I have the Frankie, 7-Inch – as well as the charging lead, an instruction leaflet and a screw-in suction cup base.
Instruction Manual
Here's the instruction leaflet you get with the Frankie Velvet Thruster Sex Toy:
How To Charge Up
Frankie the Velvet Thruster Sex Toy is charged via the included lead, which is a power pack style with a 2-pin plug. I'm in the UK and was able to charge this toy using a shaving adaptor plug. The charging pin end goes into the port below the + and – buttons on the base of the thruster toy (NOT into the hole on the bottom – this is for the screw-in suction cup).
While charging, an LED glows red on the charging lead power pack – this turns to green once the device is fully charged.
Size & Specs
My Velvet Thruster Sex Toy measures 11.5 inches in overall length, with an insertable length of 7 inches. The maximum circumference of the shaft is 4.75 inches – it doesn't really deviate that much from a standard cylindrical shape, so it's approximately that circumference from rounded tip to the end of the insertable area.
This is a fairly hefty sex toy, weighing in at 558g without the suction cup attached, and 628g with the suction cup attached.
The Frankie Thrusting Dildo provides 3.2 inches of thrusting penetration, at up to 136 strokes per minute.
How To Operate & Settings
Switch on the Frankie Velvet Thruster Sex Toy with a quick press of the power button on the protruding part of the dildo's base. It starts on the slowest thrusting speed. Use the + and – buttons on the other side of the base to increase or decrease the thrusting speed.
Pressing the power button while the Thruster Sex Toy is on will reduce the thrusting motion to the slowest speed. The toy stops completely, automatically, after 3 seconds. However, if you press the power button quickly again, during those 3 seconds, the thrusting toy will completely stop all motion immediately. This is handy as you can stop the toy with it completely extended for easy, thorough cleaning – or completely closed for easy storage. Or simply stop the motion immediately because you simply can't take any more of its spectacular thrusting stimulation…
There are 6 increments of speed. The box states that Frankie the Thrusting Dildo has a bendable shaft, but I didn't feel comfortable bending it – I was worried about breaking it!
Cleaning
Although Frankie is water resistant, it's important to note that this isn't the same as fully waterproof – so take care when rinsing after use. The silicone sleeve is removable from the internal mechanised portion, which makes soaping up and cleaning thoroughly much easier. Then I just fit it back over the motorised element once it's clean and dry.
Suction Cup Base
As I mentioned earlier, the Frankie Velvet Thruster Sex Toy comes with a sturdy suction cup base. It's made of silicone and feels reassuringly durable. This base is affixed to the main toy via a screw-in operation; screw securely on to the bottom of the thrusting sex toy then you can attach it to any smooth surface.
Video
A short video showing the size and operation of the Frankie Velvet Thruster Sex Toy, including that erotic thrusting action!
How It Feels
After reading all the hype about Velvet Brands Thruster Toys, I was extremely excited to get up close and personal with my very own Frankie Thruster Dildo. I grabbed the water-based lube and prepared the toy and myself. I use the Frankie Thruster as a vaginal penetrative toy, but if you wanted to use it as an anal toy then potentially you could – just ensure you use plenty of lube.
First of all I tried it as a handheld toy, with me laid on the bed and Frankie ready for action between my legs. It soon became apparent, though, that for the best thrusting experience I needed the toy to remain in one position while the thrusting action did its thing in and out of me. Holding this powerful toy in my hand meant that the thrusting action just made my hand move back and forth, rather than the motion translating to the dildo portion moving in and out of me.
Undefeated, I attached the suction cup which is easily screwed into the base of the toy. That made the play session so much better! I tried it first against a smooth door frame (like up against a wall, but the suction cup needs a smooth surface to adhere firmly to so the gloss-painted wood surround was superior to a painted wall). Absolutely mind-blowing sensations. I didn't think I'd be able to enjoy a similar experience to a full-size fucking machine like the HiSmith Premium or F-Machine Gigolo in a hand-held, portable dildo toy – but there I was, getting sensationally fucked by this extra-large dildo with powerful motor mechanism.
For future thrust-tastic pleasure sessions, I tried different smooth surfaces upon which I affixed the Frankie Thruster Sex Toy, then enjoyed an ecstatically relentless ride to bliss. The shut lid of the loo, the side of the bath, a tiled floor… the suction cup wasn't going anywhere, but I certainly was. Orgasmic oblivion every time.
That said, I'm so glad I lubed up prior to play and kept the lube nearby throughout. It's an essential for me when it comes to using the Frankie Thruster Sex Toy. The silicone dildo thrusting in and out of me – at high speed, my usual preference – means that any of natural lubricant is used up and dissipates pretty quickly. Keeping the lube nearby means I can add a splash more when required and makes for a more comfortable, supremely sensual session.
Downsides to the Frankie Thruster Sex Toy:
The noise. It's just so noisy during use, due to the internal thrusting mechanism. I'm not sure how this is resolvable in future releases of this, or any, thrusting sex toy. It's quieter than the full-size fucking machines I've experienced, and the ride-on Sybian sex machine. But it's still loud during use, even on the lowest thrusting level.
Another point needs to be knocked off for the Frankie Thruster Sex Toy only being water-resistant, not fully waterproof. This means I need to be extremely careful during clean-up after use, and I can't use it in the shower or bath, or submerge it in water for any purpose. Again, I'm not sure how or even if this issue is resolvable in future releases of Velvet Brands Thrusting Toys, but it's something to bear in mind.
Summary
After enjoying my Frankie Velvet Thruster Sex Toy during several sensational play sessions, I feel that this thrusting dildo is fantastic if you're looking for:
A thrusting sex machine style dildo which is cheaper than a full size fucking machine.
A thruster toy which is much smaller in size than a full-size sex machine, therefore easier to store in your home & easier to get out and use.
A thrusting sex toy which provides sex machine style penetrative stimulation in a small and portable size, for away-from-home thrusting playtimes. Just pop it and the charger into your 'naughty weekender' bag.
Something different to the countless standard dildos, vibrators and rabbit-style sex toys available.
A customisable sex toy; you can choose the colour of the dildo part and the handle part, so you could get them matching your favourite of the colours available, or contrast with two different shades. As well as Frankie with its smooth head and collar ripples, there are various other styles and sizes to choose from (see image below).
Factors to keep in mind if you're considering purchasing the Velvet Thruster Sex Toy are:
This is a thrusting sex toy – it only has thrusting settings, it doesn't vibrate. It's a thrusting dildo, not a thrusting vibrator.
You will likely need an ample supply of lube, and I preferred to use water-based lube during use.
The Frankie Velvet Thruster Sex Toy is water-resistant, not fully waterproof. This means you can only use it in non-aquatic environments. To clean, just rinse the end, don't submerge the entire toy in water – or, you can remove the silicone sleeve to clean thoroughly and replace it on the mechanical toy once dry.
The toy charges via a mains plug with power pack along its length, similar to how you plug in/charge up a laptop. It isn't USB rechargeable.
This is a noisy sex toy so it's likely that you'll only use this toy in an empty house and/or with your partner. It isn't one for a discreet quickie orgasm if you've a house full of kids, a lodger in the next room, or builders fitting a new kitchen etc. Or, you might choose to enjoy the thruster sex toy with all its unapologetic noise with the security blanket of anonymity in a hotel room.
Buy Your Frankie Thrusting Dildo Today
If you'd like to experience the thrusting delights of the Frankie Thruster Sex Toy – or any other thrusting dildo from the Velvet Brands range – for yourself, just click through the big green button below!

Thanks so much Velvet Brands for sending me the above product free of charge, in exchange for this fair & honest review here at carasutra.com.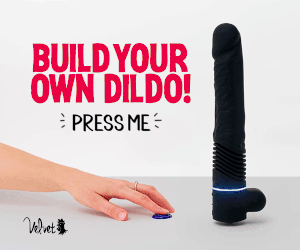 Sponsored review