UTIMI G-Spot Rabbit Vibrator Review
By Pleasure Panel reviewer chubbehbubbles
The product I will be reviewing for you today is the UTIMI G-Spot Rabbit Vibrator in the color magenta.
First of all I have had the UTIMI G-Spot Rabbit Vibrator for about two years now and I wish I still had the packaging this baby came in so I could photograph it for you (I have attached a photo from the website for reference purposes). It comes in thick smooth white box (texture and quality of box are comparable to apple iPhone boxes) that is elegantly designed with a very relaxed looking woman in a water color graphic design, she is  surrounded by bright splashes of pink with the words "Magic Gift" under the UTIMI logo.
The graphics on the box and the quality of the box are so well done you would think it contained a high end designer perfume and not this vibrator. Upon opening the box I found not only the UTIMI G-Spot Rabbit Vibrator but an elegant red silk bag and a user guide that also contained information about the toy itself, their factory guarantee and their limited warranty.
The UTIMI G-Spot Rabbit Vibrator is advertised as medical grade silicone. Personally silicone is my favorite because to me it feels most natural in comparison to real skin. This vibrator did not let me down in the material department, it felt great in my hands and I was eager to test it out. Some things to note, the vibrator itself is waterproof but the handle where you hold it and the batteries go in is only splash proof with a screw on/off cap, this particular model takes two AA batteries that are not included.
This UTIMI G-Spot Rabbit Vibrator was much larger than expected. When I looked at the pictures online it looked a bit smaller, it is not huge to the point that it was uncomfortable but when I was getting ready to use it I was not sure if I could handle it. I advise using plenty of water based lube, making sure you are thoroughly aroused/relaxed and taking your time, of course everyone is different but this is what worked for me. I included a quarter in my pictures for size comparison, as you can see the clit stimulator is as big around as a quarter and the head of the shaft is a little bigger than that. The vibrator gets a little wider just below the head and then gets slimmer just before the clit stimulator which creates a nice full feeling and creates easier insertion especially if you are on the smaller side.
Once inside of you it contours very well the body, for me personally it sat perfectly on my G-spot and clitoris without having to adjust anything.
This UTIMI G-Spot Rabbit Vibrator contains two motors, one at the head of the shaft, in addition to ridges just below the head on the shaft that mimic a thick foreskin, and one in the clit stimulator. While both motors are very powerful, the motor in the head of the shaft is much stronger than the one in the clit stimulator. Both the head of the vibrator as well as the clit stimulator are extremely flexible in all directions but at the same token they have a very nice firmness and are not limp.
Due to the flexiblity of the UTIMI G-Spot Rabbit Vibrator, if you turn it 180 degrees while inside of you, you can turn the clitoral stimulator into a backdoor stimulator.
The lights on the mode button of the UTIMI G-Spot Rabbit Vibrator change with each different mode on this vibrator which I though was really creative and fun as well as thoughtful because if you really enjoy a certain mode you just have to remember the color that matches it, there are 10 modes in total.
Mode one is very strong and upon my first use I climaxed within 5 minutes, be prepared, and hold onto your wig, this toy is serious business. In subsequent uses I did notice that the location of the modes button and the power button and their proximity of each other can be inconvenient if you are not paying attention in the heat of the moment and you can accidentally shut it off seconds before climax which happened to me a handful of times.
Another thing I would add is that the UTIMI G-Spot Rabbit Vibrator uses up batteries fairly quickly especially if you are using it often. I personally have yet to own a rechargeable toy but compared to some of my other battery operated toys it is in the middle as far as battery consumption, its not extremely battery efficient or extremely wasteful. I would say you can use it for a good 10-12 times with usage time varying between 10-30 mins. on one set of batteries before needing to change them. The batteries won't die after that many uses but you will notice a significant decrease in the power of the vibrations.
For the $15 I paid for the UTIMI G-Spot Rabbit Vibrator, I was NOT expecting this level of quality or fun. While advertised as "silent" I would not say so myself, it is comparable to the sound of someones phone vibrating next to you so it is audible but not extremely loud. My husband can hear it any time I turn it on if he is in the same room but if he was just outside the door he would not be able to hear it.
The UTIMI G-Spot Rabbit Vibrator is very easy to clean and if you don't know how to, no worries it is stated in the user manual. All in all, of the toys that I own it is one of my favorites and I would recommend this product as the very few cons I found with this product were vastly outweighed by it's pros.
Pros of the UTIMI G-Spot Rabbit Vibrator:
Ergonomic and realistic design
Minimalist design
Medical grade silicone
Flexible yet firm
Durable
Affordable
Strong motors
Easy to clean
Quiet
Multipurpose – foreplay, vaginal, clitoral, backdoor
Cons of the UTIMI G-Spot Rabbit Vibrator:
Battery consumption
Button location
Bigger than expected
Not entirely waterproof
Not silent as advertised
– chubbehbubbles
---
Where To Buy
Thanks to Pleasure Panel reviewer chubbehbubbles for this review of the UTIMI G-Spot Rabbit Vibrator in Magenta. Buy yours today by clicking below: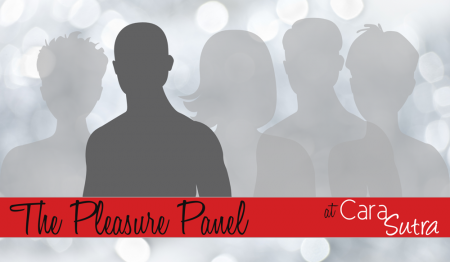 Contains affiliate links.