Trojan Chain Reaction Lubricant Review
Trojan Chain Reaction Lubricant review by Karma Love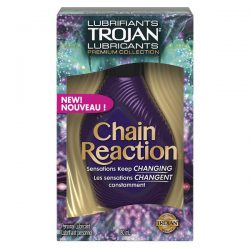 What is the most un-glamorous but almost always necessary erotic product, one that all of us consenting adults who like to play probably have near the bed or in the bureau sex toy drawer at all times?  What is the one thing that has made every single guy that I have ever touched with it tilt his head back and give a moan, the moment it is first applied?  Lube!
The lube makes all the difference…  though, toy cleaner, yes, is less glamorous.   But, lube is the base of so many encounters, and it often is just seen as utilitarian, with the toys as the star of the show.  As someone who loves hand jobs, I have to say the lube does amazing things to the sensations that a man has!  And women as well.
I have a sort of a fetish for handjobs (among other fun stuff) and I have had many different casual encounters with men who really loved laying back and getting off that way.   I think that besides at least one breathing hard, ready to go body, a good lube is really the only thing needed to get the full enjoyment out of the very sexy situation.
I have gone back and forth about which type I like more, the water or silicone based, or the hybrids… and I usually purchase at the local sex toy boutiques, that's the obvious choice because of the selection.  But what if it's 2:30 AM  where you are in the United States, you've just come from the bar and wanna get freak nasty with your babe… there are very few cities that have all-night sex toy stores.  What is open?
Well, it's a Walmart world, people.  And that is what is open all night, every night, and that is where I found myself, standing in the pharmacy section of products, looking for lube.  I am happy to say that the mainstream must be opening up sexually, because when I was growing up, there were no lubricants or cockrings with vibrators on the shelves in Walmart!  Just condoms. But now they do have a good selection, with several shelves full of sexy stuff and things to make your erotic night sweet.  And they also still have the condoms.
I picked the Trojan Chain Reaction Lubricant because the package professed to provide an experience!  "Sensations Keep CHANGING for Non-Stop Thrills", and the factory had even added an extra step of putting a sticker on the outside of the package with a quote from an Actual User Review, "Mindblowing!", and then the full five stars.  Knowing what I do about lube, and how much I enjoy hearing my lover make that moan of ecstasy when it's applied to his swollen hotness, I was very excited to try it.  I wanted to see if it did deliver, as it said, a thrilling roller coaster of sensations.
Chain Reaction comes in an attractive, colorful package, and is held firmly in place with another molded gold piece of plastic, and the bottle is just plastic as well but it's pretty, and as close to a premium kind of lubricant that you can get at Walmart, I believe.  I love the purple!  I have tried the other Trojan Lubricant Premium products that you can get at Walmart, and Target, and other one stop shops.  But this one is the best!
Nice thick feel, nice slide and glide, yet not super sticky like other lubes that are not premium can be, it got me that extra yummy moan at the beginning and then some… the change to heat is interestingly delayed, but when it comes on, whoa is it hot!  It is compatible with natural rubber latex and polyisoprene condoms, but not polyurethane or others.  I also used some with my clit vibe, my pocket sized best friend who goes everywhere with me.  And it was a very powerful sensation!
If someone is extremely sensitive and has reactions to products a lot, I would say maybe this is too much.  I would approach with a wet cloth if that was the case, to wipe it off if need be.  But for the rest of us, this is a super fun lube, with strong sensations, and I totally recommend it!  My guy friend said he would describe it (and me) as, excellent.
I give it a 9 out of 10 stars, and I'm going to go wake my friend up with it right now.   Cheers!
– Karma Love
---
Where To Buy
Thanks to Pleasure Panel reviewer Karma Love for this contributed review of the Trojan Chain Reaction Lubricant (this is a silicone based lube).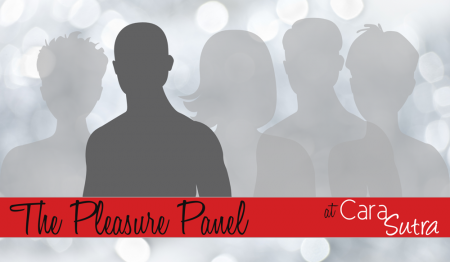 This review contains affiliate links.