Tracy's Dog Liquid Silicone Cream Realistic Dildo Review
By Pleasure Panel reviewer Meitiman
I had never heard of Tracy's Dog before I agreed to review the Tracy's Dog Liquid Silicone Cream Realistic Dildo with suction cup, so I wasn't quite sure what I was signing up for. Now that I've put it through its paces, though, I'm so glad I got this chance to review it. It's a dildo made with body-safe materials and has a great feel. It's definitely made it into my top-tier list of bedroom accessories.
Let's talk about the details. The Tracy's Dog Liquid Silicone Cream Realistic Dildo is made with 100% liquid silicone, which means that you're getting a dildo that is odourless and non-toxic. It's safe for your body and even marked with FDA approval. It will even retain some temperature variation. Try cooling it down for a few minutes in your fridge to add a new sensation to your play time. The fact that it's made with all silicone means it's simple to clean after use. You can wash it with mild soap and water, use a toy cleaning liquid, or even throw it in your dishwasher. It's completely waterproof so there's no worries about clean-up.
The Tracy's Dog Liquid Silicone Cream Realistic Dildo measures in at 8 inches in length, 6.27 inches of that being insertable. It has a diameter of 1.51 inches. It has a flesh colour with a little rose red shade. It's a realistic-looking dildo, complete with testicles and veins to add texture. The material has a nice velvet-like feel, but can be a little "grabby" so a water-based lube is recommended. It also has a suction cup which works great for mounting it to your headboard, shower wall, a mirror, etc. The suction-cup base also allows this toy to be compatible with a strap on harness.
It comes in a minimal, but attractive-looking package that is easily recyclable. It's not too obvious what is hiding inside. Each side has the Tracy's Dog logo, company name, and company website displayed. Inside the box is a very nice velvet-like drawstring bag for storage that has the same information displayed on the box in silver lettering. The Tracy's Dog Liquid Silicone Cream Realistic Dildo comes wrapped in a plastic, Ziploc-type bag.
My wife and I enjoy using a dildo with a strap on harness in our bedroom play. We were using one similar to this dildo, but it was a little longer and not as thick. The problem was that it was too flimsy, so it worked well in some positions, but not very good in others (like me being on top).  The Tracy's Dog Liquid Silicone Cream Realistic Dildo, however, is much better. It's got a decent amount of length. It's not as long as our previous strap on dildo, but it definitely makes up for it in girth. It's actually pretty easy for the average user (maybe not beginners, though) to get it inserted, but reaching the testicles on this toy made me have to pause to adjust. A little bit of warm-up is advised or at least a partner who is good about not thrusting to vigorously before you're ready. As with any anal play, good communication is of extreme importance.
Once I adjust, though, this dildo really rocks my world. It's got enough length to hit all the right spots, but also the girth to give me a really full feeling. It works well for all speeds of thrusting. This dildo has a solid core, but still manages to have some flexibility. It worked great for me being able to get on top and ride it. It also worked great attaching it via the suction cup to my shower wall and thrusting back against it. The dildo stayed attached to the wall for as long as I wanted to play.
Overall, I'd give this dildo a 9 out of 10. I love everything about it. It's made with great materials, has a nice girth, good feel, but I wish it were just a little longer. It would help with some positions for anal play. About another inch of insertable length would be perfect.
I'm so happy that I crossed paths with this dildo. It's a perfect fit for my wife and I's strap on play and has moved to the top of our list. I'm also pleasantly surprised with the company, Tracy's Dog. I had no knowledge of them before this experience, but they seem to be a company that cares about using safe, quality materials. I'm thankful for the opportunity to have tried this dildo in exchange for an unbiased and honest review.
– Meitiman
Editor's Note
Buyer beware: It has become apparent that the Tracy's Dog manufacturer are being at best cagey & at worst downright dishonest about the materials used in their sex toys & intimate use products. For a thorough examination I recommend you read respected sex toy reviewer Dangerous Lilly's post here before making up your own mind. I personally will not be using any of the Tracy's Dog sex toys, and all CaraSutra affiliations with this manufacturer have ceased as of January 2017.
---
Thanks to Pleasure Panel reviewer Meitiman for this review of the Tracy's Dog Liquid Silicone Cream Realistic Dildo (US $20.99 from Amazon.com which converts to approx £16 at today's rates)
This dildo was sent free of charge, in exchange for a fair and honest review by the Pleasure Panel, by Tracy's Dog sex toys.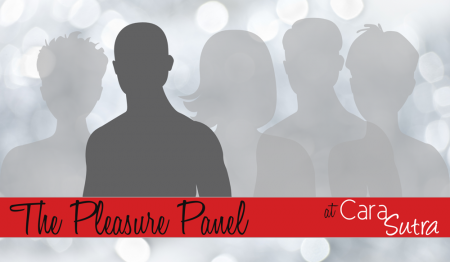 Contains affiliate links.