Swiss Navy Premium Silicone Lube Reviews
Hi readers! I was recently sent an enormous batch of Swiss Navy lubricants free of charge in exchange for our fair and honest reviews here at the Cara Sutra sex blog. Eight reviewers have provided their thorough Swiss Navy Premium Silicone Lube reviews, and I'm delighted to share them with you below.


Enjoy all our sexual lubricant reviews & Clonezone reviews 
Supercutesecret's Review
I was given the opportunity to test out a couple of lubricants from Swiss Navy by Cara Sutra from her March round of the Pleasure Panel, so thank you as always! This is the review for the Swiss Navy Premium Silicone Lube.
First Impressions
First impressions of the Swiss Navy Premium Silicone Lube were very good. I mean, it's a lubricant, so there isn't too much it can do wrong at first glance! I received three mini bottles of this, all with cap lids, that you then squeeze lube out of. For anyone super cautious about hygiene, there is a seal on the opening of the bottle, which you have to unscrew the cap to remove, so don't worry about any sort of contamination with this product. The cap lid makes it super easy to squeeze out however much product you want, wherever you want, and the tiny bottle size makes it super cute, and easy to store and travel with if that's something you need. I also like that the bottle is transparent, meaning that you can easily see how much lube is left in the bottle.
This Swiss Navy Premium Silicone Lube is the first silicone lube I've tried. I've used a couple of hybrid lubes in the past, but this is the first one that I've used which is a totally silicone one. My basic thoughts are that it feels a bit odd… but I kind of like it.
How It Feels
I first tested the Swiss Navy Premium Silicone Lube out the back of my hand, to get a feel of the consistency before it went on my nether regions. Safe to say, it wasn't what I expected to come out. It is super runny, like damn near water runny, and if you give it a rub into your skin it absorbs in literally a second. It leaves no smell (literally none!) and the only trace of it being there is a slight extra softness and smoothness on your skin, which I probably wouldn't have noticed if I didn't know it was there (it kind of reminds me of a silicone make-up primer if you have ever used one of them). Whilst I was happy it isn't a lube which leaves sticky/tacky residue, this speed of absorption wasn't giving me great expectations for longevity in use. Still I proceeded…
During Use
This Swiss Navy Premium Silicone Lube is surprisingly good! During use I used it vaginally and it totally did the job. I didn't put a huge amount of lube on my dildo, but I didn't have to reapply once. Although I couldn't actively feel it during my play, I could feel that I was definitely lubricated well enough throughout.
I think this is perhaps a lube which on something purely dry will probably absorb, however if mixed with something fluid, such as once inside the vagina, it will keep the fluid in place and won't dry up in that scenario. For this reason, I would definitely not recommend it for anal play, since there is no natural lubrication on that part of the body, but Swiss Navy have a specific anal lubricant designed for that purpose anyway (which I will also be reviewing shortly).
A tiny thing that I did very much like about this Swiss Navy Premium Silicone Lube was that, due to the lack of discernible scent and texture, when I was done with my play and was admiring my juices on my toy, I could also lick them off and didn't taste or feel any additional lubricant along with it. That's just a personal thing I love doing, but if any of you reading this also enjoy that, I guess it's a small perk for you guys too.
Summary
All in all, I very much like the Swiss Navy Premium Silicone Lube and would highly recommend it. I would perhaps not recommend it to people who really dislike runny lubes, but that's pretty much the only thing I can fault. Good job Swiss Navy!
9/10
NatandTom's Review
I received the Swiss Navy Lube 6 Pack to test and review as part of March's Pleasure Panel round. Huge thanks to Cara and Clonezone! This review is specifically for the Swiss Navy Premium Silicone Lube which made up half of the pack. These bottles are absolutely tiny (each contain 20ml of product) which makes them perfect for sampling before purchasing a larger bottle and/or ideal to travel with.
First Impressions
Each bottle of the Swiss Navy Premium Silicone Lube came with a hygienic seal, which is reassuring for those of us who like peace of mind in knowing that our product hasn't been tampered with. Once the seal is removed, screw the cap back on, flip the lid up and squeeze the bottle to release the lube.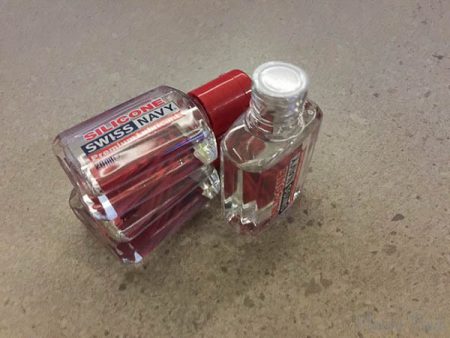 It does come out quite quickly, so be careful not to squeeze too hard. I decided that I'd do a quick patch test on my partner and I before we used the Swiss Navy Premium Silicone Lube. I've never had a reaction to a silicone lubricant before but as I have sensitive skin, it's best to behave on the safe side. It contains no Glycerin, Proplyene Glycol or Parabens and I'm pleased to say that no irritation occurred.
Consistency
I was quite surprised by the consistency of the Swiss Navy Premium Silicone Lube as it wasn't what I had expected. When I think of silicone lube, I usually think of thickness. I've tried multiple silicone lubes from different brands and all of them have been gel-like in consistency, but this one doesn't feel much thicker than an average water-based product. This had me thinking that I'd find this lube useless, especially following my experience with the anal version, but again, I was surprised.
As the Swiss Navy Premium Silicone Lube isn't marketed/labelled as an anal product, I can look past the thickness (or lack of it). It is a bit thin and runny for my usual tastes. However as we've been using it for masturbation and vaginal play, I haven't needed the thickness of an anal lube. I found it to work just fine for those purposes, whether I was using a toy or having penetrative sex with a partner. It removed friction, causing a slick and easy glide. It also lasts a long time and didn't need reapplying once.
During Use
I'm happy with the texture and the way that the Swiss Navy Premium Silicone Lube feels once applied. There's no stickiness, greasy feel or oil-like residue that remains after use. It massages into the skin well and leaves a refreshed, hydrated feel. It obviously is harder to remove from a toy than a water-based lubricant as you'd expect, but again, there's no residue or sticky aftermath to deal with. A good scrub with soapy water will get any traces removed.
Summary
In conclusion, this is definitely the better product in this pack. I wouldn't have minded if it had been slightly thicker, but it's not a bad product as is. I like the slickness, longevity and the fact that it's odourless, unlike the anal version I reviewed. I'd be happy to use the Swiss Navy Premium Silicone Lube again as I think it's a good, affordable silicone-based lubricant for masturbation and PIV sex. I would not recommend it for anal play though unless the plan is to use something small like a finger or beginners plug.
8/10
Poppycat22's Review
Until I started to be interested in and enjoy sex toys, I hadn't really bothered with lube. It always felt like something that was unnecessary, but boy was I wrong! I had no idea the impact a different lube could make to an experience, so when these little bottles of Swiss Navy Premium Silicone Lube became available for review, I was excited to try them.
Presentation & Packaging
They're really cute little bottles that are perfect for throwing in an overnight bag or just for keeping a fresh supply (I have a few standard size bottles of other lubes around that I can't seem to use up) They're no bigger than my contact lens case and although I've used the first bottle quite often to test, it's barely made a drop in it, a little goes a long way. They come with a white security seal on top of the bottle that needs removing before use and a flip cap on top for easy dispensing. The tidy freak in me also likes the fact that if it gets knocked over during play, it's not a huge quantity to clean up.
During Use
I haven't really played with a silicone lubricant before, so didn't know what to expect, this is very runny and got everywhere! I tried testing it with my njoy pure wand but it made holding it safely nearly impossible. The next time I was far more prepared and applied it with my other hand to keep the one holding my toy dry/not slippy. There's no scent, a lasting effect and no irritation from use, I feel totally converted from water based lubes. In the name of science I even smudged some over the back of my hand to see if it would leave a taste, happily it didn't, just felt slightly oily, which was to be expected.
Summary
I'd definitely recommend the Swiss Navy premium silicone lubricant, especially in this size bottle. The only negative I can draw is that I'd prefer it was thicker, and therefore easier to apply accurately so it's 8/10.
StrapOn_Banana's Review
This month we were delighted to be reviewing some lubricants for the lovely Cara Sutra, As one says you can never have to much LUBE ! this is our first time with silicone lube, we have a lot of silicone toys and the 2 don't mix well so bear this in mind when making purchases of any silicone based lube.
First Impressions
We received a small discreet 20ml airport friendly bottle which is sealed under the cap and once opened has a flip up cap for applying the lube. The labelling on the Swiss Navy Premium Silicone Lube bottle is good the first thing you see in big bold highlighted red letters is "SILICONE" for me owning sex toys made with various materials this is important information and I'm pleased it's made obvious.
Consistency
The consistency of this Swiss Navy Premium Silicone Lube is really quite watery similar to the Swiss Navy Anal Lube I'm not normally a fan of watery lubes but as this wasn't advertised as an anal lube we thought we would give it the benefit of doubt and test for regular skin to skin vaginal sex. And yes to my surprise given how watery it was it actually worked really well a little went a long way and it was long lasting frictionless intercourse with no complaints from either of us.
Smell
Unlike the nasty smell we encountered from Swiss Navy Premium Anal Lubricant we found this Swiss Navy Premium Silicone Lube to be odourless. Thank goodness!
Conclusion
Having reviewed the Swiss Navy Premium Anal Lubricant earlier in the month and scoring it only 4/10 we weren't holding out for much but to our pleasant surprise unlike its anal counterpart this does what it says and delivers results for the job its intended, Anal sex… No regular vaginal intercourse…. Absolutely.
7/10
Minnie's Review
I was kindly sent the Swiss Navy Premium Silicone Lube by Cara Sutra and Clonezone in return for a fair and honest review.
Initial Thoughts
Before trying out this lubricant, I was unaware that Swiss Navy even made lube. Actually, I wasn't even aware that Switzerland had a Navy! I mean, we all know about the Swiss Army knife, so maybe the Navy are trying to get in on the act!
But seriously…
Size & Dispensation
The bottle of Swiss Navy Premium Silicone Lube is quite small, more a sample or tester size letting you try before you buy a larger size.
Unscrew the red cap to remove the protective safety seal and you're ready to go.
I put a dab of Swiss Navy Premium Silicone Lube on my finger tip and rubbed it between thumb & finger. It seemed slippery enough with little or no odour, though it did seem to be absorbed into my skin quite quickly.
During Use
I'd be using the Swiss Navy Premium Silicone Lube for anal play and was hoping that the lube would be suitably 'gloopy'. Sadly it was not, it was pretty much as runny as water. Usually when playing with my butt plugs I use Doc Johnson Anal lube which has the viscosity and consistency of Vaseline or KY Jelly and stays on the plug while I'm inserting it.
The Swiss Navy Premium Silicone Lube was far too fluid even when applied to both bum and plug.
After use there was little residue left and it was easy to wash off with ordinary soap and water.
I'm sorry to say that based on my experience I can't recommend the Swiss Navy Premium Silicone Lube for use during anal play.
5/10
Meitiman's Review
This Swiss Navy Premium Silicone Lube was my first experience with the company. I've used a variety of different lubes in the past, but I've yet to come across this particular brand. So far, I'm not that impressed. The lube was OK, but there wasn't much reason to choose it over other lubes that you'll find more readily.
Silicone lubes can be great options for sex, especially in wet environments like showers or tubs. They are more resistant to sources of moisture and don't wash off so easily without the use of soap. They typically provide long-lasting slippage during sexual activities without the need to reapply as frequently. Like water-based lubes, there are different consistencies to consider. For instance, this particular lube is more fluid and moves freely, similar to the way water would. It can be a little runny and not always the easiest to apply. It's also a good idea to spot test silicone lubes on your toys if they're also silicone. Sometimes different types of silicone can react poorly and can cause damage to your sex toys.
This Swiss Navy Premium Silicone Lube didn't have too much of a chemical smell. There is a hint of it, but not enough to be out-of-the-ordinary or unpleasant. I also tried tasting it (in the name of science) and it that also, wasn't anything too unusual. It's definitely not a taste you're going to want to try if you can help it, but you're not going to have to rinse your mouth out if you happen to taste some of it off your partner's skin, your hands, etc. I'd consider the taste and smell pretty standard as far as non-flavoured lubes go.
With the basics out of the way, I decided to try the Swiss Navy Premium Silicone Lube out in the shower, as well as out of the shower. Out of the shower, the lube seemed to work pretty well for vaginal sex with my wife. It didn't blow me away, but it did help with some friction and made sex a little more pleasant. It does not compare to a true premium product like System JO, but it will get the job done OK for the most part. I didn't notice too much that made me consider it before, during, or after sex. It did seem to leave my skin a little softer.
In the shower, however, was a different story. The Swiss Navy Premium Silicone Lube did not seem to work too well, even when I stayed out of the direct stream of water spray. I applied some and it did help with the friction, but things never felt slippery on my skin. I reapplied frequently, but I could never get a very good amount of slippage during play. That surprised me a little, because the product is so runny (like water) and was a little more difficult to apply or keep on during use because of this. I feel like it easily ran onto the floor of the shower and made the floor very slippery, but I could never get a satisfactory amount of slippage on my skin.
Overall, the Swiss Navy Premium Silicone Lube left me a bit underwhelmed. There really wasn't anything about it to really grab my attention or set it apart from any other product. If anything, I'd say it under-performed a bit. It's not really a bad product, but still, I can't see myself reaching for this over a lube from a company like Jo. There are simply other silicone-based lubes that do it all better. This lube does come in a nice-looking flip-cap bottle, but even that creates a problem since the lube is so runny that it gets on the outside of the bottle after pouring and makes the bottle slippery to hold. The Swiss Navy Premium Silicone Lube is hardly one that I would call "Premium." I wouldn't deter people from purchasing it, but I also wouldn't be recommending it when there are so many other good options to choose.
5/10
DivaFoof's Review
I received the Swiss Navy Lube 6 pack mix from Clonezone to test on behalf of Cara Sutra's Pleasure Panel in exchange for my open and honest review. This review is specifically for 3 of the bottles which are the Swiss Navy Premium Silicone Lube.
Clonezone's target market is the gay community and as such, I'm not necessarily in their market though cheeky bum sex is always something I have partaken in.  The suggestion for this Swiss Navy Premium Silicone Lube being that their 'pocket sized' 20 ml bottles are suitable for the outdoorsy type, which sounds rather exciting. I've never been bummed outside, can someone tell me if I'm missing out?
Ingredients
Moving on to the Swiss Navy Premium Silicone Lube ingredients. Cyclopentasiloxane (the lube), Dimethicone (the silicone), Tocopheryl Acetate (long lasting / longer shelf life) – Nothing particularly bothering me there!  Also, it is latex compatible and there is no oil or acids present so it is condom safe which I truly believe is a very important thing.  I'm not sure if my eyesight is getting worse but jeez, the text is tiny on this bottle… but then, I applaud them for finding a way to include it.
Dispensation & Viscosity
On arrival, the Swiss Navy Premium Silicone Lube bottles are the flip cap type, that you need to unscrew and remove the seal for first use. The product advises on the webpage that you "Simply flip its secure, clickable cap up to access this sumptuous formula with the ease of a 'tip' … You need to make sure you put the cap back on securely because the pouring hole is free flowing and so if you turn the bottle upside down it will drip out without any pressure on the bottle Therefore if it's in your pocket and you haven't shut it properly you may end up with it leaking.
For a silicone lube, the Swiss Navy Premium Silicone Lube is not very thick.  The viscosity is runny and it trickled down my finger extremely fast. It gives a silky smooth feeling in your fingers and doesn't absorb, which makes it a little tricky to use the bottle after first application if you do get it on your fingers.
<Enter the comedy soap slipping out the hand routine…>
How It Feels
So on to the feel of the Swiss Navy Premium Silicone Lube. On application, it feels great.  Nice and silky smooth on all parts but specifically, made anal entry extremely easy and smooth. The lube itself is long lasting and a while later I still have a nice silky feeling. I don't plan on taking it outdoors myself but the opportunity to take it in your pocket if you're planning to go out for a bit of cheeky bum sex, then it's perfect for stashing and going but equally you can have it on your bedside and no one would notice it, and it especially doesn't scream out anything more than tiny bottle of something, it's the size that could easily be shaving oil.
So, the Swiss Navy Premium Silicone Lube is great albeit a little runny, it's application is easy and with no sticky feeling. If you buy either the MIX or 6 pack, they come in at £9.99 for approximately 120ml . I think this is okay as it is a quality product, but personal preference would be for it to be slightly cheaper. If you don't need it to be pocket sized, the lube does come in bigger bottles with pump mechanisms.
It's a 7/10 for me.
Poison Hyvee's Review
Appearance
The bottle of this Swiss Navy Premium Silicone Lubricant is extremely petite, but not in a very cutesy way– if you're looking for a travel-size lube that is nondescript, this is a good candidate. The cap pops off easily (read: if you have lubey fingers already it won't be too hard) and the lube flows at a controlled but not difficult-to-squeeze level. It's also clear, so you can see how much you have left, which is very nice.
Caution
A word of caution: Be careful using silicone lube on a silicone toy! Generally, a good rule of thumb is to avoid silicone lube on a silicone toy, although it can be OK for some lube/dildo combinations– you can check by doing a spot test like I did here. For the sake of due diligence, I tested the Swiss Navy Premium Silicone Lubricant on the base of my Cush O2 (a silicone dildo from Tantus) and here is the result:
Basically, it made a sort of welt on the silicone in the 30 seconds or so that I left the lube on it. Had I poured this lube over the head of the dildo and kept it on for a longer period of time, it would definitely ruin the dildo.
Ingredients
Before I put a lube in my body, I always read about the ingredients. The Swiss Navy Premium Silicone Lubricant has only 3 ingredients: cyclopentasiloxane, dimethicone, and tocopheryl acetate. Dimethicone and tocopheryl acetate are both reported to be mild on the skin and not dangerous to your health except for the unlikely chance of mild irritation. Tocopheryl acetate is actually Vitamin E, which is good for skin softness and general well-being! Cyclopentasiloxane does have a bit of controversy surrounding it, but it looks acceptable for topical use.
Feel
This was my first experience with silicone lube, and I have to say it didn't quite live up to my expectations. It seemed to last pretty long when I used it to rub my fingers together, but when I used it with my Nobessence Seduction ( a girthy wood g-spot dildo), it felt like my water-based lube. It is very runny to the point where it was difficult to photograph it in a blob. I also tried using the Swiss Navy Premium Silicone Lubricant with a dildo in the shower, but it was washed off very easily. After a few minutes, the dildo was slippery to my fingers, but to my genitals it was like it wasn't there at all.
Lastly, I tried the Swiss Navy Premium Silicone Lubricant on my Njoy Pure Plug, and I was pleasantly surprised that it stayed fairly well. While the lube is pretty runny when you apply it to a toy, it didn't leak out of me like I was fearing it would. It was still there when I pulled the plug out, which was very helpful as that experience can be less than pleasant without sufficient lube.
Summary
All in all, this is not a bad lube, but I don't see any advantages for this lube over, say, Sliquid Sassy (a viscous water-based lube). The small size is nice for travel, however, and it is fairly inexpensive for a body-safe lube. I would recommend the Swiss Navy Premium Silicone Lubricant for traveling sex-havers who are looking for a lube that is inexpensive but safe.
RATING: 6/10
– Poison Hyvee
Buy Your Swiss Navy Silicone Premium Lube
Shop the Swiss Navy sexual lubricants range through the button below. Plus, find plenty of other brilliant lube brands as well as sensational sex toys to enjoy!



Contains affiliate links