Swiss Navy Infuse His And Hers Arousal Gels Review
By Nat and Tom
Arousal gels are popular products in our bedroom as we are keen to maximise the amount of stimulation we receive during sessions, both solo and together. This means we get through them very quickly and are always up for trying out new options in the hopes of finding our perfect matches. I've tried lots of different varieties from gels and creams to balms and drops so I have a good idea of what I'm looking for now whilst my partner has less experience and is still figuring out what it is he needs and wants from these products. When the Swiss Navy Infuse His And Hers Arousal Gels became available for testing, I was very keen to try it out and see what the differences were between the two gels and whether they'd work for both of us or not.


Enjoy all our Swiss Navy reviews


The Swiss Navy Infuse His And Hers Arousal Gels arrives in a small bottle, reminiscent of a deodorant bottle, which is wrapped with a branded label featuring the product name on the front and directions for use and full lists of ingredients on the back. Part of this wrapping needs to be removed around the top in order to remove the plastic cap that covers the dispensers. The blue dispenser releases the 'For Him' enhancement gel and the purple dispenses the 'For Her' arousal gel. This colour coded system makes it easy to get the right product for each person although it can be hard to tell these two shades apart in the dark so brighter colour options would have been better.
There are noticeable differences in appearance between these two gels. The 'For Him' is thicker in consistency, slicker in texture and has a white tint to it that makes it look more like a lotion than a gel. The 'For Her' gel has a thinner consistency, greasier texture and a complete lack of colour. They do have one thing that remains consistent between the two and that's the smell. Both are quite strong and I could instantly pick up on the scent of Menthol and Peppermint Oil although I hadn't checked the ingredients at that point to confirm these were included. If the scent of either of these ingredients is off-putting to you then I would definitely not recommend the Swiss Navy Infuse His And Hers Arousal Gels. I would also not be able to recommend this to people who have had issues with menthol based products in the past or those who are extremely sensitive.
As always, we recommend doing a patch test before using on any intimate areas. Neither of us had any reactions or concerns so we went ahead and applied as directed. The 'For Him' gel should be released from the dispenser in the desired amount and placed onto the penis before being massaged in. The 'For Her' gel should be dispensed and applied directly to the clitoris in gentle circular motions until the product is absorbed into the skin. The bottle states that the sensation should begin immediately but for one of us that sensation never seemed to kick in.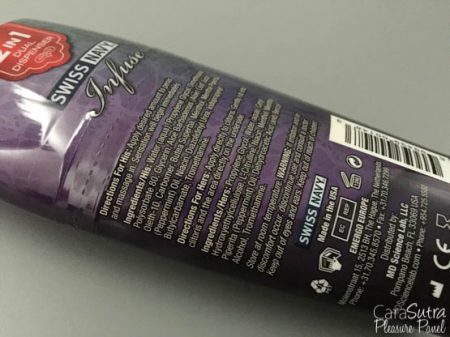 I noticed upon applying the Swiss Navy Infuse His And Hers Arousal Gels to myself that my hands and intimate areas had become sticky from the residue and I wasn't best pleased about that. It's not a complete deal breaker for me but I could definitely do without it. I felt an initial cooling and tingling sensation but I needed to use quite a lot of product in order to get an amount of sensation that felt stimulating to me. The gel seemed to warm up over time but never became overpowering or intense. It would be a suitable choice for someone who's never used a product like this before as it's not as strong as other gels I've used in the past and it only lasts for around 10-15 minutes.
As for the 'For Him' gel, my partner was left feeling underwhelmed. There was a quick splash of cooling sensation upon initial application but this became dormant almost as fast as it arrived. He thought he hadn't used enough product so increased the amount used on his penis and still had no luck getting anything more than the initial few seconds worth of sensation. He did not notice a difference in his stamina or sexual performance as claimed and his pleasure was not maximised as we'd hoped.
Overall, I don't consider the Swiss Navy Infuse His And Hers Arousal Gels to be a bad product but I do think that both could have been stronger. Our bodies all respond to these types of products differently so whilst the 'For Him' gel did nothing for my partner, it might work wonders on someone else.
For me, the experience was positive and I do believe that the 'For Her' gel worked as intended but I had to use tons of product in order to reach that point which left me feeling the need to shower off the stickiness afterwards. A little bit of extra intensity would have solved this problem and made the product more desirable to me, but I do think it's great to see a product catering to people who just want a little bit of sensation, rather than a lot, and that is who I would recommend this product to.
6/10
– NatandTom
---
Where To Buy
Thanks to our reviewers NatandTom for this review of the Swiss Navy Infuse His And Hers Arousal Gels.


This product was sent free of charge, in exchange for a fair and honest review by the Cara Sutra team.
Contains affiliate links