Spurt Premium Water Based Lubricant 20ml Review
By Pleasure Panel reviewer Louise Lace
In my opinion you can never have enough lube, so when I had the chance to review the Spurt Premium Water Based Lubricant from Fetch Shop in a recent Pleasure Panel round, I couldn't stop myself from volunteering.
The Spurt Premium Water Based Lubricant I received was a dinky 20ml bottle, perfect size for keeping in your handbag, pocket, toiletry bag, basically anywhere you want. It barely takes up any space at all.  The Spurt range, which includes a silicone-based lubricant, comes in larger 250ml sizes if you prefer to stock up on lubricants.
The bottle I received has a click lock lid which, when pressing on one side of the lid, a small opening appears at the other side for the lube to be squeezed out of.  Admittedly it took a bit of a hard squeeze to get the Spurt lube to, er, spurt out.
Once I managed to get a small dollop of the lube onto my finger, I was pleasantly surprised at how thick the Spurt Premium Water Based Lubricant is, it sat on my finger without moving, my previous experience of water-based lubes is that they are very runny and end up everywhere but where you want it to be.  This is absolutely not the case when it comes to Spurt, it is thick, creamy and goes exactly where you choose to put it.
The colour of the lubricant is also unlike my other water-based lubes, Spurt Premium Water Based Lubricant is white in colour, not clear. It did remind me of the colour of semen, this gave me the idea of placing a big dollop of it on my lady parts and sending a pic to my chastity-locked hubby, along with a winky face emoji, his immediate response was to ask which of my playmates had had the pleasure of my company, it is a very realistic likeness to semen.
Scent-wise, the Spurt Premium Water Based Lubricant has a very slight odour, it is not an offensive smell, nor is it a chemical smell, it just smells similar to scent-free moisturiser, when you know it has a smell but can't quite name what the smell is.
Taste-wise, the Spurt Water-Based Lubricant is not a flavoured lube and it doesn't taste of anything, it left no tangy taste in my mouth went I dipped my finger in to try, nor did it affect the taste of my hubby when giving him oral.
Ingredient-wise, I am no scientist.  I have no idea what is and isn't 'good' when it comes to ingredients in lubricants, but I do know that some ingredients can cause reactions for some users.  For the sake of transparency, the ingredients of Spurt Premium Water Based Lubricant are as follows:
Aqua, Glycerin, Hydroxyethylcellulose, Citric Acid, Sodium Benzoate, Potassium Sorbate, Pentylene Glycol, Urea, Lactic Acid, Serne, Sodium Hydroxide, Sodium Chloride, Allantoin and colour.
I will say that over the course of the last few weeks, I have used every drop of my 20ml bottle and not once has my hubby or I had any kind of bad reaction from the ingredients.
As a lubricant, the Spurt Premium Water Based Lubricant works very well, it goes where you want it to go, it doesn't soak in and disappear, it lasted the entire length of each session without having to re-apply, even during a marathon toy session.  It is compatible with silicone, glass and metal sex toys.
In the interest of full disclosure, I will add, if you accidentally spill a bit on wood flooring, it would be a good idea to wipe it straight up, I, Loopy Lou, had an impromptu skating lesson while making an after-sex trip to the bathroom!
I must confess, I am a little disappointed that I managed to use the whole bottle during the testing process, I absolutely love the Spurt Premium Water Based Lubricant and I will be sure to invest in a bigger bottle to keep in my toy box.
I highly recommend this lubricant – providing you have no known issues with any of the ingredients of course.
It's a 10 out of 10 from me.
Thank you so much to Cara and Fetch Shop for sending me the Spurt Premium Water Based Lubricant free of charge in exchange for my honest review.  You can buy the 20ml bottle for just £2.99 or if like me, you would prefer a bigger bottle, the 250ml retails at £19.99.
Thanks again Cara.
Louise x
---
Where To Buy
Thanks to Pleasure Panel reviewer Louise Lace for this review of the Spurt Premium Water Based Lubricant 20ml.
The Spurt Premium Water Based Lubricant 20ml was sent free of charge, in exchange for a fair and honest review by the Pleasure Panel, by Fetch Shop.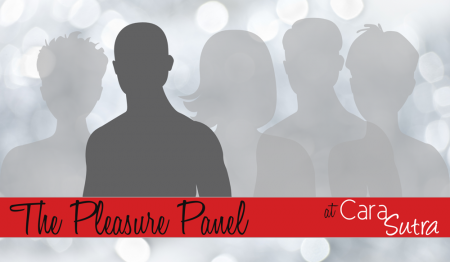 Unaffiliated