Spurt Premium Silicone Lubricant 250ml Review
Spurt Premium Silicone Lubricant 250ml review by Just Jess
Silicone lubricants use far fewer ingredients than water based or hybrid lubes; which tends to be great for me as I have very sensitive skin and have had some quite nasty reactions in the past. Its also great if, again like me, you are susceptible to UTI's or yeast infections as there is no glycol/glycerine etc, so you aren't adding sugars to your vagina.
I am slightly obsessed with lube ingredients because of my past sensitivities so I always try to check them out before trying any new products. Spurt Premium Silicone Lubricant contains Cyclopentasiloxane and Dimethiconoll both of which are common silicone polymers used in cosmetics. And that's it; no other ingredients, additives, preservatives, nothing – just 100% silicone. Spurt has also been dermatologically tested so shouldn't cause any adverse reactions unless you're allergic to the ingredients.
Silicone lubes are safe to use with condoms and most silicone toys. Spurt recommend only using their Spurt Premium Silicone Lubricant with high quality silicone toys, I assume this is because there is some argument that lower grade silicone can be degraded over time by silicone lubes, but this isn't something I've ever experienced. I also store my silicone toys together and haven't had any issues.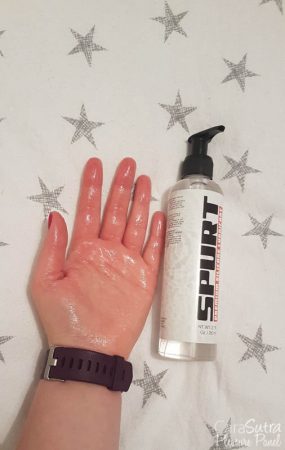 I did find Spurt Premium Silicone Lubricant left a very oily residue on my dildos and I had to wash them three or four times to get it all off; similarly, my hands still felt very slippery after washing. It hasn't stained or left marks on my bedding, but I could feel where drops of it had fallen so have had to wash my sheets after using Spurt which would be quite annoying if you were using it regularly solo.
Spurt Premium Silicone Lubricant has an extra thick formula designed to be non-runny. One of my main gripes about silicone lubes is they tend to get everywhere as they're so runny, but Spurt is seriously thick and has to be spread over whatever you're using it on/with. It's also long lasting and I didn't need to reapply it at any point, even during prolonged sessions. The 250ml bottle I was sent to test won't be running out any time soon!
The thickness is meant to be great for fisting… I haven't tried it for this yet as fisting isn't something I attempt regularly, but I have used it with some large toys and insertion was smooth and easy. Spurt also advise its formula is perfect for deep anal training; this isn't something I'm a fan of, so I haven't been able to test this out.
Spurt Premium Silicone Lubricant 250ml uses a pump action bottle, but for some reason I just can't get this to undo to use the pump. Both myself and a partner tried and it wouldn't work so we ended up just removing the lid and tipping some out which isn't the easiest given how think it is.
I'm not keen on Spurt's marketing or tag lines, they seem to have quite a vulgar edge to them which I find quite off putting:
"Don't Spit, when you can Spurt!"
"spurting like a porn star!"
"Once tried, you'll always SPURT!"
I did speak to Cara about this and she explained that Fetch shop is marketed towards gay men and that this kind of marketing tends to be reasonably well received in this market sector, but as a cis, bi woman I wasn't keen personally.
Overall, I was quite impressed by the thickness and long-lasting properties of Spurt Premium Silicone Lubricant, but the residue left on my toys and hands was very unpleasant and I find the marketing bordering on misogynistic.
Thank you to Cara and Fetch shop for sending me a bottle of Spurt Premium Silicone Lubricant to test but unfortunately it won't be a lubricant I recommend.
3/10
– Just Jess
---
Where To Buy
Thanks to Pleasure Panel reviewer Just Jess for this review of the Spurt Premium Silicone Lubricant 250ml.
The Spurt Premium Silicone Lubricant 250ml was sent free of charge, in exchange for a fair and honest review by the Pleasure Panel, by Fetch Shop.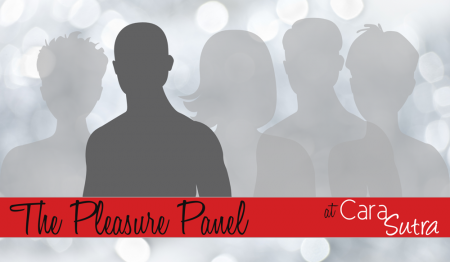 Unaffiliated