So Divine Halo Bullet Vibrator Review
By Pleasure Panel reviewer CaptainMeow
I had not previously been acquainted with So Divine products, and was happy to try out the So Divine Halo Bullet Vibrator. Bullets are often a good introduction to sex toys, being both unintimidating and able to work with various types of anatomy.  On top of it, the pricing is affordable and it would be good to be able to recommend a cheaper vibrator to those who just want a feel for bullet vibrators.
Measurements & Material
Being a bullet vibrator, it is very small. Their website lists the So Divine Halo Bullet Vibrator as being 3" in length and 0.6" in diameter, clearly designed for external stimulation. The product description both on the packaging and online market this product as a silicone vibrator when it is evidently not. It is only under the product description that ABS plastic is mentioned, and that is clearly what the body is made of. Perhaps they meant that the black trimming and the button are made of silicone?
It feels more similar to PU rubber than silicone to me, but I did not put it to the test. I take issue with misleading claims and so was honestly a little annoyed that they claim silicone when anyone holding this product will instantly see that it is plastic. Having said that, ABS plastic is still a body-safe and non-porous material.
Battery-Operated
The So Divine Halo Bullet Vibrator is battery operated, and runs on 3 AG14 (or LR44) batteries and So Divine includes them with the vibrator so you're ready to go when you receive it yours. It's a single push button at the base of the bullet and only one speed, so it's really easy to operate. Just one push to turn it on and one more to turn it back off.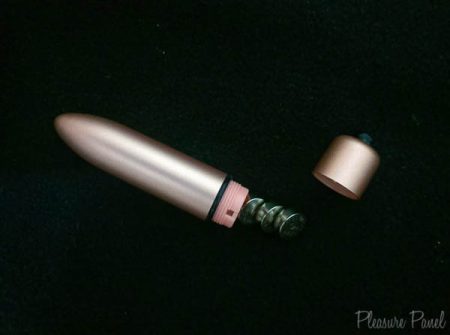 It is also meant to be waterproof, although I did not use it in the bath. Waterproof toys to me just mean easy clean up!
First Impressions
I'm a sucker for all things chrome, and I really liked the colour on the So Divine Halo Bullet Vibrator. Slightly shimmery in the light with black trimming where the base unscrews. The body tapers off into a more narrow tip at the top for pinpoint vibrations. To use it you first have to unscrew the base and remove a wee red bit of plastic that sits on top of the batteries, then pop the base back on.
I knew when I signed up that this was a battery-operated toy, and hence it would likely not be as powerful as rechargeable ones. However, I was still looking forward to enjoying this toy as I have found battery operated ones with pleasant vibrations that work well for days when stronger vibrations are just a little too much.
During Use
However: alarm bells went off when I first turned it on in my hands. Buzzing away on my palm, it felt incredible buzzy and very quickly made me want to put it down. On my clitoris, well, it did not get any better. I have tried this multiple times at various times of the day, made sure I felt well aroused etc, but this vibrator just does not do it for me.
The vibrations are incredibly buzzy, in a way that annoys me and makes me feel like my skin might be itching. I admit that I do tend to prefer rumbly vibrations, but I have found that some buzzy vibrations are quite pleasant too. This however, was just off-putting. It only spread all across my skin, made my skin feel very tingly and odd, and also made my hand numb very quickly. As much as I tried, the longest I could keep it on my body was a couple minutes before I just had to tear it away from me.
Power & Noise
The So Divine Halo Bullet Vibrator claims to be quite powerful, and I would say that for a battery-powered toy it is fairly powerful. It is also quite quiet in that I could not hear it from the other room with my doors shut, but it is not quiet enough to use in a shared room. I ran it under running water and it still worked after that, although as mentioned above I don't take my toys into the bath, so did not test that out. And frankly, the vibrations were enough to make me not want to use it.
Summary
I loved the way it looked and actually wanted to enjoy the So Divine Halo Bullet Vibrator, but unfortunately I simply did not. It ruffled me up the wrong way and made me dread having to pick it up again to test it. I tested it again midway writing this to see if I could be kinder to it, and could only keep it on for about a minute before my body wanted out.  Unless you enjoy very surface level buzzy vibrations, I cannot bring myself to recommend this.
Rating: 2/10
– CaptainMeow
---
Thanks to Pleasure Panel reviewer CaptainMeow for this review of the So Divine Halo Bullet Vibrator (£6.99 from so-divine.com)
The So Divine Halo Bullet Vibrator was sent free of charge, in exchange for a fair and honest review by the Pleasure Panel, by So Divine Sex Toys. Thank you! 🙂
Useful Links
This review does not contain any affiliate links.