Shots Media Halloween Party Pumpkin Vibrating Cock Ring Review
By Pleasure Panel reviewer Nat and Tom
Is there anything that could get me in the spooky spirit faster than a range of seasonal sex toys and creative costumes? Probably not. I was excited to see Lovehoney stocking this Shots Media Halloween Party Pumpkin Vibrating Cock Ring this year, along with its ghost counterpart, as these tiny but fun additions to the sex toy drawer are a great way to turn the holiday season into more of an adult occasion once the lights are out and the trick or treaters have finished for the year. Costing less than £10, this cock ring won't break the bank but is it worth the last minute spend?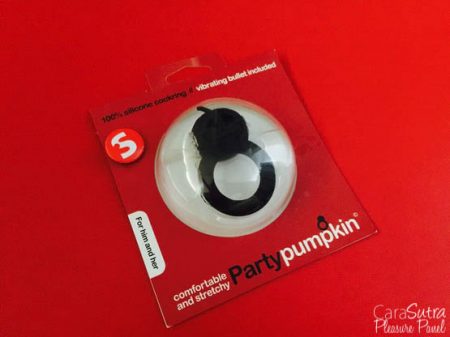 Arriving in a glossy cardboard packet that features a plastic window in the front to house and reveal the cock ring inside, the presentation is almost as fun as the ring itself. The back of the packet reads some basic product info and inside, the ring can be found complete with batteries already inserted. I saw that it took x2 AG3 batteries (watch size) and noted that this kept the toys noise levels to a minimum, making it a valid choice for those that value discretion.
For the price, I'd expect the Shots Media Halloween Party Pumpkin Vibrating Cock Ring to be made from a rubber or elastomer, but surprisingly, it has been made from a good quality silicone. It's latex and phthalate free, odourless and it's completely body-safe too, which is hard to find at this price range. Velvety soft silicone feels great against the skin but even better once the inside of the ring has been coated with an application of water-based lubricant for a comfortable fit and reduce in friction. Another bonus of this ring? It's fully waterproof so can be taken in the bath/shower and rinsed easily after use.
As I removed the ring from the packet, I felt that it was quite small so I had decided to stretch it out a little bit by hand before my partner tried it on. It was surprising how much give this silicone actually had to it as I felt that it should easily be flexible enough for his needs once I started to play around with it. It stretched comfortably to accommodate his slightly above average girth and fit around the base of his penis snugly, without restricting to the point of being unusable and he was perfectly happy to wear it for the given safety time frame of around thirty minutes.
So how does it work? Well there's just one button located on the side of the chunky Pumpkin stimulator and one press of that will turn on the vibes. There's just the one speed, which is a constant vibration, and whilst I think they were on the buzzy spectrum, they didn't cause me or my partner any feelings of numbness or irritation. I felt that these were not strong enough for my personal preferences for external stimulation but my partner who is more prone to enjoying buzzy vibrations rather enjoyed them. He felt that I was missing out on magical vibrations, so for people who are sensitive and/or not reliant on the power of a magic wand to orgasm, this ring should do the job nicely.
Stimulation wise, I couldn't get enough contact from the clitoral stimulator as the pumpkin was not long enough to maintain contact with my body as my partner moved backwards. So even if the Shots Media Halloween Party Pumpkin Vibrating Cock Ring had been made with stronger vibrations, it wouldn't have made a difference to me as although the bulkiness was perfect and covered the entire clitoris, it didn't stick out enough length wise to cover the area for long enough to add any sensation.
This didn't mean that my partner couldn't enjoy them though. He decided to turn the cock ring so that the pumpkin was facing downwards and this tickled his balls and sent the vibrations straight to them. He found this particularly pleasurable and would recommend that others try it if it doesn't work out as a clitoral toy.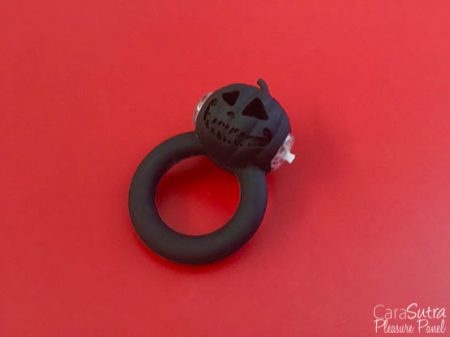 Overall, the Shots Media Halloween Party Pumpkin Vibrating Cock Ring is a fun way to carry on the treats of the 31st well into the early hours of November. It's body-safe, waterproof, stretchy and it was great for making his erection harder whilst providing some additional stimulation to his most sensitive spots. It wasn't a roaring success for me as I need a longer clitoral stimulator in order for a cock ring to provide sensations to me in the way that I need them and I like rumblier, stronger vibrations but for the price, this is a bargain that I would happily recommend to other couples looking for some adult-themed holiday entertainment.
8/10
– Nat and Tom
---
Where To Buy
Thanks to Pleasure Panel reviewer Nat and Tom for this review of the Shots Media Halloween Party Pumpkin Vibrating Cock Ring.


The Shots Media Halloween Party Pumpkin Vibrating Cock Ring was sent free of charge, in exchange for a fair and honest review by the Pleasure Panel, by the Lovehoney online sex shop. Thank you! 🙂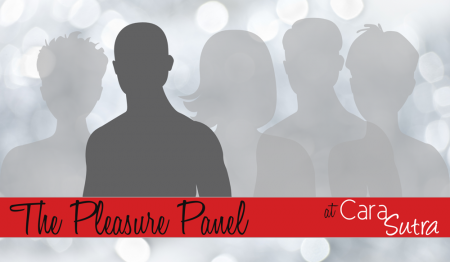 Contains affiliate links.