Shiri Zinn Cupcake Vibrator Review
By Cara Sutra
I was bought the Shiri Zinn Cupcake Vibrator as a gift from one of my submissives. I was especially interested in it after reading some very interesting reviews. The shop it was originally bought from, Vibrator Kingdom (update 2016 – now sadly closed), were amazing as usual. The packaging is gorgeous, each item hand wrapped in stunning paper and there were even a few sex toys freebies thrown in too. Brilliant.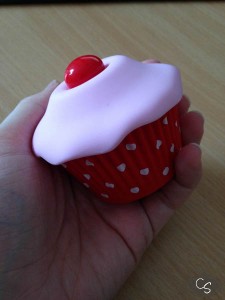 Now, on to the product. What do you get? Well there's a red box with white polka dots. Very cupcake pin up. The tin box has a lid that you remove to reveal the cupcake wrapped in plastic within, as well as a small pin up lady decorated piece of card with a few details about the product.
The cupcake vibrator comes with the 2 AAA batteries included, just remove the safety tab to allow them to be operated. They are inserted into the top area of the vibrator, twisting the 'top' of the cake off to reveal the battery compartment.
It's quite fiddly getting the lid back on again, you have to be very precise in the placement to get everything aligned properly, you wouldn't want to be in a rush.
The Shiri Zinn Cupcake Vibrator is battery powered, not rechargeable unfortunately. I tend to stay away from battery powered toys these days (snob, ha), but this vibrator just looks so cute. It's also made of silicone, albeit with printed on white dots to the red portion of the base.
That is, it states it's made of silicone. The base area sailed through the flame test fine, but the top pink icing area? Not so much. There's definitely something along with the silicone in this. Maybe Dildology should pull this vibe apart to find out exactly what it's made of…
The vibrator is also not waterproof or even splashproof. Not quite sure how you're meant to use it intimately then wash it or clean it afterwards then. Having a sex toy you can't clean properly is no use whatsoever. AT this stage I'm wondering about if the top area is porous, seeing as it's not pure silicone. This would make it even more unhygienic for long term use.
Seeing as this vibrator is selling in the region of £30, these are serious concerns.
That's before we even get to the vibrating functions.
There are 5 vibrating functions to the Cupcake Vibrator. You press the central power button which forms part of the base to turn it on.
Low constant vibration
High constant vibration
Descending vibration
Dot-dot-dot pulse vibration
Dit-dot-dash pattern of pulse (yep, that's now a thing)
To turn off the vibrator, you need to press and hold the button for a couple of seconds. As the power button is on the base, if you put the cupcake down on a hard surface and you're not careful, you can activate the vibrations accidentally. So you need to take the batteries out between uses. Annoying.
The way in which you're meant to use this vibrator for intimate pleasure confuses the hell out of me. The motor is located in the base of the cupcake, not anywhere near the top where the cherry is. That's where the batteries are. Surely the other way around would have been more practical for sexual purposes? Who wants to rub the flat bottom of a fake cupcake over themselves to masturbate?
When you try and use the cherry for clitoral stimulation, which I am supposing was the original intention, you can barely feel a thing. The design is massively flawed, to the point where there's just no way I'm gonna get any pleasure out of this thing.
I'd rather make real cupcakes and smoosh them all over myself in a perverted sploshing session, at least that would be sexy.
The cherry on the cake (literally) is that the cherry is made of a rubbery material (really doubting it's anything even close to silicone) which has god knows what chemicals in it.
I'm gonna put it out there: this cherry has DRAG. You WILL need lube. Rubbing the unlubricated cherry over your skin is NOT at all pleasant. Go get a stationery eraser and rub it over your dry clit. Yeah, like that.
On a superficial level, the Shiri Zinn Cupcake Vibrator is a fantastic idea. It looks so pretty. For sensual, pleasurable purposes? No substance whatsoever. This vibrator is not worth the money. Perhaps Shiri Zinn could go into the ornamental business instead, as this isn't the only product in their range which seems to value aesthetics without any regard for sexual function. I have to mark the vibrator as a vibrator, hence the low score. I have no sexual use for it at all.
Buy the Shiri Zinn cupcake vibrator if you're after a weakly vibrating paperweight – as that's what you're left with.
In the meantime please do take a look around Vibrator Kingdom, as the site is fun and friendly and you're guaranteed a personal yet professional service every time.
(2016 update – now sadly closed. Why not check out these sex toys special offers instead!)


This review contains affiliate links
Quick Review:
What's the full product title/name?
Shiri Zinn Silicone Cupcake Vibrator
How big is it / size?
Height 2.3 inches approx, lid circumference 9.5 inches, lid diameter 3 inches,
Flat base max diameter 1.9 inches approx
What is it made from? / material?
Silicone covered plastic inner. Failed flame test (lid)
Which batteries does it take? Is it rechargeable? Power type?
2 x AAA batteries (included)
Which lubricants can I use with it / compatible lubes?
Water based lubricant only
Is it waterproof?
No
Does it contain latex?
Unknown
Does it contain phthalates?
Unknown
Does it come with a storage bag?
No
Does it come with full instructions?
Yes
Does it have a guarantee or warranty?
No