Sh! Womenstore Pure Plus Lube Review
By Kali Rose
Thanks Cara for sending this Sh! Womenstore Pure Plus Lube out to me!


Related: Click to read all our Sh! Women's Erotic Emporium reviews
I must say I'm not really a water based lube fan usually as I prefer the glide of silicone, so although appreciative, I wasn't overly excited abut trying this one… However it may just have won me over to the watery side of lube.
I was reviewing the Sh! Womenstore Pure Plus Lube 25ml tester or travel size:  "Water-based personal lubricant that's paraben-free, crystal clear, completely odour and flavour-free".
"Sh!…ensual! Or sensual! For those of us that aren't Sean Connery. Sorry. Although that is exactly how I would describe this product.
The Sh! Womenstore Pure Plus Lube is surprisingly non-sticky and non-tacky, so its 'glidy and slidy' nature makes for a smooth, natural feeling and sustainable session, whether alone or in company or with a favourite toy (or two).
It's good that its 'paraben, odour and flavour free'… Great on the paraben front, however if, like me, you hate the smell of the other chemicals this will be the only downside of this otherwise great lube… it's got that plastic chemical thing going on. Eurgh. Luckily it doesn't taste half as bad as it smells!
The Sh! Womenstore Pure Plus Lube has a really thick gel like consistency which makes it easy for manoeuvring into the right spots as it doesn't just drip off,  and its super for anal play as it stays silky in feeling without going runny or watery and most importantly doesn't dry out or go sticky or tacky at all, its such a turn off for me when it does that! It does last a decent amount of time however I did return to my old faithful silicone for anal.
Happily the Sh! Womenstore Pure Plus Lube doesn't leave any visible residue and it washes off pretty easily with a bit of soap and water.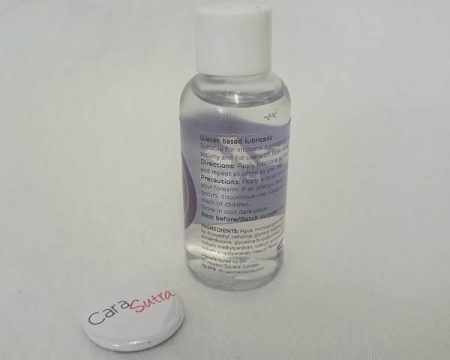 I've been using the small bottle which is great for travel but it has an annoying and fiddly lid (I left it off during the session but then had to put it back on the bedside table to stop it from getting on the bed… I prefer to be more reckless and less acrobatic usually) and needs extra squeezing to extract the dense gel, in fact last time I had to put the lid back on and shake it down to get some out (bit of a moment ruiner) however they do a pump action 250ml bottle of Sh! Womenstore Pure Plus Lube which would be a perfect bedside accoutrement!
– Kali Rose
---
Thanks to our reviewer Kali Rose for this review of the Sh! Womenstore Pure Plus Lube.
Shop for more Sh! Womenstore sex toys & sex essentials through the button below:


These products were sent free of charge, in exchange for a fair and honest review by the Cara Sutra team. This post contains affiliate links.