Satisfyer Pro 4 Rechargeable Couple's Vibrator Review
By Tigerlily
Thanks to Cara for sending us the Satisfyer Pro 4 Rechargeable Couple's Vibrator this month to review. I'm a huge Satisfyer fan, as my reviews of the Satisfyer Pro 2 and Satisfyer Pro G-Spot Rabbit will tell you. That wonderful rabbit is single-handedly responsible for my wife's first ever multiple orgasm experience. We're so happy with the Satisfyer Rabbit that its only negative point is how much less play time the original Satisfyer Pro now gets in comparison. I'm telling you this for context, because in our bedroom, the Satisfyer Pro 4 Rechargeable Couple's Vibrator… was a complete and utter flop.
Related: Click to read all our Satisfyer reviews
Designating a toy as "for couples" means one of two things. Either it's a cock ring for him, with a vibrator on top; or it's a curved vibrator to be worn by her, part internally and part externally, providing both clitoral and internal stimulation. The Satisfyer Pro 4 Rechargeable Couple's Vibrator is the latter.
Materials, Safety and Design
The Satisfyer Pro 4 Rechargeable Couple's Vibrator doesn't depart from the classic Satisfyer design of bronze ABS and white silicone, giving it a somewhat medical look. The white silicone that Satisfyer uses is the smoothest I've felt in any toy, and the design results in an entirely body-safe waterproof package. In fact, Satisfyer even recommends that you try their toys in the bath, where the clitoral sensations will be enhanced.
The box arrived with sticker seals to indicate it's never been opened, and yours should too. This is especially if you've purchased from a third party, where unscrupulous sellers may repackage returns. We've never had an issue with Bondara, but if you're shopping around elsewhere, it's something to check for.
Contents of the box are sparse: you'll find the Satisfyer Pro 4 Rechargeable Couple's Vibrator itself, and a USB charging cable. This is the same type of latching magnetic cable that all the other toys in the range have. Only plug the cable into a USB port when you're actually charging the toy, or you risk having it latch onto other metallic objects and shorting out, which is a fire risk.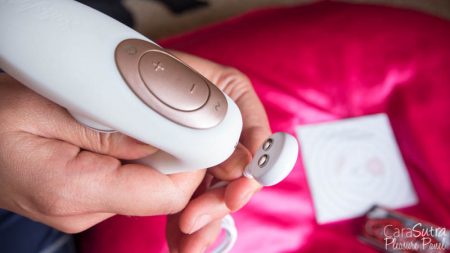 What Exactly Is It?
The Satisfyer Pro 4 Rechargeable Couple's Vibrator features two independently controlled motors. One is attached to the internal arm–although I'm inclined to call it a devil's tongue–and provides a number of basic vibration patterns and strengths. This is controlled with the button with a wave icon. The button on the other side drives the clitoral suction, and features a simple 1-10 intensity scale to cycle through, with no patterns. This is activated by the button on the other side of the control panel, then using the central  +/- buttons to adjust intensity up or down.
During use, the Satisfyer Pro 4 Rechargeable Couple's Vibrator is inserted vaginally where the thin silicone tongue promises to both tighten the vaginal cavity, increasing his pleasure, and offer both parties a little vibratory stimulation.
On the external part of the device, you'll find a classic Satisfyer clitoral stimulator. This should be placed over your clitoris, forming a vacuum seal around the edges. A little lubricant can help to create a better seal, but you probably won't need it if you've had any experience with a Satisfyer toy, as the mere sight of it will leave you dripping with anticipation. This part doesn't vibrate: instead, it sucks. Literally. Micro-suctions created by the unique Satisfyer mechanism will be unlike any vibrator you've tried before.
The Satisfyer suction is a powerful mechanic that puts other Satisfyer devices firmly at the top of our list of favourite toys, and the suction action of the Satisfyer Pro 4 Rechargeable Couple's Vibrator is functionally no different to anything else in the range.
However, this is designed for couples. To use together. While having sex. So to that end, I actually got to participate this time while the wifey tested it.
From Her Perspective
Being of a slightly less than average size, my boy uses what he's got to its fullest, which means lots of hardcore full-on banging. The Satisfyer Pro 4 Rechargeable Couple's Vibrator has a silicone covered protrusion where the magic happens. Underneath that is a solid chunk of ABS plastic. This hood fits over the clitoris, sealing itself around, and providing the best sensation of suction. This point is important because unless your sex is sedentary, you'll find it very difficult to keep that hood in place over your clitoris.
Now, this is all well and good when you're holding it there by hand (or you have a willing slave to hold it for you), but the Satisfyer Pro 4 Rechargeable Couple's Vibrator (as the name suggests) is designed to be used during intercourse. Like, with a guy pushing his hips into you. Banging against the Satisfyer.
That's. Just. Painful.
Other "couples" insertables don't have that protruding hood, so they can get away with just being an overall flatter device, or made of something softer. The Satisfyer device is silicone coated, but that's over the top of ABS. The main body of the Satisfyer Pro 4 Rechargeable Couple's Vibrator is rigid, and quite bulky.
So I quickly ruled out missionary positions from sheer pain, and thought I'd turn around so he could take me from behind instead. In theory, there would be less smashing of his pelvis against the body of the device. His balls could soften the blow instead. This should be glorious!
But assuming you manage to hold it in place–which is even harder in this position–then you face the horrors of the internal portion of the toy, which is slim, and a little bit…. spikey. I'm sorry, but there's no other word for it. It narrows too much at the end, and being so thin, can really be painful internally. In doggy position at least, this was the worst part of the experience.
Sadly, even using it alone just wasn't that great. The clitoral suction is as good as ever, but the vibrations from that thin tongue are just too buzzy. If you like buzzy things internally, that'll be great, otherwise, I just can't see it being the orgasmatron that other Satisfyers are.
From His Perspective
As the penis in this relationship, the idea that we could use a toy to get off together was very attractive. I love making her squirt every which way with the Satisfyer Pro G-Spot Rabbit, and I expected nothing less of this.
But from the get-go, the Satisfyer Pro 4 Rechargeable Couple's Vibrator was just awkward. The whole thing is just too bulky. I'm not well endowed by any definition, but I had serious trouble trying to get in alongside the toy. When I was in, it was more awkward than pleasurable. I couldn't go nearly as hard or as fast as I normally would, because I kept hitting the toy and stabbing it into her. Slow and sensually does it then. Nothing wrong with that. But the toy was prone to slipping out too, which meant one of us had to hold it in place. Hands that are better used elsewhere.
The controls were fiddly and hard to press when in-situ. You can't look to see which button you're pressing. I didn't think I'd ever say this, but this is one toy which cries out for a Bluetooth connection.
We quickly gave up in frustration.
I asked if she wanted me to just hold it there while she got off: "no thank you, that spikey bit just hurts". That says it all really.
Will It Work For You?
Normally at this point in a toy review that didn't go so well, I'd probably say something along the lines of: well, it didn't work out for us, but it might for you. Body shapes are all different, after all. But as a couples toy, I don't see how the Satisfyer Pro 4 Rechargeable Couple's Vibrator could work for anyone. It requires too much effort to keep in place, the controls are awkward during the moment, it's far too bulky, and worse than anything: it's just painful.
You could just use it alone, but the Satisfyer G-Spot Rabbit does a far better job of that. The only reason to buy this for masturbation is if you don't want a large phallus inside you, but do want a little bit of internal stimulation to go along with the clitoral suction. Even then, it's a quite a buzzy vibration, not at all deep and rumbly. This is either because of a smaller motor that had to fit in the slimline package, or just because it's connected to a thin silicone tongue that flaps around too much.
Please don't let this review put you off other Satisfyer products though! The Satisfyer G-Spot Rabbit is probably the best rabbit vibrator, ever. Buy that instead.
2/10
– Tigerlily
---
Where To Buy
Thanks to our reviewer Tigerlily for this review of the Satisfyer Pro 4 Rechargeable Couple's Vibrator.
This product was sent free of charge, in exchange for a fair and honest review by the Cara Sutra team. 
Contains affiliate links