Royal Condoms Strawberry Flavour 3 Pack Review
By Pleasure Panel reviewer Leila_K
I was sent the Royal Condoms Strawberry Flavour 3 Pack by Cara Sutra, in exchange for my honest review. Thank you!
Packaging
The Royal Condoms Strawberry Flavour are packaged in a small classy black box. The design has a regal feel about it,and this gives the impression of a luxurious product. The front of the box has a description of the product, and on the reverse, along with the expiration date, you'll find safety information regarding STI's and the importance of the correct use of condoms.
Inside the box, there is a strip of 3 condoms and a small leaflet with more information regarding STI's. A fun motto  "Good Taste Is Sexy" is printed in bright pink writing on the condom packet.
Product Info
The Royal Condoms Strawberry Flavour are suitable for oral, vaginal and anal sex. They are vegan free, paraben free and cruelty free. The latex used is organic and they are FDA cleared. They are tripled tested electronically by a unbiased third party and they claim to be ultra-thin, so that they provide a high sensation.
First Impressions & Taste Test
Opening the Royal Condoms Strawberry Flavour packet up is easy with the easy tear finish. I could immediately smell the  strawberry scent, it was very artificially. I was excited for the taste test, but quickly disappointed, they tasted of nothing,  I didn't even get a hint of strawberry. The only way you will get this condom to taste of strawberry is to cover it in strawberry jam!
We have used cheaper condoms before and they all come up on the small side, my OH finds it really annoying when they roll down, after that, we both agreed that spending more money for quality condoms is worth it. As I rolled one of the Royal Condoms Strawberry Flavour over my 7" Dildo it fitted with about 1" left over.
As there is no sizing on the packaging or information leaflet I went to the website for this info.
Ingredient, material and sizing  information on the website, see below.
Sizes & Dimensions
Royal condoms are made to fit snug, with enough room for those more endowed among us.
Length – 182 mm minimum, Width – 53-54 mm, Thickness – 0.064-0.075 mm
Ingredients
Natural latex, Sulfur, Zinc Oxide, Irganox-1330, Potassium Hydroxide, Zinc-N-dibutyl-dithio-carbonate, Oleic acid, Ammonia liquor, Cetodec-500, Bentinite clay, Vultamol NN 8906, U.S.P Corn Starch, Silicone, Food-grade flavor
Materials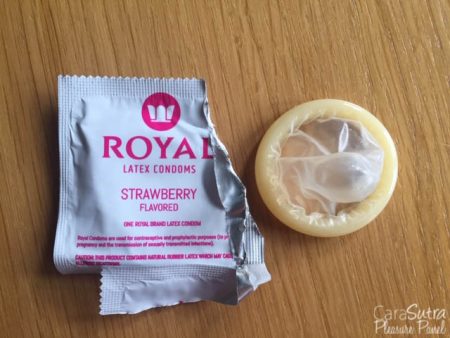 Natural rubber latex Organic, food-grade silicone lubricant
In Use
Removing the condom from the packet it looked of a high quality. The condom held up well, as I pulled and stretched it  in all directions, it did not tear and retained its shape.
The Royal Condoms Strawberry Flavour were easy to put on and are large enough to comfortably fit my OH. The Royal Condoms Strawberry Flavour are not very well lubricated, but we always add additional lubricant anyway. We also both disliked the fact that these condoms were thicker than what we normally use.
Summary
Overall, I was pleased with the performance of the Royal Condoms Strawberry Flavour, but personally I like a thin condom. My OH though they fitted well and felt comfortable.
Unfortunately they did not have much of a strawberry flavour, which was disappointing, but if you are looking for a high quality condom and they don't have to be super thin then I wouldn't hesitate to recommend the Royal Condoms Strawberry Flavour.
5/10
– Leila_K
---
Where To Buy
Thanks to Pleasure Panel reviewer Leila_K for this review of the Royal Condoms Strawberry Flavour 3 Pack.


The Royal Condoms Strawberry Flavour 3 Pack were sent free of charge, in exchange for a fair and honest review by the Pleasure Panel, by theroyalc.com. Thank you! 🙂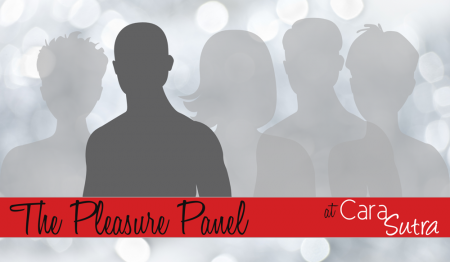 Unaffiliated