Romant Sonia Smart Wand Massager Review
By Pleasure Panel reviewer Wallfl0werWays
The Romant Sonia Smart Wand Massager from Honour.co.uk is a beautiful waterproof toy, it is sleek and well presented in packaging and is great for both solo and couple play!
Packaging
The packaging for the Romant Sonia Smart Wand Massager is minimalist, not too crowded and definitely an eye-pleaser. The box has an outer sleeve and a lid, and the simplicity of the design leads to very professional looking packaging. There is information on the sides of the box and also a brief description of the toy and warranty information on the back.
Inside the box the Romant Sonia Smart Wand Massager is snugly situated into a crevice perfect for it. One downside I have found to this is that the foam that holds the toy in place collects dust and definitely shows the dust due to it's white colour and leaves fluff around the toy. There's also a small user manual explaining all the functions and a USB charging lead.
Settings & Design
The Romant Sonia Smart Wand Massager itself is great fun. There are seven different vibration modes with three different intensity levels. These range from pulsing to consistent vibration. There is also a smart mode, which means that vibration gets faster and stronger when the toy detects that it is touching something, this is a really interesting addition to a wand and definitely brings something different and exciting to the toy.
This Romant Sonia Smart Wand Massager has a gorgeous colour and ergonomic design. The toy is easy to hold when using for solo play, and the buttons are easily accessible. I found I am not a fan of the mirrored section on the toy- definitely a personal preference.
Operation
Using this on someone else means the Romant Sonia Smart Wand Massager is easier to manoeuvre and it's easier to change between settings quickly and easily. The buttons are illuminated when the toy is on, which means that this toy is great for play in all kinds of lighting. The Romant Sonia Smart Wand Massager is super soft and smooth, is made of a medical grade silicone, and is very light and compact in comparison to other wands on the market.
The vibrations from the Romant Sonia Smart Wand Massager gave me a shock. They are very strong, proving that size does not matter when it comes to this wand! However, I do feel this toy is quite loud, even though it states on the box that it is extremely quiet. This toy is 100% waterproof and works splendidly in both the bath and shower (although it should be noted that the user guide says not to submerge the toy completely).
Charging Up
Charging the Romant Sonia Smart Wand Massager is simple and the USB cable can be used in laptops/computers or with appropriate plug sockets (I used my phone charger to charge the wand). The charging port is on the back of the toy, and I struggled the first time I tried to charge it, as pushing the wire in needs to be done with quite a large amount of force. I was terrified of ripping the silicone, it took me around 20 minutes the first time to figure it out because it looks like a sealed hole!
Once the Romant Sonia Smart Wand Massager is fully charged, this provides around 2 hours of play time.
Care Guide
Caring for the Romant Sonia Smart Wand Massager is very easy. Use only water based lube with this toy and washing should be done with warm soap and water, or with a mild sex toy cleaner. The smooth design means that there are no crevices and everything is simple to clean and the toy needs to be air dried. The box for this toy is quite bulky for storage, however it is very discreet once the sleeve is removed!
Conclusion
Overall, I would highly recommend this Romant Sonia Smart Wand Massager to anyone looking for something smaller than many wands on the market, but definitely has some oomph behind it. This toy is easy to use and beautiful to look at and great for clitoral stimulation… or even a great massage for those achy muscles.
Score: 9/10
– Wallfl0werWays
---
Where To Buy
Thanks to Pleasure Panel reviewer Wallfl0werWays for this review of the Romant Sonia Smart Wand Massager.


The Romant Sonia Smart Wand Massager was sent free of charge, in exchange for a fair and honest review by the Pleasure Panel, by Honour. Thank you! Find all Romant sex toys at Honour here.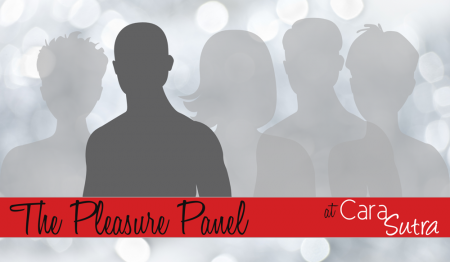 This review contains affiliate links.