Romant Amber Voice Activated Vibrator Review
By Pleasure Panel reviewer Nat and Tom
We received the Romant Amber Voice Activated Vibrator from Honour to test and review as part of September's Pleasure Panel Round. Thanks!
It arrived in a plain cardboard storage box with just the brand name on the front but there was a glossy sleeve over the top of this. This featured a picture of the vibrator on the front and back. It also offered up the toys key features on both sides, a product description on the back and some information regarding the warranty.
Inside the storage box the vibrator was housed in some polystyrene casing and the charging cable and user manual were hidden away underneath a compartment. It doesn't come with a storage bag but I suppose it could be kept in the box if you don't have a huge collection like I do.
The Romant Amber Voice Activated Vibrator is a rechargeable vibrator that charges via a USB system. Plug that connector into a suitable port such as a laptop and place the jack into the charging hole on the back of the toy. Whilst it is charging the lights will flash. These will then go steady once complete which should take around two hours. The manual states that you can get more than two hours of use per charge but this seems to depend on the settings that are being used. I'm the type of girl who always has her vibrations on high so the battery only seems to last about an hour and a half for me. Still, that's not a bad charge time to use time ratio and I'm pleased with it.
It has been made from a soft, elegant feeling silicone in a beautiful rich shade of purple. It's velvety smooth to the touch and has a minimal amount of drag to its supple surface. As it's silicone, it's hypoallergenic, odourless, non-toxic and free from phthalates. It's a completely body-safe option at an affordable price point that seems to be made very well. To care for it, only use water based lubricants to avoid damaging the material and be sure to rinse thoroughly with warm water before and after each use. You can also add some soap/sex toy cleaner afterwards for a proper clean. Amber is fully waterproof so rinsing is no problem but do be sure it's fully dry before putting it away or turning it on again.
To operate, there's a four button control panel. Press and hold the + button to turn the massager on. Press M to start the vibrations. Continue to press M to explore the preset functions. There are seven to choose from. One constant setting and six patterns. I don't use patterns as I find them off-putting but it has all of the typical pulsation modes you'd expect to find on a mid-range vibrator. If you want to change the intensity of a setting you can do so by pressing the + or – as required. To activate the Voice Frequency Control mode press and hold the H button for three seconds. The vibrations should then operate via the surrounding sound sources. Press the – button for a couple of seconds to turn off.
Voice activated vibrators are something I'd heard of but never tried before so I was excited to put this feature to the test. It was the main thing that drew me to this particular toy and I know it will probably intrigue a lot of other people too. What I liked about this mode was that it doesn't just respond to the sound of one person's voice. It can respond to me, my partner, a ringing phone, a tv playing in the background or even our favourite sex playlist. I'm sure the possibilities are endless because it will vibrate in time with any noise it can pick up on. This makes for some interesting vibrations and also made me realize how quiet I usually have my environment whilst masturbating. For that reason, it will be most used with my partner in tow.
In regards to measurements, the Romant Amber Voice Activated Vibrator is around 8.6 inches overall. It has five and a half insertable inches and a maximum circumference of 4.9 inches at its widest point. There is absolutely no give to the silicone whatsoever which makes it rather rigid and not the best choice for a complete beginner. If you have never inserted anything before or aren't used to rigid materials then I'd suggest starting with something smaller and coming back to this later. For me though, it was perfectly manageable with a coating of lubricant and I found the insertable length ideal for my body. It is long enough to hit my G-spot but short enough to avoid bashing my cervix.
It has good, accessible button placement, a comfortable, ergonomic handle and a gorgeously bulbous head that just screams G-spot stimulation. As I expected, the tip of the vibrator managed to find my hot spots easily without much effort on my part and I didn't even need to start the vibrations to get the orgasm that followed set in motion. It has the firmness that my g-spot loves, a filling amount of girth and a very subtle curve that is just perfect for internal use. In my experience, it wasn't a thruster. I didn't get much from that method as a rocking motion worked better. When I added that high intensity constant speed to the mix I could feel the magic happening within me.
My vagina doesn't mind buzzy vibrations but my clitoris is not a fan. This means I can happily use the Romant Amber Voice Activated Vibrator as an internal vibrator but it's off-limits for external use. It is definitely what I'd class as a buzzy toy although the vibrations are well powered. I did attempt to use this for clitoral play during one of our initial testing sessions but I found the vibrations just numbed the area which is an instant turn off for me. If you don't mind buzzy vibrations or prefer shallow stimulation then you could probably use this for both internal and external playtime.
Noise wise, I don't think a voice activated vibrator is a toy you'd choose if discretion is important to you but it is actually rather quiet. Sounds are a motivating factor when using this product and most of its appeal comes from the voice activation mode, so it could be loud depending on the noise you are using to work the voice recognition software. If you're in a situation that requires privacy and this is all you had on you, then the preset modes could discreetly offer you vibration but I think it's much better to use with the voice activation switched on.
Overall, it reads that I enjoyed my experience with the Romant Amber Voice Activated Vibrator and I did, but there's something missing for me. I don't know whether I expected too much from the idea of the technology behind this vibrator or whether it's just an average toy with a cool feature, but it didn't wow me. My mind wasn't blown and I wasn't rushing to use it again. I do like it and I can get off with it with no problems, but it just doesn't stand out to me as I hoped it would. There's nothing particularly wrong with it outside of its buzzy motor but it hasn't managed to capture my attention and work its way into my rotation of favorites. I'm sure it could be extremely fun and interesting for some people, but I'm not hurrying to recommend it over other options.
7/10
– Nat and Tom
---
Where To Buy
Thanks to Pleasure Panel reviewer Nat and Tom for this review of the Romant Amber Voice Activated Vibrator.


The Romant Amber Voice Activated Vibrator was sent free of charge, in exchange for a fair and honest review by the Pleasure Panel, by Honour. Thank you! 🙂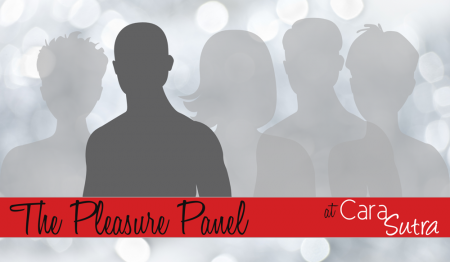 This review contains affiliate links.