Rock Rings Wrecking Ball Vibrating Cock Ring Review
By Pleasure Panel reviewer Random Red Rose
I'd like to thank AmazingO and Cara Sutra for sending the Rock Rings Wrecking Ball Vibrating Cock Ring to test in exchange for an honest review, I've seen similar items before and wondered what they'd be like.  What has stopped me purchasing this item? Pure fear.  How heavy is that little dangly ball?  Will Mr Rose still love me unconditionally if his tender nuts get a hard whack?  I guess I was about to find out.
I love the look of the Rock Rings Wrecking Ball Vibrating Cock Ring.  It comes in a plain but bright blue packet with the product purely and clearly on display in the centre.  It's made from black 100% silicone, with a black, chunky 7 function bullet vibrator at the top (This is removable) and a swinging metal ball at the bottom (this can also be removed for easy cleaning) and in the centre is a beautifully twisted cock ring.  Within the cock ring are six nodules with six small magnets inside.  Some other things to note about the Rock Rings Wrecking Ball is that it has a size of 2.8cm, it is free from phthalates and latex, it's waterproof and it requires 3xLR44 batteries (which are included, so you're ready to rock!).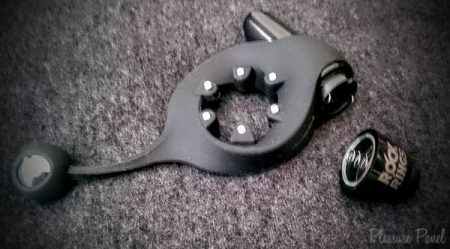 This is where the fun really started, unfortunately not the fun I had wanted.  Mr Rose was ready and waiting for me to place the Rock Rings Wrecking Ball onto him.  After I applied some water based lubricant, I pulled the firm but slightly stretchy twisted ring in my fingers and watched as two of the magnets sprang from their positions. I dropped to my knees searching the area for them but I was unable to find them, until I looked more closely at Rock Rings Wrecking Ball and found them on the bullet, transforming it into something resembling a hedgehog!  I was terrified, this was supposed to sit against my most delicate of areas!!  I repositioned them and decided they would be facing Mr Rose for the duration of use.  So with much more care and a lot more wariness I position the Rock Rings Wrecking Ball in place.  This was a very difficult task!  This cock ring is tight. Very tight.  The results are very evident almost straight away.  Incredibly hard would be an accurate description.  But alas, within around 20 minutes of use we had to abandon the Rock Rings Wrecking Ball Cock Ring.  The magnets had wriggled out, thankfully not all of the way this time but were digging into the base of Mr Rose's cock and causing pain that was not at all pleasurable.
During the time we used it I thought that the vibrations were buzzy but nice, more power would have been better, and I liked the feel of the Wrecking Ball as it bounced against me in both missionary and doggy positions.  Unfortunately, Mr Rose said that if he hadn't seen it first he'd probably not even have known it was there.  So there was no reason to worry about the weight of the ball slamming into him.
I think the Rock Rings Wrecking Ball Vibrating Cock Ring was incredibly disappointing.  It was too tight, uncomfortable and rather painful.  I absolutely hated the magnets and would thoroughly recommend removing them before use, as I really would worry about where they might end up.
However, if you like very tight cock rings and a certain amount of pain, this could be perfect for you, just be careful with those magnets!  We won't be using this again.
– Random Red Rose
---
Thanks to Pleasure Panel reviewer Random Red Rose for this review of the Rock Rings Wrecking Ball Vibrating Cock Ring (£24.99)
This sex toy was sent free of charge, in exchange for a fair and honest review by the Pleasure Panel, by AmazingO. Thank you! 🙂
Useful Links
This review does not contain any affiliate links.