Rock Candy Super Sweet Pink Vibrating Bullet Review
By Pleasure Panel reviewer Miss Scarlet
I was delighted to be able to review the Rock Candy Super Sweet Pink Vibrating Bullet for the March Pleasure Panel, and this cute little bullet proved to  be quite a revelation.
Packaging
The Rock Candy Super Sweet Pink Vibrating Bullet is packaged in a tiny cellophane bag, which looks like it should contain sweets rather than a sex toy. The front of the bag is transparent so the product can be seen before opening the packaging.
Product information includes a safety warning and the key features of this bullet vibe. The main features are: batteries are included, three speeds plus a pulse setting, waterproof, comes in fun candy colours, made from body-safe silicone,  compact fun size and has a velvety, soft touch.
I did notice that when I cut the packaging open, there was initially a mild sweet smell on the vibe. It reminded me of confectionery, but it wasn't actually very pleasant. I'm not sure whether it was an intentional odour as part of the sweet-themed Rock Candy brand, or if it was a lingering smell from the silicone or the manufacturing process. Thankfully, it did disappear after a day or so.
Appearance
The Rock Candy Super Sweet Pink Vibrating Bullet is made from hot pink body-safe silicone. The end cap has a small blue on/off switch, and the cap screws off to reveal the battery compartment. This dinky Rock Candy bullet vibe measures approximately 2.5" in length and  2.5" in diameter, so it is very discreet and is perfect to keep tucked away in a pocket or bag for that unexpected opportunity.
Power
This bullet vibrator is powered by three LR44 batteries, which are the tiny, round type, and are helpfully included already inserted in the product. The red insulation disc should be removed from the battery compartment before the product is used.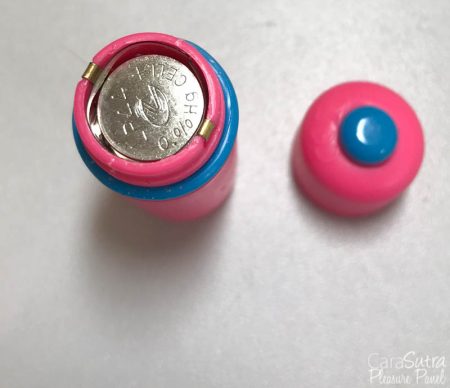 Use
This bullet vibrator is switched on by one press of the on/off switch and then switched off by holding the switch down for a second. There are four settings, which are cycled through by pressing the on/off switch. The first three settings are constant speeds, with the remaining one being a pulse pattern.
I was amazed how such a tiny toy could produce such strong vibrations, even on the lowest constant setting.  The vibrations produced by this Rock Candy bullet are buzzy and incredibly intense. I achieved better quality orgasms with this tiny vibe than I have with very expensive high-end sex toys. However, I've never managed an orgasm using a pattern setting, and this Rock Candy bullet vibe was no exception. I also used this sweet bullet vibrator on my partner, and he loved it as much as I did, and it bought him to orgasm in no time at all!
The end of the Rock Candy Super Sweet Pink Vibrating Bullet is flat rather than pointed or round like other bullet vibes I have used. However, this wasn't an issue and the vibe could still be positioned easily on my clit for maximum pleasure.
I didn't think that the noise level of this Rock Candy bullet vibrator was particularly loud, and I would say it's similar to that of an electric shaver.
Care & Cleaning
This bullet vibrator is waterproof and should be cleaned with warm, soapy water or an antibacterial sex toy cleaner.
Conclusion
This Rock Candy Super Sweet Pink Vibrating Bullet is certainly as super sweet as its name suggests! It's ridiculously cute and delivers incredible orgasms for any gender.  At £8.95, it is an absolute bargain!
9/10
– Miss Scarlet
---
Where To Buy
Thanks to Pleasure Panel reviewer Miss Scarlet for this review of the Rock Candy Super Sweet Pink Vibrating Bullet.

This bullet vibe was sent free of charge, in exchange for a fair and honest review by the Pleasure Panel.
Contains affiliate links