Rock Candy Rock On Red Cock Ring Review
By Pleasure Panel reviewer kikka_jennie
I had the pleasure of reviewing the Rock Candy Rock On Red Cock Ring for Cara Sutra's Pleasure Panel. I also reviewed the Rock Candy Rock It Ice Blue Vibrating Cock Ring (see my other reviews), which would be an awesome accompaniment to this ring for a lovely naughty sexy session.
The Rock Candy Rock On Red Cock Ring packaging is foil and plastic, it does say recyclable on the back of the packaging. The front of the packaging has a plastic see through window so you can see the TPR ring size, thickness and colour. It also states on the front that its a 'stylish ergo fit', I wouldn't go as far as stylish but its definitely appealing.
Ergo fit means that there is a science behind the fit. The Rock Candy Rock On Red Cock Ring is made to fit the users not make the user fit the purpose of the item. In this case the size means it will fit most and do its job more in comfort which you can see with the inside ridges -which is different compared to most cock rings which are flat.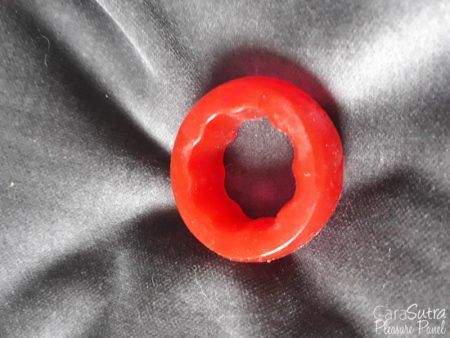 The colouring of the packaging are nice cooling colours, solid rings around the see through plastic front ring which implies its slightly different to the vibrating ring which had bubbles, but it is implying it is in the same range.
On the back of the Rock Candy Rock On Red Cock Ring packaging it has the wonderful saying of 'Rock Hard with Rock On', which is very catchy and suits the item well due to it keeping erections after the fact so the fun doesn't stop! It also states how its compact and an 'On-The-Go' size in which it will fit into most pockets or over night bags, it does make a crinkle noise when compressed, something to be wary of if in a pocket.
It does say keep away from direct sunlight and hot temperatures, again I am guessing but presume its the material its made from. There is the usual health warning on the back to not use on any areas which may have irritation.
The Rock Candy Rock On Red Cock Ring itself is a lovely sexy confident red, I love the deep colour as it seems all the more naughty, like a deep red lipstick! It is much harder jelly like substance (TPR) than the vibrating cock ring from Rock Candy but still very squishy as well as stretchy. It does have a light smell to it, not unpleasant but a warmed plastic, but that is only when close up to the ring or just when out of the packaging. It has the brand Rock On imprinted on it, it's smooth in the ring so you can not feel it when your fingers rub over it, same with the inside of the ring, it has a join line but you cannot feel it when it rolls over.
Upon using the Rock Candy Rock On Red Cock Ring it did slightly roll at first but being as thick as it was it soon righted itself. If you were to roll it I suggest some light water-based lube.
This cock ring is very stretchy so I pulled it using both hands with 2 fingers inside and it was able to stretch over balls as well as the shaft. I definitely think it would fit most sizes that are bigger than the ring itself, if smaller use on the ball area for a different sensation, but this should be attempted with some knowledge first.
The Rock Candy love ring did its job, after the goo was expelled the cock stayed hard for quite some time, it also made him very sensitive, so for those that like to do after climax torture its a delight. I tried this erection ring a few times, I tried warm water and only placed it around the head just under the lip, it created a fun sensation for him again with a water based lube. Its a fun experimentation toy, but I suggest keeping it in a bag as it collects dust and bits so easily.
Minimal negatives to the Rock Candy Rock On Red Cock Ring really – its just a lot of fun. I think the initial smell and if you're smaller than the ring initially and only want a cock ring, then its not for you.
9/10
– kikka_jennie
---
Where To Buy
Thanks to Pleasure Panel reviewer kikka_jennie for this review of the Rock Candy Rock On Red Cock Ring.
This sex toy was sent free of charge, in exchange for a fair and honest review by the Pleasure Panel.
Contains affiliate links.