Rock Candy Rock It Black Vibrating Cock Ring Review
By Pleasure Panel reviewer Miss Anna
I was given the opportunity to review the Rock Candy Rock It Black Vibrating Cock Ring by the Pleasure Panel organised and run by Cara Sutra.
The Rock Candy range looked super cute and I couldn't wait to test out this 'Rock It' vibrating cock ring with my partner.
Packaging and First Impressions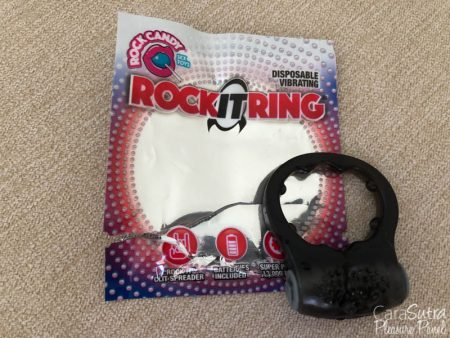 The Rock Candy Rock It Black Vibrating Cock Ring came neatly packaged in a small plastic packet similar to that you would receive candy in, keeping in line with the brand 'Rock Candy'. I have also been testing the Mega Mini Waterproof Bullet Vibrator which came in a similar packet.
I like the packaging a lot, it is incredibly appealing, simple and fuss free; I cannot see the point in masses of plastic packaging/boxes for small toys such as cock rings, it is great to see the company keeping waste to a minimum by supplying their toys in these small sealed rip top packets.
The front of the packet features the brand logo and some of the features this cock ring has to offer, 'Rock It' clit spreader which sounds very interesting!, batteries included and a powerful vibration of 13000 RPM! It is worth noting this cock ring is marketed as disposable.
The back of the Rock Candy Rock It Black Vibrating Cock Ring packaging goes on to list some more features such as 'One Size Fits All', 'Pushing Cushion', 'Ergonomic Erection Ring' and an 'Extra Battery' built to last around 50 minutes as well as stating the features already mentioned on the front of the packet. There is also some safety information printed on the back of the packet telling us what we should and shouldn't be doing with this product.
I think the packaged item looks interesting and certainly contains some quirky features that I would like to try out!
Look and Feel of the Rock Candy Rock It Vibrating Cock Ring
Taking the Rock Candy Rock It Black Vibrating Cock Ring from its packaging I wasn't overly impressed with its initial appearance. It looks very cheaply made and the finish wasn't as clean as it could be. The ring I am reviewing is stated as 'Black' but in actual fact is more of a transparent grey.
I like the shape of the 'ring' as it is more of an oval opposed to a perfect circle so I would agree with the ergonomic design however I think the ring is let down further by the incredibly nasty looking vibration bullet that runs through the top of the device.
The feel of the Rock Candy Rock It Black Vibrating Cock Ring is almost sticky, being made from a 'gummy' material it seems to collect particles from anywhere it is put down.
It is a shame that this cock ring looks tacky and feels so poorly made as there is what could be some great features on this product. I think the 'Rock Out' clit spreader to the side of the bullet at the top of the ring could be a fantastic feature -however, as it is, the structure wasn't even moulded properly. I liked the idea behind the arrow on/off switch, again this could be used as another quirky selling point however as it is I am not even sure it will hold.
The Rock Candy Rock it Vibrating Cock Ring in Use
After such a let down in first impressions, I wasn't expecting a great deal performance wise from this cock ring however I was a little surprised when it came to slipping the Rock Candy Rock It Black Vibrating Cock Ring onto my partner's hard cock; we usually have some problems with cock rings as he is quite girthy in that department however this ring slipped on with ease and he wasn't complaining about the overwhelming tightness seconds after… It seems this ring has its positives after all!
Achieving a comfortable fit I turned the vibrating bullet on and received a reassuring smirk that he was enjoying the vibrations not only on top of the ring but also all the way through the ring too.
During intercourse I was correct in my original thinking about the dodgy switch, with a little movement added into the equation the switch refused to hold through the vibrations and flicked off a number of times. I found that the vibrations from the 'Clit Spreader' were also a little too superficial for me, and it was almost as though the vibrations were too fast and not quite deep enough to properly enjoy.
As this was a 'disposable' item we only got one proper use out of it, coming to use the Rock Candy Rock It Black Vibrating Cock Ring again there was a little power left in the batteries which died out within moments.
Conclusion
Whilst this Rock Candy Rock It Black Vibrating Cock Ring doesn't look like much it just about does the job it is intended to.
A reasonable purchase for the low price tag however I find it hard to believe that the Mega Mini Waterproof Bullet Vibrator is only a couple of pounds more and is in a completely different league.
4/10
– Miss Anna
---
Where To Buy
Thanks to Pleasure Panel reviewer Miss Anna for this review of the Rock Candy Rock It Black Vibrating Cock Ring.


This sex toy was sent free of charge, in exchange for a fair and honest review by the Pleasure Panel.
Contains affiliate links.