Collars have long been seen as the symbol of submission. Although worn by others as well – Dominants, goths, alternative types – that is usually for fashion rather than BDSM reasons. A collar around the neck of a male or female submissive is an instantly recognisable and prominent symbol of their submissive orientation in the world of BDSM.
Despite not identifying as submissive myself, I do enjoy many different types of roleplay with my life partner including bondage and Dominance/submission in a sexual setting. We use many accessories in the bedroom to complement our roleplay appetite such as bondage rope and restraints, spanking implements, BDSM sensation tools and, at times, a collar and leash.
As you can see in my recent review of the 7 Wheels of Pain Pinwheel, I received a few pieces of fetish gear from Temptations Direct to try out and review. I'd met the Temptations Direct team first at Sexhibition in Manchester, and we soon connected again via email and made some review arrangements. In this review I'll be focussing on a beautiful collar which was one of the items I received free of charge in exchange for fair and honest reviews.
The Rimba Spiked Bondage Collar does what it says on the tin – well, in the title. Before the four items I received from Temptations Direct, I didn't personally own any Rimba fetish gear. I definitely want more now. This collar is a great example of what I believe makes Rimba so great; it's leather, it's got that lovely suede back that leather has, the spikes are connected to the material well, the buckle is easy to fasten and adjust and everything about it feels like you have a good quality product in your hands – and then around your (or your submissive's) neck.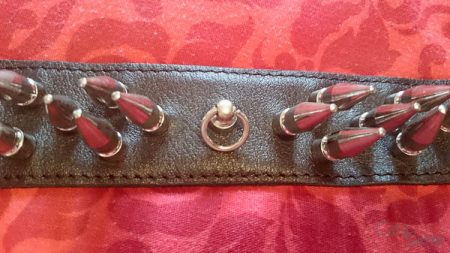 The collar measures approximately 16 inches in overall length, with a width of 1.5 inches. There are 12 spikes on each side of a central small O ring riveted to the material with a raised stud; everything seems very firmly attached for long-term use without worry that it's going to fall apart or that a spike will detach. From my measurements and the adjustment settings of this collar, it would be suitable for necks between 12 to 14 inches in circumference. This is the small-medium size of Rimba Spiked Bondage Collar, there is also a larger size available which is stated to be adjustable up to 16.5 inches.
As is traditional, the Rimba Spiked Bondage Collar fastens with a metal buckle fasten. There's 5 notches so you can adjust it to fit comfortably. It's quite a weightly piece for such a little strap of leather, the spikes no doubt play their part in that. You know you're wearing it once it's on. I weighed it in at 221 grams.
The only minor detail I'd mention about this collar, which may be a niggle for some, is that the central O ring is very small. For me it's cute and gorgeous as an adornment to a collar I may wear out and about, simply added for décor. If you were wanting to use a leash with this O ring and attach via trigger clip on a lead, you will need to find a leash with an incredibly small attaching clip. The medium and large trigger clips I have on other accessories and leashes were too big to fasten to this small O ring. It would however be perfect to attach, say, the small hooks from chain nipple/clit clamp harnesses which tend to have delicate and fine chains and hooks.
Certain wrist restraints which are more jewellery in appearance and form could be used with this ring, potentially. I'd say that most metal trigger clips are out, though. As I say, I love the look of the smaller ring and this cute, goth girl look would be lost if the ring were bigger. You have to decide what you want from your bondage collar.
Another point to note: it's not the cheapest collar in the world at a penny under £45, but once you feel the quality of it the price becomes understandable. It's soft, pliable leather with a comfortable suede back, durable metal riveted spikes and traditional central O ring and metal buckle fasten – with each buckle hole metal reinforced for even more durability.
If this sounds like the collar of your dreams – and it's certainly found a fond spot in my heart and around my neck – then you can buy yours from Temptations Direct.
You'll find the Rimba Spiked Bondage Collar here for £44.99.


Photographs