Ever since I was introduced to the pleasure of spiky vampire gloves, I've been addicted to BDSM sensation tools which cause that seductive prickle all over your skin. Mimicking the same sensation that occurs when you get goosebumps, whether it's down my spine, over my thighs or elsewhere, sends me straight into high physical alert and arousal mode.
Over the years I've used several feather ticklers and single wheel pin wheels (also known as Wartenberg Wheels) either to deliver erotic sensations to a sex or power exchange partner or enjoy those sensations given to me with accessories by my own partner. I'd often seen multiple wheel pinwheels and was curious, but owning and using a single wheel pinwheel already I put it down to a mild curiosity that didn't need sating particularly urgently.
I'm now cursing my lack of interest.
Thanks to Temptations Direct, who I was lucky enough to meet and chat to at the recent Sexhibition event in Manchester, I now own this gorgeous Rimba 7 Wheels Of Pain Metal Pinwheel. It's been one of the staples (pun most definitely unintended) of my sex life ever since ripping it out of the packet -yes, almost to the moment- and I can't think of anything about it I don't love.
The quarter inch wide handle is slender but durable, and has ridges down its length so you can easily keep a good grip during use.
The head is about 1.4 inches wide and this is where the 7 spiked wheels are held, each freely and independently rotating on a central axis.  The overall length is approximately 6.6 inches.
The whole thing has a sturdy and well finished feel, weight and quality of manufacture, reassuring me that I own a solid BDSM product which will last. Unlike other pinwheels which may 'wuss out' of the spikiness that makes them famous, the Rimba 7 Wheels Of Pain Metal Pinwheel is incredibly spiky. In fact if you put too much pressure on you could easily pierce thin areas of skin, so be careful.
Safety Note: Piercing the skin, bloodletting and other blood play is a limit for most people whether in or out of the BDSM scene. Always play responsibly, consensually – and if you do include skin piercing or breaking the skin in your power exchange sessions make sure everyone involved declares a recent bill of good clean sexual and other physical health. Also, I am not sure what the metal is, but if you have nickel or other allergies it would be best to contact Temptations Direct to get the exact components.
Whether you use a pinwheel for delicate, light, teasing prickles which mimic goosebumps, or prefer a heavier, hardcore and edgy masochistic weight in your wield, the Rimba 7 Wheels Of Pain Metal Pinwheel can help you achieve your desires.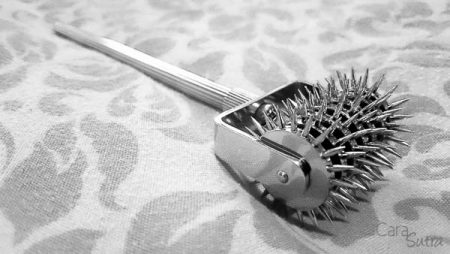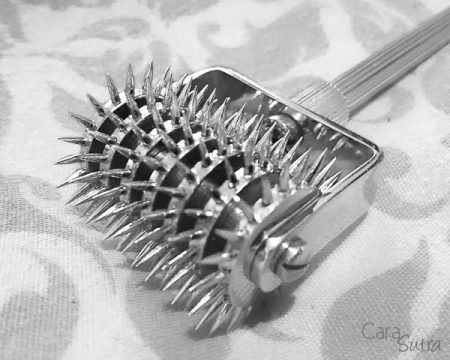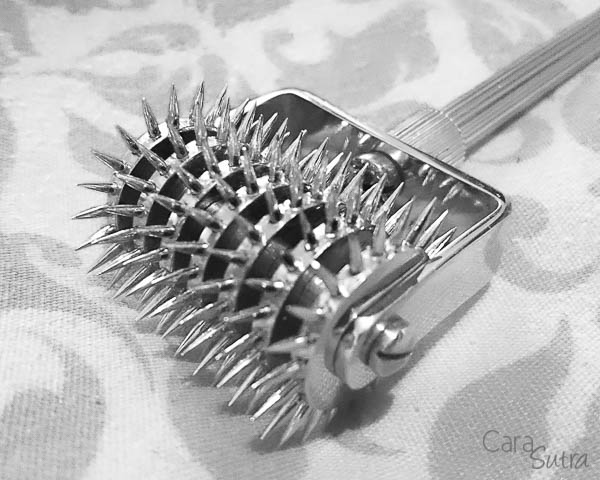 I've ditched the single wheel pinwheel into the storage box and this has now taken its place permanently on the bedside table – and in my kinky kit for travels/play sessions. To be honest I'm a bit possessive over it and just demand that my partner uses it lightly over me until I purr and mew. Used in conjunction with the Rimba Deluxe Leather Wrist Cuffs and Rimba Spiked Bondage Collar it's even more enjoyable – look out for those reviews soon!
If you'd like to add this pinwheel to your kinky toy box, you can buy the Rimba 7 Wheels Of Pain Metal Pinwheel here at Temptations Direct for £42.99.
Photographs