My first experience with House of Eros was many, many years ago when I liaised with them about adding their products to the stock base of a large UK distributor of adult goods. This was back in the days of my sex toys office job, and I'm happy to say House of Eros is still going strong today. It's always a delight to see their handcrafted fetish restraints and BDSM punishment implements exhibited at adult industry events such as the ETO Show, and catch up over a coffee.
The House of Eros Suspension Frame & Bench
My most recent experience with a House of Eros product, other than for the purposes of this review of course, came last November. If you recall, I was honoured to open the new Boiler Room for La Boudoir Boutique. On the day I took great pleasure in being part of the fetish photography shoot, enjoying not one but two gorgeous women being restrained and presented for me to tease, spank and whip. What item did I select from the many rails of BDSM equipment? The House of Eros heavy leather flogger.
Coming up to the present, La Boudoir Boutique got in touch with me at the start of this year to enquire about the possibility of a product review for them. I said yes, and immediately knew what I wanted. The House of Eros flogger I'd enjoyed so much back in November. A couple of days later and the flogger was in my hands, having been professionally and discreetly wrapped by la Boudoir Boutique and sent quickly along with the most gorgeous sparkly gift box in my colours: black and red. Thanks La Boudoir Boutique!
Just so we're clear, the House of Eros flogger was sent to me free of charge in exchange for a fair and honest review.
There are three parts to the flogger: the soft leather, suede backed tails, the handcrafted, contoured and smooth wooden handle and the screwed in hanging hook with an elastic band attached do you can hang the flogger on a hook.
The band on the end is actually a brown hairband which was a bit of a surprise but it works. Doesn't bother me too much but for the price some might argue that it should be a looped piece of leather or something a little more deluxe than a simple elastic hairband.
Update 2 February: House of Eros have let me know that the hairband loop isn't from them but must have been added by the shop.
The hanging loop fades into insignificance when you feel the tails, or fronds, of the flogger. These fairly wide tails are flat cut at the ends, and made from incredibly soft leather. The front of the surface is smooth leather and they have a suede feel back. There are so many of them attached to the handle that this is a really luxurious feeling heavy-weight implement. Coupled with the smooth contoured wood turned handle, the House of Eros flogger would take pride of place in any BDSM gear collection. It's a whip that you just can't cast aside like a run of the mill, sex shop whip.
Although it's not the largest flogger I've ever seen, it's not as small and light as what I term the 'handbag floggers' (read my BDSM floggers and whips reviews here) either. It's easy to wield but still delivers a satisfyingly deep thunk of a whack when spanking the arse of your submissive or lover. The plentiful tails can be used to tease the skin of exposed thighs, calves or feet, interspersed with harsher punishment to the fleshy areas of the buttock and upper thighs.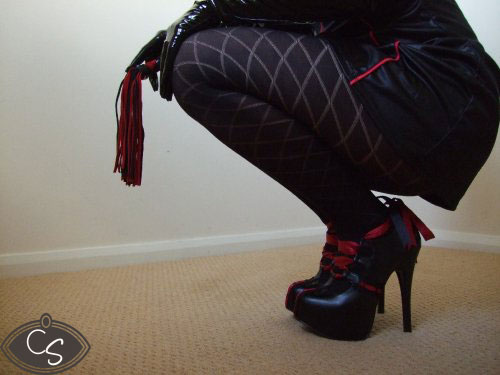 Example of a 'handbag flogger': Bondage Boutique Suede Whip (discontinued)
I love feeling this flogger in my hands. The flourish through the air, the weight tilting from the rise to the fall, and the power given to the thwack by my punishing hand. The slap of the fronds against their skin and the increasing rosiness that comes from a prolonged punishment session.
At over £50 this flogger is definitely a purchase that you need to carefully consider. It's not a throwaway tenner bit of fun, it's not even a £20-£30 Fetish Fantasy 'deluxe' offering. I give it 9/10 and the only reason there's a point off is because the hanging loop could be better presented and the join of the leather to the wooden handle is a little exposed.
However, with the House of Eros Flogger you're buying a lovingly crafted kinky punishment implement made by people who are part of the BDSM scene and trusted by kinksters to deliver the entire spectrum of sensual pleasure to harsh torment.
If you'd like to own this beautiful item yourself, you can buy the House of Eros Flogger from La Boudoir Boutique for £52.50.
You can also buy a variety of House of Eros punishment implements and bondage restraints at Adult Toys UK.
Photos