Dee Lee Doo Boa Zebrano Wood Dildo Review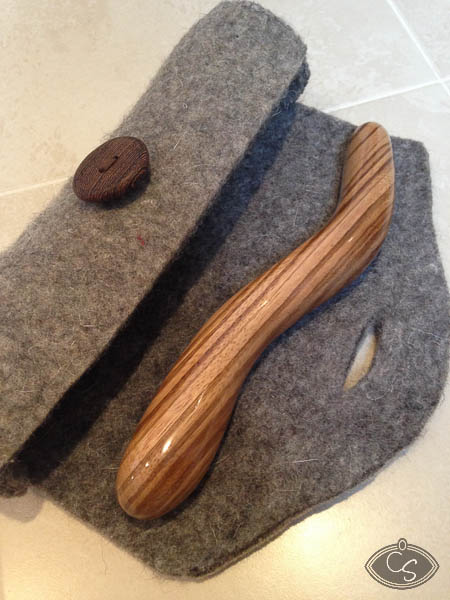 The beautiful Dee Lee Doo wood dildo brand is the brainchild of Iris Trstenjak, and you can find out more about her campaign to bring her hand crafted wooden dildos to the world in the information post here. At the time of writing, the Indigogo campaign ended and half the funds were raised… which will go towards the marketing & production of more Dee Lee Doo wooden dildos.
Iris sent me one of the wood dildos from the Dee Lee Doo collection in exchange for an honest and fair review. I have the Boa Zebrano Dildo (Boa is the shape and Zebrano is the wood type), which seemed to be the one that appealed most to me from the pictures. This was due to a combination of the undeniable aesthetics as well as the practical use, with two ends that can be used for different sensations.
The Boa Zebrano Dee Lee Doo dildo was sent quickly and discreetly, and came with a little info letter. The dildo itself comes in its own storage pouch, which is made of a thick fabric materialwith a large wooden button. It screams 'crafts' 'artisan' and 'hand made', in a good way. I opened the storage pouch and the dildo was revealed within, a highly polished, superbly smooth sex toy with curves that promised delightful stimulation.
I was feeling even more spoilt as I was sure I had been sent the Boa Zebrano from the picture on the website. Maybe not, but it looks pretty much the same! These dildos are all hand crafted and with unique wood grains etc, as is the nature of wood.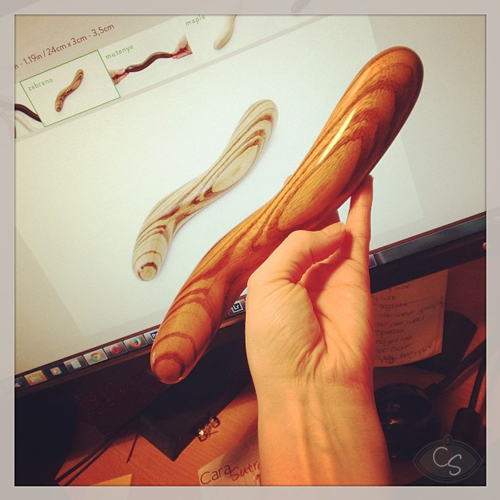 The Dee Lee Doo Boa Zebrano Dildo is my first wood dildo and I hope it won't be my last. I've also received a ceramic dildo in the past month to review, so it seems winter 2013 is the right time to try new sex toy materials. For those new to the world of sex toys, there can be an initial cringe factor when talking about wooden dildos or wood sex toys. People equate wood with splinters. Just as it has taken a while for the masses to accept that glass dildos do not shatter within you, wooden dildos do not give you splinters. Or at least, the Dee Lee Doo dildos and any high quality wooden dildos out there for sale for sexual purposes don't. I wouldn't advise hacking off a tree branch and calling it your new dildo.
My Dee Lee Doo Boa dildo has one end which is slightly thicker and rounded at the end, which some may call the handle, and the other end tapers more with a rounded pointed end. The dildo has a slight S shape, and the tapered end angles more sharply than the thicker end, making it a G-spot stimulating dildo.
If you're a dildo lover, you will adore the Dee Lee Doo Boa Zebrano. The lightweight, easy to manoeuvre form, the sleek finish, the eco friendly material and the thoughtfully crafted (I hesitate to mention the overused 'ergonomic' term) shape combine to provide a reliable, water resistant, body safe dildo which you feel a connection with from the first moment.
As the crow flies, were a crow to fly the length of a dildo, the Dee Lee Doo Boa Zebrano measures 9.5 inches in length. Accounting for the sublime curves, the Dee Lee Doo Boa measures 10.2 inches. The maximum circumference of the dildo, which is the bulge at the wider end, is 4.8 inches. The narrower end circumference begins at 3.5 inches. You can insert the dildo to whatever depth feels comfortable for you.
Dimensions given by Dee Lee Doo are: 9.45in x 1.18in – 1.19in / 24cm x 3cm – 3,5cm
During normal use, in the vagina, the wider end can be inserted comfortably up to 4 inches while the narrower end can be inserted comfortably up to 2.9 inches, before either end reaches the curve. You can of course push it in further but this is where it feels comfy to set it inside up to.
I like some vibration during masturbation so I prefer to use this wood dildo in combination with a bullet vibe for clitoral stimulation. I also enjoy pairing it with a vibrating or static butt plug for a different way to play.
Thanks to its non-gender specific form, as well as the length, you could use this for anal pleasure, which opens up the use for men as well as women. However, my first choice when using this dildo is for vaginal and G-spot stimulation.
I was pleasantly surprised when I felt extreme sensations due to the G-spot stim this dildo gave during use. The curve is very deceptive – it doesn't look overly dramatic in the product image, but in the flesh (as it were) and during use, the larger end fills you and rubs against the G-spot automatically, while the tapered end gives a more definite and precise friction against that area.
The wood material warms to your body temperature quite quickly during use, and retains that heat too. Thanks to the lacquering used on the polished wood, the Dee Lee Doo Boa Zebrano dildo is waterproof and I can use any type of sex lubricant with it, although I do prefer to use waterbased lube. Silicone lubricant is a bit overkill with this already polished up dildo; besides, your natural lubrication kicks in fast when using it vaginally.
The waterproof capabilities help to keep this dildo completely hygienic for every use. It can be cleaned thoroughly with anti bacterial soap and rinsed, then spritzed with sex toy cleaner. I wouldn't choose to use this dildo in the bath or shower simply because it doesn't add anything extra to the pleasure of this product.
In summary, the Dee Lee Doo Boa Zebrano is a highly welcome addition to my toy box. I recommend it without question to those seeking a luxury sex toy, which is hand crafted, body safe, is easy to keep clean and hygienic, provides stimulating internal pleasure and is made from an eco friendly, different to the norm material.
It is also so aesthetically pleasing, I am leaving it on show as a bedroom ornament which doesn't immediately scream "DILDO!" upon first glance. Simply stunning.
Find out more about these wonderful wood dildos and the other shapes and wood types provided, at the Dee Lee Doo website here.
You can buy the Dee Lee Doo Boa in Zebrano exotic wood for a total Euro price of €95, which at today's rate converts to approximately £80.
– Cara Sutra
Gallery
Dee Lee Doo Gallery