Poundland Vibrator Review / The Playful Vibrating Bullet
By Pleasure Panel reviewer SheBangs
Penny for your thoughts? Or should that be a Pound? So here it is, our review of the Poundland Vibrator, also known as The Playful Vibrating Bullet. It was with a touch of amusement, a heap of intrigue and a fair dollop of trepidation that we set out on the pursuit of pleasure for the grand old cost of one GBP.
Well to be fair… it didn't even cost us that, as the lovely Cara Sutra provided this Poundland Vibrator to us free of charge in return for an honest, unbiased review for the Pleasure Panel, so thank you Cara and without further ado here it goes…
My initial thought when this little pink tube came rattling out of its box was oh dear god it looks as bad as I was expecting. The Poundland Vibrator is the kind of thing you would imagine receiving as a joke Secret Santa present or in a hen night goodie bag; bouncing across the table knocking over more expensive and possibly more pleasurable glasses of wine, leaving a trail of destruction and disappointment in its wake! However beauty is in the eye of the beholder after all so maybe someone would find this shiny plastic, ribbed and sickly pink vibrator a bit more appealing than me.
Packaged in a cheap cardboard box with the obligatory pink and purple colour scheme the Poundland Vibrator itself is at least sealed in a weird plastic, foil like pack that shows it hasn't been opened before.
According to the box the Poundland Vibrator is made of ABS plastic and it doesn't contain latex or phthalates which means that is non porous so should be easy enough to keep clean and avoid lingering bacteria, however not being waterproof you'll need to be careful about getting water in the battery compartment. My heart sunk a little further upon reading single speed and single AA battery required… not included! Sigh…
The battery is inserted below the twist off end cap of the Poundland Vibrator. Simply pop the cap back on, give it a turn and off it goes; sounding like a swarm of angry bees trying to escape. To be fair though there was a touch more power behind it than originally anticipated so with a cock of an eyebrow I allowed a little sliver of hope to re-surface.
Size wise the Poundland Vibrator is a svelte 27mm diameter and an average 130.7mm in length. The Poundland Vibrator is a nice comfortable size to hold and is pretty lightweight as well so you shouldn't get arm ache from holding this one even if you do end up with arm ache from how long you may be trying for.
Ok so in one way I'm totally on board the idea of low cost, easily accessible sex toys that you can pick up whilst browsing for your random Poundland delights, on the other hand I'm slighty nauseous over the colour, the fact that I can distinguish the inner workings  from the darker area marring the slick pink exterior, and frankly heart sick that this will be some people's only experience with a sex toy if they are left sorely disappointed and not willing to spend more hard earned pounds on something that may actually wow them into next week!
Should I have allowed that hope to lift my heart? Was I going to get a pounding from the Poundland Vibrator? Or was it simply going to demand a pound of flesh and leave me frustrated, angsty and numb from its buzzy tapered point?
Maybe I'm a bit of a sex toy snob but I've got to admit my discerning vulva is a little bit turned off by the thought of a Poundland sex toy buzzing across my clit so firstly I had to actually manage to get myself into a state of arousal to give it a fair try. For the record this is definitely not an anal safe sex toy due to it not having a flared base so please keep it well away from any anal use.
Swallowing my pride and keen to be proven wrong I fired up the Poundland Vibrator, added a dash of water based lube (not too much mind you as it could be hard to hang on to with slippery hands) and got down to business. As I mentioned before it did have a bit more power than I was expecting and I definitely felt it was there but I'm afraid to say it was simply..lacking. Very buzzy with no depths to the vibrations I found myself trying different angles, using both the tapered end and the sides, moving from just inside to right on my clit with little to no success. 🙁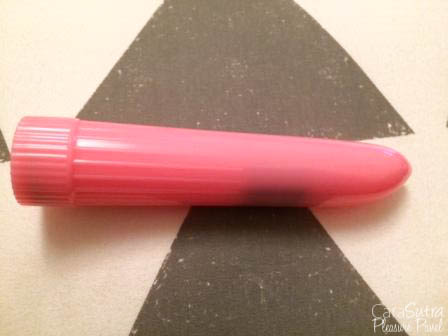 Don't get me wrong if you do not need strong vibrations to get you off then the Poundland Vibrator may be all you need to tip you over the edge or maybe just a little something to get you going when fingers aren't enough but if I'm honest, if you have had any experience with any other sex toy this will probably leave you feeling all kinds of frustrations and most likely a bit numb from your efforts.
I did try for a long time before finally giving in. I really did want to love this vibrator and wipe the smug 'see I told you so' look off my own face but I just couldn't get there, I finally finished myself off with a firm favourite but even that wasn't very satisfying as my bitter disappointment tainted my orgasm. Fear not though I did try this on several occasions for you lovely people; alas, no go! My orgasm was buried deep beneath this failure and it wasn't going to surface no matter my hard work. I even drafted the help of my lovely other half and it ended up more amusing than satisfying so frankly an epic fail all round.
I asked Steele her thoughts and I didn't get much more than a 'humpfff' so sadly we have not been converted to Poundland's extra curricular activities. We would both definitely prefer to pay a hundred times the cost of this vibrator for something that will actually be enjoyable, sexy and most importantly satisfying!
I must say the best bit about this review was popping into our local store to see if this beast was available; lo and behold there it was in all its pink glory. Living in such a small town where even if you don't know the cashier directly its guaranteed they are the best friend of your brothers, roommates girlfriends cousin, the look on their face when they stumble upon this in your basket of bin bags, chocolate biscuits and WD40 was worth more than £1; priceless!
Poundland I love your three for a £1 chocolate bar deals, your random plastic containers and seasonal paraphernalia but just revel in what you are good at, give people pleasure with your random bargains and leave the sex stuff to the people that know what they are doing!
1/10
– SheBangs
---
Where To Buy
Thanks to Pleasure Panel reviewer SheBangs for this review of the Poundland Vibrator / The Playful Vibrating Bullet.
You can currently buy the Poundland Vibrator at the Poundland high street shops in the UK. It's very similar in style & design to the Ladyfinger vibrators / classic vibrators, which are low-priced & can be found at the following online sex shops: 
UK: Lovehoney | Ann Summers | Bondara
The Poundland Vibrator / The Playful Vibrating Bullet was provided by Cara Sutra for the purposes of a fair and honest review by the Pleasure Panel.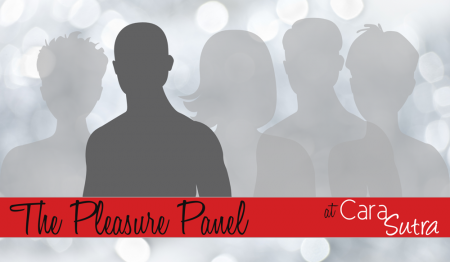 Contains affiliate links