Pasante Adore Vibrating Bullet
Pleasure Panel review by Lil Miss X
I was surprised when I opened the Pasante Adore Vibrating Bullet as the packaging was so small and discreet. A lot of sex toys I buy seem think a tiny item needs packaging that is ridiculously huge. This was a small purple box with a handwriting type font that says 'vibrating bullet'. If you look carefully there is a black and purple couple kissing on the packaging. I like the look as it's so simple. It also has a little window so that you can see what's inside.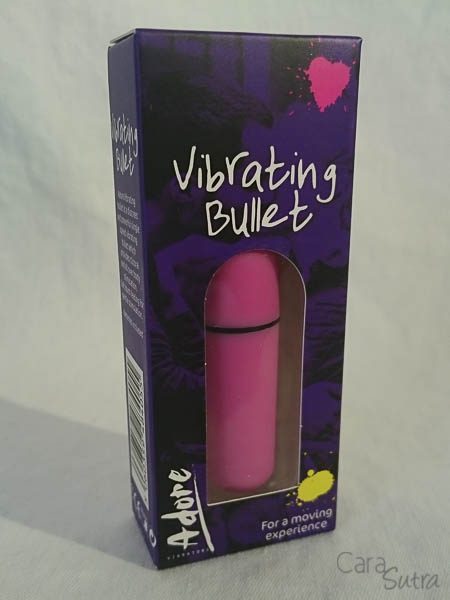 My first impression of the bullet was that it is small, discreet enough to drop into your handbag if you were to take it out with you. I like the look of it, a nice pink colour with a small black push button on the top, and a black washer around the seal.
It smelt quite heavily of plastic when it came out of the packet, but I imagine this smell will go with use and the more it is handled. It's quite small, about 1-1.5 inches long and made of a soft plastic which would be quite easy to clean.
One issue I found with the bullet was that it is powered with watch type batteries. I find this quite annoying as they are expensive batteries to buy, although I am not sure how long the batteries will last in the bullet. Especially if you do not take them out after each use.
Personally the vibrations were not powerful enough, but I like my vibrators to be very strong. I also found that when I took the batteries out while using it the second time, as soon as I put the batteries back in – even without the top – it started to vibrate. Then the button wouldn't work at all. I finally got it all together again properly and the button still didn't work, it will now only vibrate if I press and hold the button.
Unfortunately I wasn't able to get off with it. It just kept me right on the edge and frustrated, which was quite a lot of fun anyway, if truth be told.
With it being sold at £4.99 I would say this is quite good value for money. Although I wasn't able to 'finish' with it, it would be fun to have a partner teasing me with it – or even teasing myself. I would recommend this product to a friend, and I have already! I would not say this is a bargain but it isn't overpriced either.
– Lil Miss X
---
Thanks to Pleasure Panel reviewer Miss E for this guest review of the Pasante Adore Vibrating Bullet (£4.99). This small and discreet bullet vibrator takes 3x LR44 batteries which are included.
You can also buy more low priced bullet vibrators here – and read honest feedback about a variety of bullet vibrator in my reviews here.
Useful Links
Bullet Vibrators at Uber Kinky