Pasante Adore Bullet Vibrator
Pleasure Panel review by Punki
Thanks to Cara for giving me the opportunity to test and review the Pasante Adore Bullet Vibrator.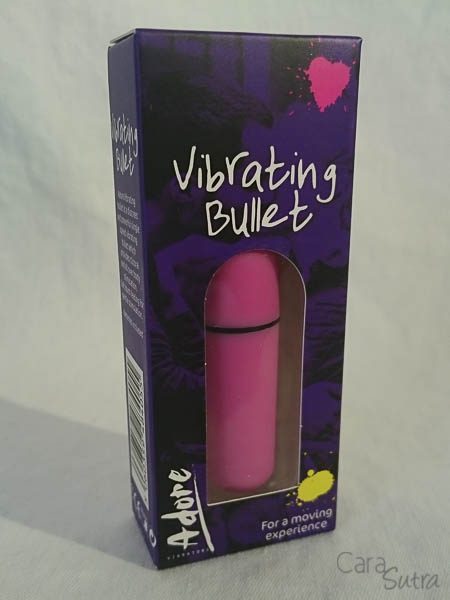 I was quite pleased with how it looked when it arrived. The packaging is pretty basic but still eye-catching. Little splashes of colour here and there add a nice touch. I thought it looked a little small at first glance but once I'd taken it out of the box I could see its true size better. There are no instructions on the box but it's pretty self-explanatory really – little black button on the top, click it and go!
The bullet is a light shade of pink which, personally, I love! It's lovely and soft to the touch, very smooth. The box doesn't actually say what materials it's made of, just that it has a "soft touch feeling for gentle stimulation". This put me off a little as I have sensitive skin, as well as a latex allergy and so have to be quite careful with products like this.
It's a nice size for a bullet, about 2.5 inches long. I've used bigger ones in the past and this one very nearly beats them all. It's small size was a bit fiddly at first, but wasn't an issue for very long. It's really powerful for its size but very quiet. It definitely lives up to the discreet claims, I'd have no worries about taking this on travels with me.
It requires 3 LR44 cell batteries, which are included. Although this type of battery is a bit of a pet peeve of mine, it's not a huge problem. It sells for £4.99, on the Pasante website, which I think is a great price for this little bullet. Definitely worth it at that price!
I loved testing this out, as did my partner, it was lots of fun. Works well for solo play or not-so-solo play!
A nice little addition, great for teasing!
Summary
Pros: Pretty, quiet and powerful
Cons: Bit small, battery size is an issue
Overall: A cute little vibe that makes up for its small size with power and discretion.
7/10
– Punki
---
Thanks to Pleasure Panel reviewer Punki for this guest review of the Pasante Adore Bullet Vibrator (£4.99). Huge thanks also to Pasante condoms who provided this sex toy free of charge in exchange for a fair and honest review by the Pleasure Panel. 
Useful Links
Pasante Condoms & Lubes at Lovehoney