Nexus Sparta Prostate Massager Review
By Pleasure Panel reviewer Wilf3564
This week I was lucky enough to have been chosen to receive the Nexus Sparta Prostate Massager from the gorgeous Cara Sutra as part of her Pleasure Panel review group. I was sent the toy free of charge in return for an honest opinion and full product review, so here goes!
As usual Cara was super-efficient in her distribution and the plain brown, anonymous package arrived almost before I knew it had been posted. Unusually, I was in when it arrived! Thus missing out the potentially embarrassing trip to my elderly neighbours to collect it 😉  Unfortunately though the house quickly filled up pretty much as soon as it arrived so I had to wait a whole 2 days before I could even open the jiffy bag to look inside.  Grrrr!
So a couple of days later I manage to open the pack and inside I found the usual polite message from Cara on how to contact her along with a business card and the "Nexus Sparta Prostate Massager". The toy comes in a beautiful, black, cellophane wrapped box. The cellophane was easily torn away to reveal a sharp looking box with a picture of a very interesting looking toy! The box is a drawer type and has lovely shaped pockets that hold the toy provocatively. The box contains the Nexus Sparta prostate massager, a USB charging cable with a magnetic connector and an instruction booklet in several major languages.  According to the booklet the toy is made from "silicone" (no mention of what grade), is completely waterproof (good for me as I like to shower with my toys!) and it gives tips on cleaning, which lubes to use and even disposal! All bases covered there I think :0)
The Nexus Sparta Prostate Massager is covered in seamless silicone and has a small electric motor with a magnetic charger for the rechargeable battery, which attaches at the base. It has 5 different speed and pattern settings which are easily selected with the control button as it is fairly obvious to the fingers. There is also a handle with a finger hole which makes holding it in place nice and easy. The widest part of the shaft (where the massager is) has a diameter of 34mm and the thinnest part (At the bottom of the shaft) is 22mm. The shaft itself has an insertable length of 10cm.  Sooo, not the biggest toy in the world, but then its target is not usually that far in so it doesn't need to be!
The Nexus Sparta Prostate Massager is a lovely looking toy. It has something of a Star Trek blaster feel about it with its trigger guard and handle.  With the trigger guard at the bottom the "barrel" is a small black penis complete with a small coronal ridge on the top. This ridge is made up of the "massager" which moves up and down within the latex sheath.  It also has 3 small rings around the base of the shaft at the narrowest part. I have to admit, that being a bit of a size queen, I was a little disappointed with my first viewing and had to keep reminding myself that it was for the prostate and didn't need to be any bigger!  So after holding and touching its silky smooth latex sheath for a while I decided to put it on charge. The USB charging cable with a magnetic charging pad is good for keeping the toy waterproof as there are no holes in the casing but it does mean that you have to be careful when attaching the charger so that the magnet is in good contact and doesn't come off when you put it down! At this point I discovered that the Nexus Sparta prostate massager comes (Almost) fully charged. Woohoo!
So, since I had a couple of hours alone in the house I decided to get on with some testing. I grabbed my usual water based lube and headed to the shower. My favourite place for the trying of new toys!
As I've mentioned, the Nexus Sparta Prostate Massager is quite a small toy for me so, other than a light coating of lube, no preparation was needed and I was up and running in a matter of seconds. With a finger in the trigger guard at the rear the toy is really easy to hold and control, which is just as well if you end up getting a little bit of lube on your hands. I found that I could use the handle and the base to leaver the actual massager into position and press it onto the prostate. However it did need manoeuvring into position as, if left to its own devices it just sat centrally and didn't really do anything.
I did find that the massaging head was quite small and a little difficult to get it to hit the sweet-spot. It needed to be about 2 thirds of the way in and levered forwards with a slight right twist for me. So even though a bit of experimentation was needed I have to say that once the right angle was determined this little toy was off and running.
The action of the massager is that of a finger wiggling up and down in a "come hither" motion, which is the perfect way to stimulate the prostate for my money 😉 So within seconds of finding the right spot I found myself being milked and a little wobbly kneed. Now, I find it very difficult to cum purely from prostate massage, and despite the very good feelings coming from this little toy milking me for all it was worth, I wasn't going to cum without a little penile stimulation. So after a couple of minutes of revelling in the waves of pleasure I was experiencing I took hold of my cock and began to play.
Just as I got to the point of no return on what was looking to be a lovely, leg collapsing orgasm, the front door burst open and my Mum shouted "Hello" as my youngest son started banging on the bathroom door wanting to use the toilet!
I've never had a ruined orgasm before but I think I would class that as one. It felt as though I had swallowed my tongue half way down my body!
A couple of days later I had another chance to play with the Nexus Sparta prostate massager and had just as much fun as before. This little toy really is very good at its job.
However!
I'm not sure how good it would be for couples play as it is quite difficult to get into position and keep there. Also I tried it as a hands free butt plug but the handle made it quite uncomfortable to sit on and as I mentioned, when not being held forward, it simply takes a central position and doesn't hit the spot.  This could just be me though and someone else may find that it sits in the perfect position for them without a helping hand. Perhaps if it had a vibrate function added as well it would be a little more versatile.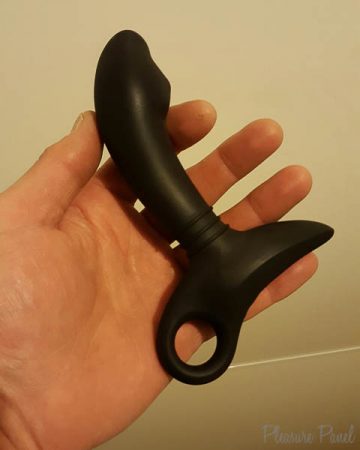 So, in conclusion, I really like what the Nexus Sparta Prostate Massager does and love the way it does it, but although this is managed well it is a little fiddly to get into position and keep there because the working area on it is so small. That said the handle makes holding and manoeuvring the toy a lot easier than others I have tried with lubed up fingers. It is not very versatile and I think a partner would struggle to find your sweet-spot with it. I think it would be improved immeasurably with vibrate option as well.
The Nexus Sparta Prostate Massager is available for a RRP of £70 from the Nexus sex toys shop and if vibration isn't your thing then I would highly recommend it as a very viable alternative.
So, thank you Cara, I have thoroughly enjoyed trying this and will be giving it a 7 out of 10 for the slightly fiddly precision needed and the lack of versatility.
– Wilf3564
---
Thanks to Pleasure Panel reviewer Wilf3564 for this guest review of the Nexus Sparta Prostate Massager (£70)
This sex toy was sent free of charge, in exchange for a fair and honest review by the Pleasure Panel, by Nexus Generation. Thank you! 🙂
Useful Links
This review does not contain any affiliate links.