Motörhead Overkill 7 Function Power Classic Vibrator
Pleasure Panel review by Louise Lace
My Pleasure Panel delivery arrived quickly and in a nondescript, brown envelope. Along with a few pieces of information from Cara, was my shiny, new, Motörhead Overkill 7 Function Power Classic Vibrator.
The first thing that struck me, was the attention to detail on the packaging.  True to the Motörhead brand, the Pleasure Bullet/Classic Vibrator, is printed with a suitably 'Rock' design, which matched up perfectly with the design on the cardboard packaging – little things like this please me.  The packaging itself is a moulded plastic sleeve, covered in firm card with a cut-out at the top for in-store hanging.  There was no easy way to open the packaging, so, out with the scissors and with care, I cut along the top and slid the plastic moulded section containing the bullet, out through the opening.  This, conveniently, allowed me to slide the bullet back into the packaging after use as sadly, there is no storage bag provided.
At first glance, the Motörhead Overkill 7 Function Power Classic Vibrator looks like it is made from a metal material but sadly not, it is very much made out of plastic and disappointingly, looks and feels very 'cheap' compared to other products on the market.
The packaging states that the Overkill is manufactured in China from ABS plastic which is latex free, phthalates free and 100% waterproof. Safety advice is given on what to do, should you suffer any medical conditions or complications whilst using this product. A water-based lubricant is recommended. Once again no cleaning instructions are provided, I do wish companies would consider providing cleaning information with their products, not everyone is an experienced toy user.
The Motörhead Overkill 7 Function Power Classic Vibrator requires 3 x AAA batteries (not supplied) which are inserted into the base of the bullet, by twisting half a turn. I found the base to be tricky to get back into place, and had to try a few times to get it lined up correctly.  Once in place a rubber seal keeps the two parts firmly together.
The Overkill vibrator is just over 7 inches long with a circumference of 4 inches, pointed at one end.  It has 7 different functions, all operated by a single button, conveniently placed on the base of the bullet. The settings include 4 different patterns and 3 differing speeds, so there should be a pattern or combination, to suit most users.
The product information promises the user to experience "orgasmic overkill" with "heavy duty vibrations" from the "Loudest band on Earth" so, Lemmy get my hands on this and rock : )
To give myself a chance to get used to the different speeds and patterns, I decided to use the Motörhead Overkill 7 Function Power Classic Vibrator on my other half first, much to his delight – he has been in chastity for 2 weeks!
Straddling over his lap, I began by trailing the bullet across his clavicle and  down his sternum, heading towards his nipples.  Without lubricant, the bullet snagged and dragged across his skin, but with a quick slick of my trusty water-based, massaging lube I was able to glide over his skin with ease.
I clicked the button once and the Overkill leapt into life with a strong buzz which travelled the length of the bullet, I was pleasantly surprised by the power of this bullet and this was only the first setting.
Moving through the settings by clicking the button, I quickly reached the highest constant buzz setting, my fingers, palm and wrist were physically vibrating now and I could feel the vibrations up to my elbows.
At this point, I must advise that the Motörhead Overkill 7 Function Power Classic Vibrator certainly lives up to the band's reputation… it is LOUD!!!
A quick run through the pulse settings and by watching his reactions, I was beginning to get excited, how would this product feel when used on me?  The pleasure bullet had certainly perked up my other half and that was just nipple play.
Knowing that steady vibrations are a weakness of mine, and to ensure I didn't peak too early, ruining my chances of a fair review, I quickly skipped through the speed settings to the differing patterns.
These vary from short, sharp, pulses to long, ascending, buzzes which, when used clitorally, were, at times intense. The higher settings are strong, not Doxy wand strong, but they certainly pack a punch.
Penetratively, this bullet didn't really hit the spot for me, I prefer a more natural feel with realistic details, a real penis doesn't buzz.
In comparison, the Overkill is completely smooth and could be described as an oversized clitoral bullet, like the ones you would pack in your overnight bag…no? just me?
The vibrations are very powerful and travel the length of the bullet, so those who prefer internal vibrations should very much enjoy this product.
Although the Motörhead Overkill 7 Function Power Classic Vibrator is 100% waterproof, I am not quite brave enough to mix power with water so close to my precious parts, so, I stopped short of bathing with my Overkill.  I did however, drop the bullet into a bucket full of water and it happily continued to buzz away.  Thankfully, I didn't receive a free curly perm when I lifted it out of the bucket.   So, if playing in the bath/shower is your thing, the Overkill could be the bullet for you.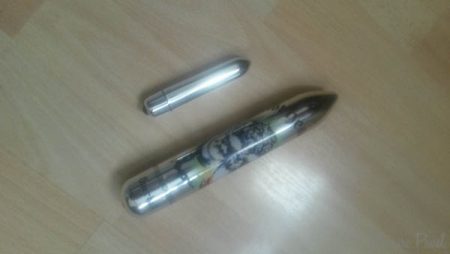 Overall, I would recommend the Motörhead Overkill 7 Function Power Classic Vibrator, especially to those who enjoy powerful vibrations. I would rate this product 7/10, losing a few points due to the difficulties in had getting into the packaging and putting the batteries in. And of course, the fact that it could give Motörhead themselves a run for their money in the decibel stakes!
Thank you to Cara Sutra for providing me with this product, free of charge, as part of the pleasure panel, in return of a fair and honest review.
– Louise Lace
---
Thanks to Pleasure Panel reviewer Louise Lace for this guest review of the Motörhead Overkill 7 Function Power Classic Vibrator (£29.99)
This sex toy was sent free of charge, in exchange for a fair and honest review by the Pleasure Panel, by Lovehoney.
Useful Links