Minx Ultimate Rabbit Vibrator Review
By pinkgilly15
As a Pleasure Panel member I offered to review the Minx Ultimate Rabbit Vibrator and said I would collect it from Cara at Sexhibition on the Sunday.  As Cara had to go home she was kind enough to leave the parcel for me at an erotica stand and everyone greeted me like a good friend and looked after this toy until I left for home.
First Impressions
Very plain packaging picture of the Minx Ultimate Rabbit Vibrator on the front in a white box. At the bottom words are simply 'thrusts – rotates – 16 modes'. The back of the box offers more information, with an outline of the Minx Ultimate Rabbit Vibrator in pink and info about it: the insertable length 4.53″/11.5cm Girth 4.58″/11.6cm material TPE&ABS and power 3 AA batteries.
Words on the back below read: Ultimate penis tip: A soft and smooth thrusting tip probes you deeply and thoroughly in three powerful speeds (sounds good to me).
Internal up/down rotating shaft: Three rows of up and thrusting steel beads plus two rows of rotating steel beads that all operate at three powerful speeds (liking this more by the minute).
Ultimate Rabbit clit stimulator: Clitoral massage at it's very best (sounds amazing).
7 satisfying modes: Three steady modes, one escalating mode, three pulsing modes.
Ultimate seven controls: The headquarters of this masterful massage tool is the technologically advanced soft-touch control panel with red and orange indicator lights for maximum control (will come back to the lights).
Waterproof: Let's you take the fun anywhere without worry (I like).
Care instructions: recommend washing before use with warm soapy water or antibacterial toy cleaner.
Removing the Minx Ultimate Rabbit Vibrator from the box I was impressed by the cellophane wrapping on the whole toy. It suddenly felt more expensive/luxurious than the box had led me to believe. It was also lightweight and soft to touch . The batteries fitted easily in the base with just a screw cap on the bottom -very easy indeed. The base is silver and gives the impression of being quality.
Vibration Settings
On/off
This operates the ears and a green light shows on ear speed one
1. Constant steady buzz (quite powerful)
2. Constant steady buzz more power (orange light)
3. Constant steady buzz strong vibes (red light)
4. Escalating from low to high vibe (light flickers all colours like traffic lights all mixed up)
5. Pulse mode fastish longish pulses
6. Pulse mode faster but shorter pulses.
7. Pulse mode fast shorter pulses with a longer pulse on each fourth one.
The on/off button need not be pressed to activate the thrusts and rotation. The arrows up and down on the control bring this into play.
1. Press up once slowish spin of bottom beads and slow thrust (one yellow light on the small lights display)
2. Press up again beads spin faster and thrust is faster (second yellow light)
3. Press up again slightly faster beads and thrust (third yellow light)
Press R/S and the beads that spin reverse in direction .
To stop of change down press down arrow 3 times to reach stop.
My Review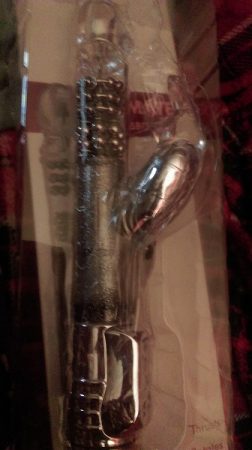 I have owned several rabbit vibrators before. I have never had a thrusting one. previous issues have been with the positioning of the ears which didn't always quite work out. I felt like the Minx Ultimate Rabbit Vibrator was well designed I love the feel of it it's so soft and shiny too. After playing with the functions I could not wait to give it a go. One of the quietest toys I have ever owned also (which is a massive selling point they should put on the box)  I'm quite a power queen normally and was suitably impressed with the ears function – fast and good vibrations just in my hand.
In practice all the red orange green lights are lost as who is looking at the lights whilst lost in the moment? Nice idea when maybe a partner is using it and would use them as a guide, possibly they would be paying more attention to your reactions though.
I used some of my favourite Sh Store Lube and was screaming the house down in no time at all. Seriously it was about 3 minutes and I came hard and was quite shocked. I had the ear vibes on number 2 constant and was on 3 with the thrusting. The soft penis tip of the Minx Ultimate Rabbit Vibrator goes in so easy and glides, no issues at all inside. The ears are a perfect fit for me sitting in the perfect spot. I think having the thrust which I was dubious about was what tipped me over the edge.
I have used this Minx Ultimate Rabbit Vibrator with my hubby since and solo many times and it's now in my top few toys.  it can be slightly frustrating to turn off after the being in ecstasy as the on/off only does the ears and it continues to thrust and spin until your brain reconnects and you press the down arrow until it stops. I would say a tiny tweak with on/off turning it off when done would improve its ease of use and stop the high becoming a frustrating 'arrghhhh how do I turn it off' moment .
Overall Score
9/10
– pinkgilly15
---
Thanks to Pleasure Panel reviewer pinkgilly15 for this review of the Minx Ultimate Rabbit Vibrator.


This sex toy was sent free of charge, in exchange for a fair and honest review by the Cara Sutra team. This review contains affiliate links.