Mia Maxx sex toy review
By Pleasure Panel reviewer Random Red Rose
When Cara gave me the opportunity to try the Mia Maxx sex toy I was so excited! I have never tried a sex machine before, I've always wanted to, but the size and cost have always put me off. Where on earth do people hide those wonderful creations?! The Mia Maxx appears to be a handheld sex machine. It has a thrusting action! *Swoons*.
This is where I have to admit this has been the most difficult product to make my mind up about and therefore the most difficult review I've had to write. I'm sorry Cara for taking so long to write it, I've spent a number of wonderful and frustrating nights getting to know Mia. I love and hate her.
The Mia Maxx sex toy comes in a rather large box with the worst graphics I've ever seen for a vibrator/sex toy.  It's mainly black, it has Mia Maxx written in beautiful font.  It has a picture of the purple version of the Mia Maxx and the words 3 Inch Thrusting Motion.  That's all rather attractive looking.  Then behind the picture of the Mia Maxx is a splash of red paint.  Red is the colour of passion, love and romance but it is also the colour of blood!  The combination of a thrusting toy and a spray that reminded me of blood was not good.  It was worrying.  It made me feel nervous about trying it out.  Thus started my love/hate relationship with the Mia Maxx.
Once you open the box another box slides out.  Now this one is gorgeous!  It's black with Mia Maxx written on it in white and the top slides off it.  It really is lovely. The Mia Maxx comes with a user manual, which is pretty straight forward and easy to understand, a DC jack plug USB charging cable and a black velvet storage bag.
I love the look of the Mia Maxx.  It is a beautiful, deep, rich purple with silver accents.  The controls light up with beautiful red, green, orange and blue lights, depending on what patterns or thrusting speed you select.  The Mia Maxx has three thrusting speeds to choose from.  You can choose to be gently rocked into orgasm, or be treated to rough,hard, deep, fast thrusts.  I love all of these speeds but highly recommend starting on the lowest/slowest setting until you're used to it.  There's no need to fear though, as there is a built in safety feature that stops the handheld sex machine if too much resistance is felt.
It also features vibrations.  There are three strengths of vibration followed by four patterns.  The disappointing thing is that I'd describe them as buzzy rather than rumbly.  They are fairly powerful though.  A major bonus with the controls on the Mia Maxx sex toy is that you have a button for thrusting and a separate button for the vibrations.  If you press and hold either of these buttons you can turn off that function.  Want just thrusting?  You can have it.  Want just vibrations and to use this manually?  You can do that too.  Want everything, you greedy person?  It's available to you.
The first time I used the Mia Maxx sex toy Mr Rose was in control.  It was amazing.  I fell in love!  It was like having a weird version of a threesome.  The only thing I was craving was some texture to the Mia Maxx.  The brilliant thing about it is that, if I wanted to splash a little extra cash, there are interchangeable heads for the Mia Maxx.  I could have that extra texture with a different attachment.  The one that comes with the original purchase is a smooth, firm, 14cm/5.5inches long one, with a bulbous head which is around 14cm/5.5inch circumference at its widest point which narrows down to around 11cm/4.3inches in the shaft.
I asked Mr Rose, a few weeks after receiving the Mia Maxx sex toy to review, which of our sex toys was his favourite and he chose the Mia Maxx.  When I asked him why, he replied because although it's incredibly loud I loved using it on you.  I loved seeing it plunging into you.  I loved the sounds that you made when I used it on you.  It's amazing.
I agree. Mostly.  When Mr Rose used it on me it was blissful.  However, when I tried to use it for solo fun it was a frustrating, irritating and unbelievably annoying machine.  Basically I would need the arms of an ape, or the body of an Olympic gymnast or some uncanny mix of the two, to be able to hold the Mia Maxx sex toy in the right position.
Believe me I tried! Memories of the blissful evening before, enjoying being thrusted into hard and fast whilst teased by Mr Rose, had me desperate.
I triggered that safety feature a number of times before getting it right.  Even then the push back into my hand was difficult.  It meant a lot of effort was put into holding the Mia Maxx steady instead of just enjoying the ride.  I couldn't help thinking "I wish it had a suction cup base so I didn't have to hold it!!"  Guess what?  There's one available to purchase separately.  I can't recommend it as I haven't tried it, but maybe that would solve the problem of using it for solo play.
Cleaning
The Mia Maxx sex toy is not waterproof.  It is fairly easy to clean though as the attachment head can be removed to clean more thoroughly with soapy water or antibacterial spray.  The body of the Mia Maxx is ok to clean but it is easiest with a wipe to get in between the extendable ribs.
Conclusion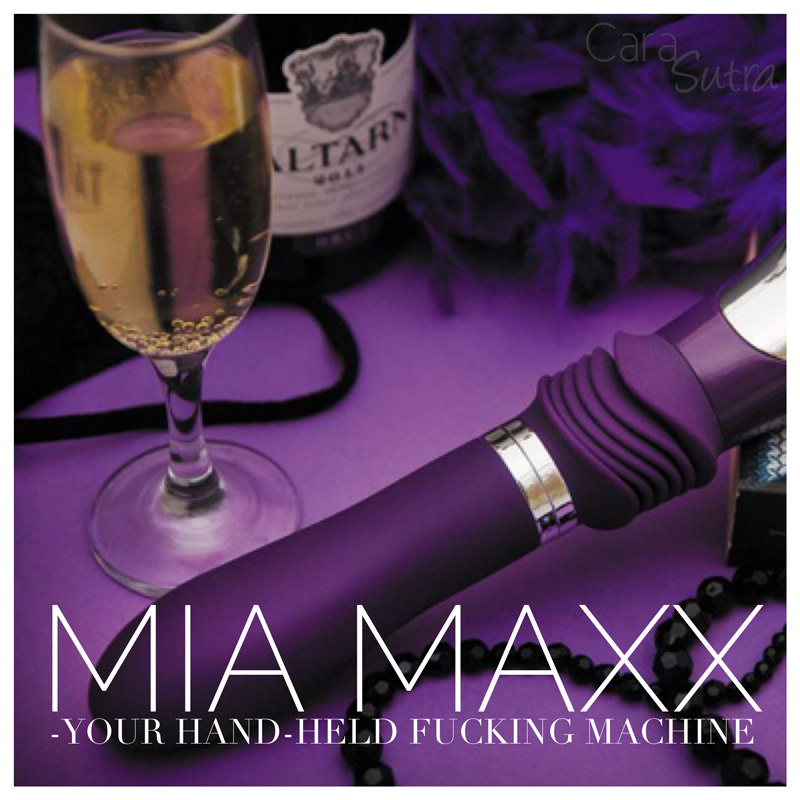 I love the Mia Maxx sex toy intensely for these reasons
It is a discreet, unintimidating sex machine
It fulfils aspects of my fantasies of being in a threesome, without actually having a threesome.
It's made from body safe silicone
You can purchase different head attachments, therefore customising it, to some degree, to what you desire.
It feels amazing.
It's brilliant for spicing up play with a partner.
It is suitable for both men and women to use.
The Vibrations are strong.
It's rechargeable.
The safety feature for the thrusting mode adds reassurance.
There is a suction cup attachment available.
The reasons I dislike the Mia Maxx are
It is loud.  It sounds very much like a drill.  This could not be used discreetly.
The vibrations are buzzy rather than the more fulfilling rumbly vibrations available.
It isn't waterproof.
I couldn't use it properly for solo play.
The suction cup stand isn't provided with the Mia Maxx sex toy and at 100 AUD this does make the Mia Maxx a very expensive product.
If the Mia Maxx sex toy came with the stand, which would enable solo play and more interesting couples play, the Mia Maxx would be getting a 9/10.  Only losing a point because of the noise level.
As it is though, I would score it a 7/10.  I love it and it's potential, but without being able to easily use it during solo play I can't score it higher.
– Random Red Rose
---
Thanks to Pleasure Panel reviewer Random Red Rose for this review of the Mia Maxx sex toy (AUD $299, which equates to approximately £172 at the time of writing)
The Mia Maxx sex toy was sent free of charge, in exchange for a fair and honest review by the Pleasure Panel, by miamaxx.com.au. Thank you! 🙂
Read about the Mia Maxx Hand-Held Fucking Machine in this related article
Useful Links
This review does not contain any affiliate links.