MEO XXL Vibrator Review
By Pleasure Panel reviewer Wilf3564
MEO XXL Vibrator review: So, here we go again. The November sitting of the Cara Sutra Pleasure Panel came around and I joyfully threw my hat into the ring, going head to head with the other hopefuls for Cara's cascade of carnal offerings.
One that caught my eye was the MEO XXL Vibrator (approximately £53 from MEO.de). Hardly surprising as it was huge, hence the name! well, imagine my surprise when I found that I had won the lottery and been granted a go at the beast.
Cara sent me the MEO XXL Vibrator free of charge in return for a thorough, unbiased review of the toy. As usual, Cara was efficient and discreet in her sending of the MEO XXL Vibrator and it arrived the very next day in nice plain wrapping. Nothing there to frighten the good people at the Post Office.
The package itself was really quite large, this was rather exciting as I've had 'Large' toys before and not been very impressed with how big they turned out to be. Well I wasn't disappointed this time! The MEO XXL Vibrator came in a box that I could just tell was the same size as the toy it contained, and the box was pretty damned big.
The box itself had pictures of the MEO XXL Vibrator on 3 of the 4 sides and a small description in 8 languages on the 4th. Here it claims that the 31cm x6cm toy will "fill her out totally" and "its continuously variable vibrations will set every pleasure nerve ashudder." It also states that the MEO XXL vibrator is made from PVC and ABS.
It was at this point I noticed that the MEO branding on the box consisted of 2 hand applied stickers, one of them describing the toy as "XXL Dildo – Massive Ass Attack". So I was already a little confused as to whether I had a vibrator designed for a vagina or a dildo designed for an arse? In either case I'm fairly sure that it is a MEO marketed toy and not a MEO made one! Which is a shame as I have several MEO made toys and they are mostly very good.
Not wanting to wait any longer I tipped the contents out and was confronted with a small set of instructions on how to fit the 2 x AA batteries needed, a promo card from MEO and a small tube of "Just Glide" water based lube. There was also a huge, veiny, "flesh" coloured, penis shaped lump of plastic that was as long and thick as my forearm, nicely packaged in its own sealed, clear plastic bag. The MEO XXL Vibrator!
The toy was by far the biggest I had ever had the pleasure (?) to own.
After the initial deep breath and gulp on seeing the toy I picked it up and started to get acquainted. I must admit to being a little underwhelmed at the first inspection. The MEO XXL Vibrator was very large, but it was also rather plasticy and felt like a thin plastic skin over a firm foam core. I don't know this for certain, but that is what it feels like. Also, the vibrator is one of the hard plastic ones with the screw off end for battery installation that also functions as the speed control for the unit. This is fitted into the centre of the larger, main part of the toy. So, apart from its size, I was not very impressed at first sight. To me it all looked very 70s!
Not to worry. My job here is to review. So on with the testing. Now those of you who have read some of my previous reviews for Cara will know that I do like a large toy, however there is large and there is LARGE, and the MEO XXL Vibrator is definitely in the latter category, and as it had been a while since my last large toy experience then a little preparation was going to be needed. So in the meantime, and to not bore you with the long build up over 2 weeks we will skip to more important matters.
The MEO XXL Vibrator takes 2 x AA batteries and they are easy to fit into the base of the unit once the control knob has been screwed off. As mentioned, the vibrator itself is one of the bog standard old fashioned ones with the red end that you twist to vary the speed. Whilst I'm sure that there is nothing wrong with a design that has stood the test of time for so long, the fact that it is covered in an inch of foam and plastic and only goes about half way up the body of the toy means that any vibrations it does produce are almost non-existent. Holding the toy at the base I was just able to feel the vibrations but any more than half way up and there was nothing. I even put the tip of the MEO XXL Vibrator into a bowl of water but there were absolutely no ripples whatsoever. Unless you are able to accommodate this toy right to the very bottom then I think that you will be out of luck in using it as a vibrator, but then I don't imagine that there are many people who could manage that disappearing feat anyway.
So, back to my own experience. It took me 2 weeks of trying to get to the point of being able to take the MEO XXL Vibrator anally. Unfortunately, other than a sense of achievement I wasn't able to actually enjoy the moment or do anything about it, as thrusting etc. was simply not an option at that point. Merely relaxing onto it was about all I could manage and as I predicted, even with it gripped that tightly, I couldn't feel any vibrations through the toy at all.
It took me another week to be able to accommodate the MEO XXL Vibrator enough to actually move it inside myself and because of the large features on its surface this was a very stimulating activity. Due to the size of the ridges and veins it is possible to know exactly how far down the toy you are just by feel alone! Unfortunately, this meant that I knew that I had only managed about 4 inches of the beast lol. But then I've always preferred girth to length anyway 😉
The MEO XXL Vibrator is very definitely not a beginner's toy!!! I'm also not sure that it can be classed as a vibrator either since only the least used third of the thing has any vibrations at all and they are very muted due to the size of the toy around the unit. The usable portion of the MEO XXL Vibrator doesn't vibrate at all. However, when used as a dildo, the toy is absolutely fine and is perfect for the more advanced practitioner as long as they are into a richly textured feel.
The texture brings me on to the subject of cleaning. Due to the deep features on the MEO XXL Vibrator it is quite difficult to clean. I found that a nail brush was needed to get into all of the nooks and crannies. I gave it a good wash with warm soapy water and then a quick spritz with an antibacterial spray. (That said, the toy is made of PVC so it needs a good clean as I'm fairly sure that PVC isn't fully body safe.)
The small tube of "Just Glide" water-based lube that came with the MEO XXL Vibrator worked well for me but only lasted through the initial 2 tries. After that you will have to have a copious stock of your own preferred lube lol. I went through 2 large bottles!
In conclusion.
I was disappointed with the retro look and feel of the MEO XXL Vibrator as it made it look cheap and the older style vibrator unit simply wasn't up to the task of powering the size of toy it was being used in.
The size is its main point. If you want a massive toy then this fits the bill! But it is no good for anyone wanting a smooth gliding feel. The MEO XXL Vibrator is a fully textured toy and there is little to no give in its construction to mitigate those features.
I will continue to use the MEO XXL Vibrator as a dildo in a bid not to lose the ground that I have gained (again) but I won't be wasting any more batteries on it.
I will give the MEO XXL Vibrator 5/10 due to its size and texture but it is let down by its lack of vibration and its retro look and feel.
A big thanks to Cara for allowing me the chance to review this product xx
– Wilf3564
---
Thanks to Pleasure Panel reviewer Wilf3564 for this review of the MEO XXL Vibrator (€59/£53 from MEO.de)
The MEO XXL Vibrator was sent free of charge, in exchange for a fair and honest review by the Pleasure Panel, by MEO.de. Thank you! 🙂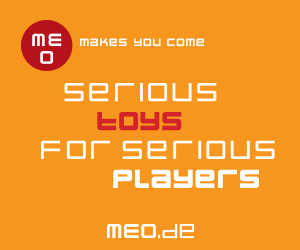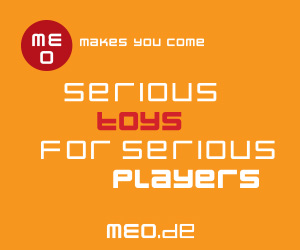 Useful Links
This review does not contain any affiliate links.