Mates Natural Condoms Review
Review of the Mates Natural Condoms by Just Indecerous
I'll be honest here I am not a big fan of condoms and the guys and girls that I know will all tell you that there is a clear difference in sensation between using them and not. Until recently I was in a non-monogamous relationship for 8 years and condoms were only a feature if we were doing anal or I was playing with another person with either my own junk or any of the sex toys from my collection. As such I always stayed with the tried and true Durex condoms for no other reason than it's the largest company and the one most people know.
Enjoy all our condom reviews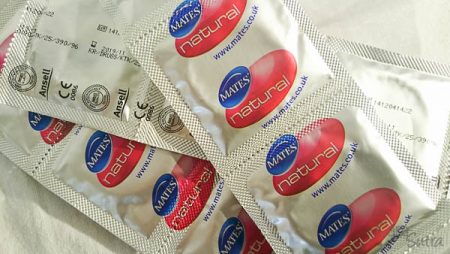 The relationship may have come to an end but my love of sex and play has not and my skin to skin play is on hold for the time being so I was in need of plenty more condoms! As it would happen Cara's sex toy tester program had just started and she required a reviewer to test out the Mates Natural condoms which I was more than happy to volunteer my dick for.
The first thing I tend to notice about condoms are their smell, normally they have a very rubbery, off putting odour to them that I just can't stand. The Mates' natural condoms do have a smell but it's not overly strong and strangely smells like vanilla to me which is perfectly fine.
One thing that concerns many of my partners is my genital piercing and if it could tear the condom. I have to admit the last time I had a condom break was before I had it pierced and has never happened while it's been there. However in order to test the strength of these condoms I stuck my hand in, open and closed my fist, clawed at it and just generally abused it in a way that wouldn't happen during sex. I can happily say that it withstood all of my messing with it and only broke when I was really trying to tear it. No worries from me that it's going to break even during the most vigorous of Horizontal Olympics.
These condoms have a tapered head giving it a more natural shape which apart from making the condom easier to put on is also very comfortable to wear. It wasn't too tight or loose and fit me very well. I didn't expect it to feel like skin to skin when I first slid into a very welcoming vagina and it didn't. Try as manufacturers may they will never be able to overcome the fact that sensation is going to be lost due to the barrier, no matter how thin they make the material. That said I did notice that it was a significantly better feeling than the Durex I have previously used, I could feel more and I was more than happy with what I could feel.
Overall these Mates Natural Condoms work really well for me. I like the shape and how comfortable they are to wear. The smell isn't offensive to me and although they do not provide the sensation of the "real thing" they do offer more than I have felt with other brands. I think I have my new brand of condoms right here. Highly recommended.
9/10
– Just Indecerous
---
Buy Yours
Thanks to our reviewer Just Indecerous for this review of the Mates Natural Condoms.
These condoms were provided free of charge, in exchange for a fair and honest review, by the Cara Sutra team. This review contains affiliate links.