MasturMate Handle Dildo Masturbation Accessory Review
MasturMate Handle Dildo Masturbation Accessory review by Tigerlily
The MasturMate Handle looks more like a plumbing accessory than an essential solo sex toy, but after a few weeks of playing with it, I'm not sure how I lived without one. It's ingenious, and I can't get enough of it. It's so simple, yet absolutely mind-blowing fun.
Available for $79.99, it'll change how you masturbate with a dildo (or two). You'll never want to go back.
What's In The Package?
Inside you'll find two suction cup dildo plates, a U-shaped handle, and a flexible "oral extender". Bear with me.
The main handle is a large red metal pipe with a U-bend at one end. The suction cup plates are a cut black acrylic with a stiff PVC hose attaching them to the metal pipe.
The oral extender is essentially a suction cup plate with a much longer hose on the end, made of exactly the same material. It's a very simple design, but very effective. Apparently, it's patent pending, though I couldn't find any records of the patent application yet.
So It's an Accessory, Not a Sex Toy?
The MasturMate Handle Dildo Masturbation Accessory is a friendly helping hand for masturbation: an accessory to be used with your existing suction cup or flat bottomed dildos. Don't stick the MasturMate itself inside you anywhere. That would be quite painful.
Using the MasturMate Handle
The smooth suction cup plate should allow you to attach any dildo to the U-part of the tube. If you have trouble getting it to stick, or to attach a dildo that doesn't have a suction cup, use some muscle support / kinesiology tape (such as this MediSpor Physio Kinesiology Tape).
The MasturMate Handle Dildo Masturbation Accessory simply makes it easier to masturbate. It can be used for vaginal, or anal play. Instead of doubling over and reaching down in an awkward position, you can grab any part of the MasturMate where it's most comfortable to you. It's the ultimate in lazy masturbating, so lie back and enjoy.
Without the oral extender, you can affix the another suction cup dildo to the end facing you, if you enjoy having a dildo flopped over your chest to lube up and rub around, or just enjoy the visuals of having another big cock waving around.
Using the Oral Extender
The piéce de resistance is an oral extender that allows you to simultaneously masturbate down there, while also performing oral (or rather, being forced to perform oral) to the same rhythm.
To use the oral extender, you may need to warm up the tube end first, as it's even harder to slide onto the pipe than the suction cup plates (and even harder to remove, too). If you attached the secondary suction cup mount, remove it. Then slide the oral extender over the end. You can now attach another dildo here, and it should be perfectly positioned for your mouth. Of course, everyone is different, and you may need to cut a piece off the end of the oral extender pipe to fit your height.
So… How Is It?
Absolutely amazing. As someone who really loves anal masturbation, but is a little on the larger side, awkward shower penetration with it stuck to the wall is my usual weapon of choice. Never again.
The action is easier for vaginal penetration than anal. Anal is less about tugging on the pipe than angling it and using a kind of seesaw motion.
The oral extender is just genius. You might not want the full-on experience of intense oral every time, but when you do, it's incredibly easy to bring your masturbation to a whole new level. I'm a sucker for a good, hard face-fucking, but combining that play with regular penetration just hasn't been possible until now. It's quite a sensory overload. It takes a while to perfect the action needed though, and you may need to cut a little of the oral extender tube off to suit your body size.
For couples, the toy is less interesting, but could still be worked into some sessions. If you enjoy handing control over to your partner, they'll now be able to lie beside you, and potentially enjoy your body in more ways than before. It just gives you more options. Freedom, to explore your enjoyment.
Not Quite Perfect
I do have a few small complaints about the MasturMate Handle Dildo Masturbation Accessory, but nothing that breaks the fundamental use of the product –more along the lines of OMG wouldn't it be awesome if…
First, some rubberised textured grips on the handle would be great. If your hands are lubed up too, you just can't get enough grip on the handle to really go to town. Some adjustable height handle bars might also solve this.
Second, the suction cup plates are laser cut acrylic, meaning the edges are quite sharp. Ideally, these would have rounded corners to avoid chafing. Using some kinesiology tape or latex bondage tape works for me, though.
Lastly, and this really is a wishlist and not a complaint: a double penetration accessory would be welcome!
Are You Ready to Take Masturbation to the Next Level?
The MasturMate Handle Dildo Masturbation Accessory is essential if you enjoy suction cup or other flat bottomed dildos for masturbation. The only reason not to buy one is the price: if you saved up another $100 or so, you could buy a budget fully automated fucking machine.
9/10 – masturbation will never be the same again!
– Tigerlily
---
Where To Buy
Thanks to Pleasure Panel reviewer Tigerlily for this review of the MasturMate Handle Dildo Masturbation Accessory (RRP $79.99).


The MasturMate Handle Dildo Masturbation Accessory was sent free of charge, in exchange for a fair and honest review by the Pleasure Panel, by masturmatehandle.com. Thank you! 🙂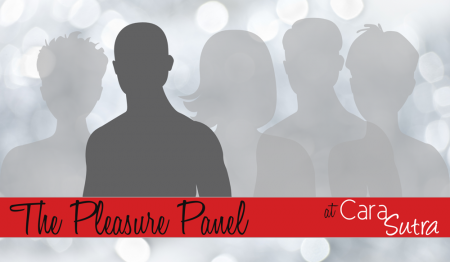 Contains an affiliate link (Amazon)