Lynk Loop XL Silicone Blue Cock Ring Set Review
My partner is a big fan of using cock rings in order to enhance his erection, increase the stimulation felt during masturbation and for improved mutual pleasure during sex. When Enhanced Male offered us the Lynk Loop XL Silicone Blue Cock Ring Set (3 Pack) to review, we of course said yes and looked forward to trying this funky looking set out.
Packaging & What's In The Box
The Loop XL set arrived in discreet outer packaging from Enhanced Male, while the product box itself has a modern, clean-feel design. The box provides all the information you need about the cock rings inside, including name, image, the size of each ring, what they're made of and some company details.
First Impressions & Measurements
Inside the outer box, the three cock rings are found within a sealed pouch. They're made from 100% pure silicone and the quality is apparent at first glance, then reiterated when you remove them from the packet. They're fantastically tactile, so velvety soft and smooth. They're nice and chunky too.
There's a small, medium and large size cock ring in the Loop XL set: 1.65", 2.05" and 2.36" total diameters (from one outer edge to the opposite side's outer edge, unstretched).
I love that the Lynk Loop XL Silicone Blue Cock Ring Set is made from silicone, and such a superbly soft, stretchy silicone at that. Silicone is the flexible sex toy material of choice, as it's stretchy but also non-toxic and non-porous, unlike cheaper materials such as jelly, PVC, TPE and TPR. You can also use silicone lubricant with 100% silicone sex toys, there are no contraindications or risk of damaging the material (contrary to popular belief). Or, you can choose to use water-based lubricant, if that's your preference.
During Use
These cock rings are so easy to use, and the fact there's three of them in various sizes mean you can have plenty of fun experimenting with what feels best for you. Often, the best designs are the simplest, and that's certainly the case here. Three stretchy, super soft and velvety smooth silicone cock rings differently sized to fit around both cock and balls, or just the base of the penis shaft only.
The largest of the rings could fit round both his cock and balls, easily stretching to accommodate then providing a sensual and erotic grip to enhance our playtimes. The restriction to his blood flow made for an extra firm and extra sensitive erection, as well as higher sensitivity in his gripped balls, which made for breathtaking foreplay. Instead of gripping him myself in order to achieve the same result, I could play with both hands –and mouth- free to roam and tease.
Before play I'd thought maybe we could layer up the cock rings; one round cock and balls, another just around the base of his shaft, etc. In practice they're too chunky for that; we found it better just using one at a time. The smallest ring is slimmer in ring width than the largest one, but layered up they just covered too much skin and were a bit awkward/bulky. Definitely just one at a time for us.
He enjoyed using the smallest ring just around the base of his penis shaft during masturbation, but reported that although it was fun to test out, he still prefers the all-encompassing grip of the largest (or medium) ring around both cock and balls. For both solo pleasure and during our sexy times together.
The Lynk Loop XL Cock Rings Set is purported to help with premature ejaculation, the grip promising to stave off ejaculation until you're ready. My partner doesn't have any issues in this regard; he only orgasms when he's ready – so we're unable to comment on whether it would help those with premature ejaculation or erectile dysfunction issues.
He found it more comfortable (and I found it easier) when using a bit of water-based lubricant while putting a ring on. Just aids the glide and avoids any unsexy yelps due to catching hairs or skin etc.
I love that these cock rings just do what they say on the tin (packet); there's no claim to providing a partner with additional sensation via the rings, they're simply silicone cock rings for the penis-owner to enjoy as they choose. Ironically, perhaps, there is additional pleasure for me when he uses one of the cock rings during sex with me – not the clit stim that many 'vibrating couples rings' claim (and so often fail) to deliver, but a harder, more sensitive cock to ride to an explosive climax. Teamed with a bullet vibe on my clit, these cock rings are a superb addition to sex, enhancing the experience for both of us.
Summary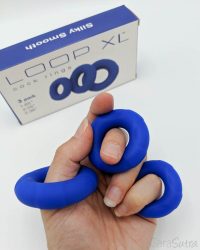 The Lynk Loop XL Silicone Blue Cock Ring Set is a product kit with a supremely simple design benefitting from top quality materials and finish. It's the top spec application of a simple idea. There's no faff to these cock rings, they're unassuming and will effectively and reliably provide the pleasure they promise.
The chunky, super smooth and supremely soft silicone reassures against any wear and tear after even vigorous stretching and sexual friction. They can be stored together because silicone has no negative reactions when stored against other silicone objects (much like silicone cupcake sheets can be stored together in your kitchen cupboard). There are no worries about bacteria or lube permeating and remaining in the material after use, as silicone is both non-toxic and non-porous.
After use, simply clean with soapy water, rinse and dry or leave to dry naturally.
A most welcome, long-term addition to our sexual pleasure collection.
Where To Buy Your Lynk Loop XL Silicone Blue Cock Ring Set
Want to add these gorgeous cock rings to your toy collection? You can buy the Lynk Loop XL Silicone Blue Cock Ring Set from theenhancedmale.com.

Thanks so much to The Enhanced Male sex shop for sending this cock ring set for our honest review.
10/10


Sponsored review