Lovehoney Cherry Lickable Massage Candle
Pleasure Panel review by Pinkgilly15
I love a massage – who doesn't? I enjoy a little wax play too, it's great fun and something well worth considering if you want to spice things up. The Lovehoney Cherry Lickable Massage Candle went even further as it combines wax play and erotic massage all in one.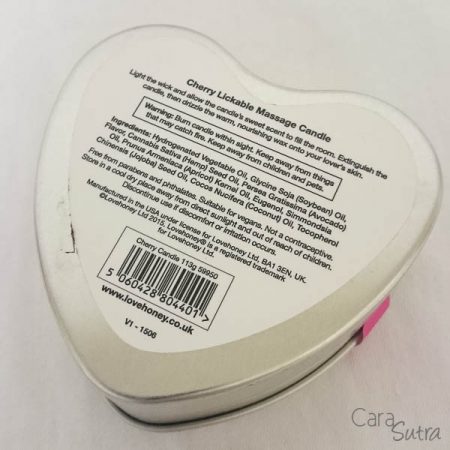 The back of the Lovehoney Cherry Lickable Massage Candle tin reads, very simply:
Light the wick and allow the candle's sweet scent to fill the room.
Extinguish the candle, then drizzle the warm, nourishing wax on to your lover's skin.
Warning : Burn candle within sight. Keep away from things that may catch fire. Keep away from children and pets.
The ingredients are listed; all nice, nothing nasty. No parabens or phthalates. The Lovehoney Cherry Lickable Massage Candle is suitable for vegans.  Best advice is 'it's not a contraceptive' – I'm not sure if anyone would think that it was, but I suppose it's best to cover it all!
The packaging
The Lovehoney Cherry Lickable Massage Candle is set into a delightful heart shaped tin, in silver with a pink and white sticker. Simple but pretty as its cherry flavour the pink fits that. Stickers seal the edges of the heart shaped lid. Peel the stickers slightly to release the lid which easily lifted up.
Inside the lid is another instruction reading caution soy wax melts at low temperature. Do not place candle in direct sunlight or other heat sources..and other common sense information regarding a candle. The candle is a creamy white and the cherry smell is really nice not overpowering but sweet and enticing. Next to the wick lays a plastic spoon which fits perfectly inside the heart.
The fun
I could not wait to light the Lovehoney Cherry Lickable Massage Candle. Now, this did take some patience it was slow to burn (which is good as it will last ages) but I wanted to play now! It took a good 5-10 minutes to pool enough wax to use for massaging my husband's back. However – boy, was it fun to pour that wax and rub the liquid wax in (which felt warm but just right). The smell so nice and my husband agreed. We loved it and he wanted more; loved the feeling of the wax being massaged in. I wanted my turn though! So, in a reversal of roles I soon did. Also, as I'd been having fun massaging him, the candle had had enough time to melt enough liquid for him to use on me.
It was a pleasure to feel the hot (but not too hot) liquid – it felt lush. The wax liquid massaged in well, cooling on the skin quite quickly but still feeling very nourishing and it made my skin soft too.
Verdict
We both loved the Lovehoney Cherry Lickable Massage Candle. I would definitely buy another one and we have used this again since our first try. It's been great fun and led to even more fun after the nice massages…!
10/10
– Pinkgilly15
---
Thanks to Pleasure Panel reviewer Pinkgilly15 for this guest review of the Lovehoney Cherry Lickable Massage Candle (£12.99 for 113g candle in a tin)
This candle was sent free of charge, in exchange for a fair and honest review by the Pleasure Panel, by Lovehoney.
Useful Links