Locked In Lust The Vice Standard Pink Chastity Device Review
Locked In Lust The Vice Standard Pink Chastity Device review by Tigerlily
The Locked In Lust Vice is the first male chastity device with an anti-pullout system, designed to make it completely inescapable. It's available now from Locked In Lust for $159.95. It comes in four colours (clear, chrome, purple, pink), and three cage sizes (mini, standard, and plus). Each model includes four rings, four spacers, and three anti-pullout clamps. Thanks to Cara's Pleasure Panel and Locked In Lust, I got the chance to be locked up in a regular pink size.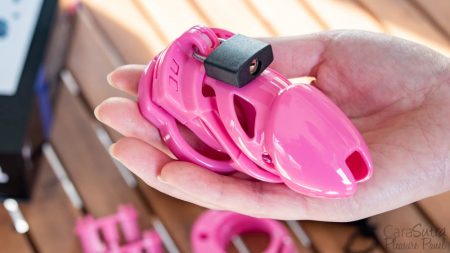 What Makes This Chastity Device So Special?
The problem with most male chastity devices that lock into place behind the balls is that while somewhat effective, they can ultimately be defeated when the penis is flaccid. It's not easy, it takes a bit of wriggling, but it is possible. If that suspension of disbelief is ruining the experience for you, and you'd like a more fulfilling chastity experience with no escape at all, the anti-pullout system on the Vice is essential. That's what makes the Vice truly unique.
Design and Materials
Initial impressions were great: the Locked In Lust The Vice Standard Pink Chastity Device is presented in a large, solidly built box with a magnetic clasp on the side. It opens out to reveal a list of contents, and sizing.
The back of the box features relatively clear instructions, and the Vice design is reminiscent of a classic CB-6000. The ring style, the spacers, the locking pin, and the resin plastic material appear to be very similar. Unlike some competitors, four different sizes of ring are included so you can try out a few to get the perfect fit.
Also included with the Locked In Lust The Vice Standard Pink Chastity Device is a handy velvet drawstring bag to keep everything in, as well as a basic small lock with two keys. Although it's a tight fit, the Meobond Time Lock can also fit through the hole.
The Vice is quite light, especially compared to the Holy Trainer v2. Equally, it feels more flimsy, and perhaps more likely to break under pressure, though I won't be taking a brick to my member in order to test that I'm afraid.  The lighter overall weight will certainly be appreciated by many.
The cast is done in two halves, and there are some obvious mould lines that look like they could chafe, but in practice, they didn't. The shaft of the penis cage is a very open design, making it easy to clean and keep hygienic for long periods.
Fitting The Vice
In comparison to the Holy Trainer, there are a lot more steps to fitting the Locked In Lust The Vice Standard Pink Chastity Device, but I actually found it easier.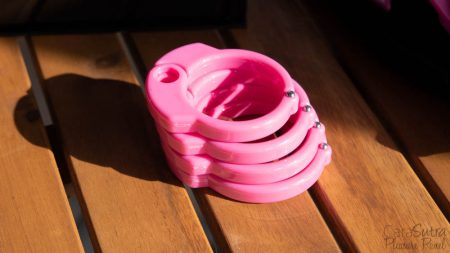 First, you'll want to fix a spacer ring to the main cage. You only need to do this once, unless you change your mind. There are four sizes, determined the space between the ring and cage: 6.5, 10, 13, and 15mm. This locks into place and takes a bit of effort to remove if you decide to swap it out for a different size later. Find the locking pin that matches your spacer size, and put both aside for now.
Next, fit the clamping round ring around the base of your balls and above your penis. Again, you have four different sizes to choose from (with a diameter of 40,44,46.5, and 48.5mm). The ring is independent of your spacer length and anti-pullout clamp choice, so don't feel like you must match the small ring with the small spacer. Just pick the one that fits snuggest without being painful. The clamping ring design makes it a lot easier to put on that having to grab your balls and pull them through a molded ring, and I didn't experience any pinching at the base.
While holding this shut, place the locking pin through the hole, from behind. It should sit flush with your body. Next, pull the cage over your penis, and thread the locking pin through it. The standard cage has a length of 70mm.
At this point, you have a choice to make about whether to use the anti-pullout mechanism or not. If not, grab the small plate which isn't a clamp, and place that onto the protruding end of the locking pin. You can now be locked in.
If you do wish to use the anti-pullout system, pick the appropriate size. With the pivot underneath the cage, pull the two sides in so it clamps on your penis, then wiggle the two top parts over the locking pin. This step is a little fiddly, having to pull both sides in and push them back at the same time. They should click into place though, and you can then fit whatever type of lock desired. A small black padlock with two keys is provided in the package, but any standard mini padlock should work. This is in contrast to the Holy Trainer which has a custom locking mechanism and therefore can't be used with timed or coded padlocks.
Does the Anti-Pullout System Actually Work?
The star of the show here is the anti-pullout system, which is entirely optional – the core device will function without it. There are 3 sizes of anti-pullout lock provided (with a gap of 17, 19, and 21mm), plus a blank cap to use if you don't actually want the anti-pullout system. But, you'll probably want it on at all times.
So how does the Vice anti-pullout system work? It's an interesting design: a clamp attaches through the open sides of the cage. Two plates push onto the penis from the side, and each has a slightly abrasive surface, which in theory prevents you from pulling anything backward and out of the device.
It's a unique mechanism, and once you've lived with it for a bit, you'll probably start to wonder how you ever lived without it. It's not completely infallible though: pulling-out is a lot harder and more uncomfortable than other solutions, but not impossible. If you want absolutely zero chance of escape, nothing is going to beat a chastity device that locks around your waist. This is the closest you'll get, however, without the added inconvenience of a belt or band.
Long Term Comfort, and What About Getting Erections?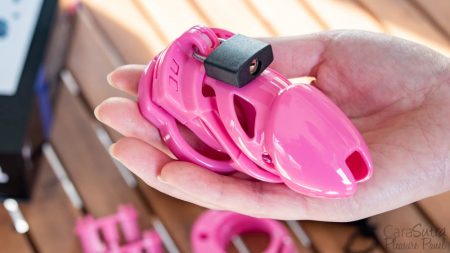 Good luck with that. Other reviewers have complained that it can be painful when you have an erection, but when fitted correctly it shouldn't happen often. After a few days of near-continuous wear, I still hadn't managed one!
In terms of comfort, even after experimenting with sizing, I would sometimes find the Locked In Lust The Vice Standard Pink Chastity Device chafed a little. I'm not sure I could handle this for long term wear, compared to the Holy Trainer which tends to be so comfortable you forget it's even there (which may or may not be a good thing for you).
Should You Be Locked in Lust?
The anti-pullout system is certainly unique, and for the most part, it's very effective. Sizing is tricky though, especially if your penis has a big range of sizes it likes to present as over the course of a day. If you're in between cage sizes as I was, I'd suggest going smaller.
Once or twice, I was able to pull out (with difficulty) – even on the smallest sizes. Other times, the Locked In Lust The Vice Standard Pink Chastity Device chafed a little too much for comfort. Other times yet, it was just right. Thankfully with three different anti-pullout locking rings included, you should be able to find the one right for you.
That goes for the ring and spacer too. It's fantastic that these have all been included out of the box, because even with all the measuring in the world it's very difficult to get it right – or to know whether your preference will be for a tight or loose fit.
I'd score the Locked In Lust The Vice Standard Pink Chastity Device a tight 10/10.
– Tigerlily
---
Where To Buy
Thanks to Pleasure Panel reviewer Tigerlily for this review of the Locked In Lust The Vice Standard Pink Chastity Device.


The Locked In Lust The Vice Standard Pink Chastity Device was sent free of charge, in exchange for a fair and honest review by the Pleasure Panel, by lockedinlust.com. Thank you! 🙂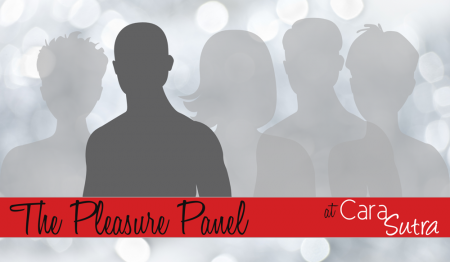 Unaffiliated