Locked In Lust The Vice Mini Pink Chastity Device Review
Locked In Lust The Vice Mini Pink Chastity Device review by CandySnatch
Chastity is a concept which is fairly alien to me as a submissive. I want to come; I want to be relieved and when forced into periods of abstinence I tend to find myself suffering. However, I know for some people the concept of chastity is something they crave. The draw often being a long distance or online relationship can still participate in this D/s element via keyholding.
One of my close friends is heavily into chastity. Having recently had a discussion with him about the problems with long-term locking etc, I knew that when I saw Cara looking for reviewers for the Locked In Lust The Vice Mini Pink Chastity Device he would be interested.
I was surprised when I received the Locked in Lust Vice Chastity Device, the device was much lighter than I expected from a chastity cage. The very name conjures up images of medieval torture and yet here sat this light and airy little pink device.
The Locked In Lust The Vice Mini Pink Chastity Device is marketed as a cage with an anti-pull-out system. I found this quite hard to comprehend from looking at the little plastic cage. It almost appears flimsy, like it could break very easily.
Whilst the device we reviewed was the Mini three sizes are available (mini, standard and plus). Included with the Vice are 4 spacers and locking pins, 4 rings and 3 anti pull-outs, allowing you to get a more custom fit. Considering the Vice is intended to be worn long term this is pretty crucial to comfort.
I was curious to know how the Locked In Lust The Vice Mini Pink Chastity Device would work, both in terms of comfort and erection suppression.
He told me:
"As an aficionado of chastity, I have had a few cages. A couple of metal ones (one I still have as a comfortable one when the ring on others gets too much). A Holy Trainer style too, but the plastic it's made out of isn't something I'd trust to stand up against a brief fart.
Anyway, I digress.
The Vice! It's definitely been an experience. It's about 3 weeks since I received it. I've been locked up for 2.5 weeks. Does that not tell you enough?
There's an argument to be made that the length of time I stayed locked was due to the 32 million fiddly bits you can use to find a close to ideal perfect fit. Is it worth the effort of taking it off only to know the amount of time it would take putting it back on?"
One of the things which intimidated me about the Locked In Lust The Vice Mini Pink Chastity Device was the way it arrived. The cage looked a little like Lego once it was spread out across the bed. There were so many parts and very little in the way of instructions. My reviewer actually needed to consult the video guide on the Locked in Lust website to make sure he was putting the Vice together correctly.
Given the importance of assembly, Locked in Lust could improve the instructions to make the initial process a little more user friendly. If this was your first chastity device this could be very off putting.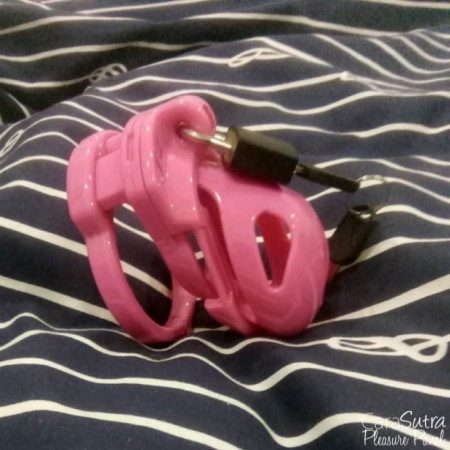 So, what was wearing the Locked In Lust The Vice Mini Pink Chastity Device like?
"I struggled the first few days, however, should have remembered the ancient saying "The more the cage fits when flaccid, the less you'll want to rip your balls off". There's no written assembly guide as well, at one point I was ready to complain to Ikea. The cage comes in a fairly big box, which is disappointing especially given the only guide was a couple of pictures that don't quite make sense.
Once on though! It felt the right weight. Alas, I am on the smaller side down there, but I managed to find a sizing that I would say was snug. Not perfect, but snug. It comes in a variety of colours as well to be aesthetically pleasing (I opted for the pink). It also comes with a secure padlock with 2 keys too, which is nice as often these cages come with a ridiculously easy to pick lock."
My reviewer told me he found actually applying the Locked In Lust The Vice Mini Pink Chastity Device to his cock was easy with a little bit of lube to ease the way. He also recommended shaving before you put the cage on.
In terms of comfort, there was a little chafing, but he feels this is par for the course with any cage and it wasn't enough to impact his enjoyment of the Locked in Lust Vice Chastity Device. He noticed the chafing most when trying to become erect, especially first thing in the morning.
However, thanks to the light construction he did find it was possible to wear the Locked In Lust The Vice Mini Pink Chastity Device long term and virtually forget about it. What about that Anti-Pull-out mechanism?
"We should be realistic at this point. If you want something inescapable, then get a piercing and a custom cage. The Vice is secure, and I only managed to remove it with a great deal of discomfort, but it *is* removable. There's no way you're getting it back on without the key though, so if someone is keyholding for you, you better be ready to explain what you've done.
Saying that, it's comfortable to wear and you often forget it's there. I managed to wear it for a couple of week long stretches and could have gone longer had I been able to resist temptation. My aim is to do longer, and I'm fairly confident the Vice is the cage I'll be able to do it in.
All in all, the Vice Mini is the most comfortable cage I've ever tried. It's suitable for constant use, and I would recommend to a friend. A better assembly guide and more environmentally friendly packaging would have made this near perfect. These are only minor quibbles though. With regular cleaning there's no reason you couldn't wear the Vice long term."
Thanks to the open design, the Locked In Lust The Vice Mini Pink Chastity Device allows air to circulate around the penis and allows access for cleaning which is vital for long term health. Whilst my first impressions were the Vice was quite delicate it certainly seems to do the job well. My reviewer told me whilst the Vice doesn't completely suppress erections it's the most effective cock cage, he's tried for doing so.
The Vice is designed so you can opt not to use the Anti-Pull-out parts, however given this is the main USP for the Vice I'm not really sure why this is necessary. Surely this defeats the whole point of being locked into the cage in the first place.
Locked in Lust sell the Vice Mini Chastity Device for $159 in colour options of Chrome, Pink, Purple and Clear. It comes complete with a little velvet bag to keep all the component parts safely together, which is a nice touch.
We gave the Locked In Lust The Vice Mini Pink Chastity Device a solid 8.5 out of ten. It's a great, lightweight wearable chastity device. It's first impression belies the fabulous job it does.
Thank you so much to the amazing Cara Sutra and the fab folks at Locked in Lust for allowing us to review the Locked In Lust The Vice Mini Pink Chastity Device for them.
– CandySnatch
---
Where To Buy
Thanks to Pleasure Panel reviewer CandySnatch for this review of the Locked In Lust The Vice Mini Pink Chastity Device.


The Locked In Lust The Vice Mini Pink Chastity Device was sent free of charge, in exchange for a fair and honest review by the Pleasure Panel, by lockedinlust.com. Thank you! 🙂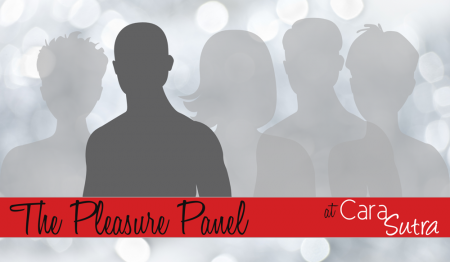 Unaffiliated