Liberator Red Silk Sashes Review
By Cara Sutra
These Liberator Red Silk Sashes (2x 7ft sashes) caught my eye at the recent Erofame show in Germany. Not literally, you understand… it's just that the red is so vibrant (my favourite colour, too) and what a hot image on the front of the box. A sexy woman in a Shibari bondage harness. I simply had to have these restraints.
The Liberator Red Silk Sashes come in a durable transparent plastic box, which has an inner piece of card which acts as the packaging image and details area from the inside. One of the sashes is within the carded area, the other is on top and able to be viewed from outside the box – showing off the rich scarlet colour and the sheen of the silk material. It's an entirely seductive set up, very alluring.
Taking the Liberator Red Silk Sashes out of the box, I felt I was going to remain entirely in love with them. They're so soft… well, silky soft!
The Liberator Red Silk Sashes I have aren't quite long enough to make the beautiful Shibari harnesses we dreamed of – but we were able to make the usual soft tie handcuffs or ankle cuffs. If you're after a full body harness then buy the longest set available.
You do need to have common sense with this item (as with most bondage equipment) and not tie them too tight around the wrists, and never tie around the neck of course. Be aware of dangers, and set up a safeword before playing with power exchange, and make sure you can always be released/release your submissive/bottom quickly in any emergency.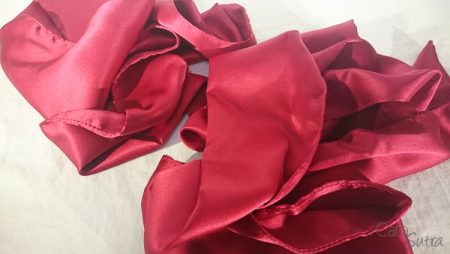 With these Liberator Red Silk Sashes it's an idea to have some surgical scissors nearby in case you do need to cut someone out quickly, hopefully of course you will never need them if you play safe and with clear communication but it's much better to be safe than sorry.
Liberator have thoughtfully included a Shibari bondage quickstart guide in this pack. I am useless at remembering Shibari harnesses so I found this guide especially useful. There's diagrams and everything! Like I say we really needed the longer set of sashes to create anything resembling a harness.
As you can see from the photos, we've really enjoyed using these Liberator Red Silk Sashes. They're a sexy bedroom accessory which feels seductive, they're made from a famously luxurious material which adds to the complete sensory appeal, they're in deep red (my personal favourite), there's two pieces which offers you even more options for play, they're long enough to indulge in Shibari or other bondage and they're made by world-famous quality bedroom goods manufacturer Liberator.
The gorgeous sex mirror in these photos is the Luvsense London LUVVU mirror – it's amazing.
I do love these Liberator Red Silk Sashes even though they're a bit short for me to make full harnesses with. They're also a bit costly but you're paying for the material and the high quality, but still they could be a touch cheaper in my opinion. For these reasons, 8/10.
Also available in black and in longer options. They're dry clean or hand washable and you can iron while damp at a low temperature (I would advise some other fabric laying on top as well).
Want them for yourself? You can buy the Liberator Red Silk Sashes for $79.
UK buy links to be added as they become available.


Photographs