Kink Craft Synthetic Spanking Cane Review
Time for the third item from the collection of four products sent to me free of charge, in exchange for honest reviews, by Kink Craft. If you recall, I was sent the Connected Paracord Handcuffs, the Figure of 8 Paracord Handcuffs, the BDSM Zipper Kit and this Kink Craft Synthetic Spanking Cane.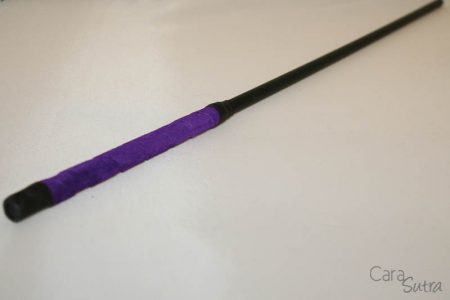 The Kink Craft Synthetic Spanking Cane came packaged safely and discreetly along with the other items generously sent to me free of charge in exchange for honest reviews. When I opened the main outer parcel box, the other three items were in branded lidded boxes, and this cane (being too large for a box of its own) was wrapped in pink and cerise tissue paper.
This Kink Craft Synthetic Spanking Cane is simply a length of slender cylindrical black plastic, shaped and formed so as to be smooth with a rounded tip. The handle, as the name implies, is wrapped with purple suede material so it's comfortable to hold in the hand, and gives additional and reassuring grip during use. The wrapped suede on the handle is attached the cane with something like thick black tape; I'm not sure exactly but it feels very secure and durable, at least for the moment.
The overall length of the Kink Craft Synthetic Cane with Suede Wrapped Handle is just under 20 inches, 5.5 inches of which is the handle.
I'll admit that as much as I love canes – the look, the feel, that swish – they are also terrifying. At least, when you're the one they're being used on. Knowing just how vicious canes can be does make me more careful when using them on someone else, so there is that. It always amazes me how a simple, slender stick can cause so much pain – and with such precise, sharp strokes. If you're a fan of welts and bottom stripes, canes are for you.
Usually I prefer a much lighter type of punishment – or funishment – to be honest. I'm not great at taking even a hand spanking, being a fan of more teasing but physically pleasurable antics. Spankings and such funishments are always rather more enjoyable with the benefit of hindsight – once that glow creeps in and it's finally over, and I can just lie in his comforting embrace racked with cathartic tears or be pinned down and fucked better. Canes most definitely fall into that 'enjoyable after the event' category, because at the time they sting like fuck. This comparatively meek and mild looking cane, to some other longer, more vicious types, is a stinger. It's quite similar to the Kink Industries Intense Cane.
Similar to the Kink Industries Cane
Luckily my partner knows me well and went easy on me. If you're a fan of stinging, harsh corporal punishment then the Kink Craft Synthetic Spanking Cane is a great choice for you. It's fairly discreet to store and/or travel with, and very lightweight and easy to handle. It would be easy to go in too heavy when using it on someone else, so my advice is to give it a test (lightly) on your calf or forearm first. You'll see what I mean – and get a feel for how heavy you can go. Of course when using a cane on someone else you should always use them only on the fleshy areas of the backs of the tops of thighs and the bottom. Never anywhere else, especially not further up the back/over the spine – you could do serious damage. An experienced, compassionate hand required and it's always best to have a safeword in place, even with someone you've known for years.
Buy BDSM Toys
Sadly, since writing this review, Kink Craft are not selling their BDSM toys through their website any more. You can still find some fantastic advice articles and toy crafting tutorials in their videos area at kinkcraft.co.
You can find bondage sex toys and BDSM implements at great prices through the following links:
Click to read all our BDSM gear reviews 


Contains affiliate links
Photographs