Kink Craft Blue Suede Flogger Review
I love floggers. Out of all the hitty gear you can get for BDSM punishment fun – canes, crops, whips, paddles – floggers are my favourite spanky toy. I was really excited to receive a new flogger recently – the Kink Craft Blue Suede Flogger – free of charge, in exchange for this fair and honest review.
[click on images in this review to enlarge; use arrow keys to scroll forward and back]
In case you haven't heard of Kink Craft, let me give you a bit of background. I met the team first at ETO 2015, then soon after the show I was contacted to review a few of their products. Kink Craft's main aim is not to just sell kinky products to people, but to teach them how to make their own fetish equipment. On the Kink Craft website you can find their shop which sells not only kinky crafting kits but also ready-made pieces. They're great for people like me who aren't really all that crafty and want to get on and play without the DIY element. There's also a blog which is one of the best I've seen accompanying an adult products e-commerce, including guest bloggers, lovely graphics and relevant podcasts. There's also a free crafting course everyone can obtain; you just need to provide your email address.
What I like most about Kink Craft is that they're constantly working to bring new and exciting products to their fans. It's not a case of selling a set of 10 pieces and sitting back waiting for success (financial or otherwise); Kink Craft source new materials, new ways of putting them together to make beautiful and reliable fetish gear and new features to turn what would typically be a standard item into a custom-made, luxurious bit of kit.
My new flogger is testament to all of the above. The tails are suede, and I chose the vivid blue colour although it's also available in black or purple. The handle is smooth polished wood and comes in a choice of three styles; I have the 'classic' handle with 'chic' or 'funky' being the other options. What made me exclaim out loud (to no one in particular) about this flogger's coolness is the O ring at the end of the handle. Simple little addition you'd think; pretty standard. Used for hanging the flogger up on a hook between uses. Well yes – but it is detachable from the flogger's handle. Some people like a flogger to have a hanging loop, others find that they get in the way during use, annoying their hand or just providing an unnecessary element, if they don't hang their floggers for instance. With this flogger, everyone's a winner (baby, that's the truth).
As you can see in the photographs, the ring is easy to remove and also to replace. Just press in the end, pull on the whole thing, and it pops out. Push the end in again to replace and it reattaches with a click. You could even store the metal attachment on your usual keyring (while detached from the flogger) so it doesn't get lost, and of course as it's just a loop with the metal cylinder it's discreet enough not to arouse suspicion with your vanilla acquaintances.
Little bits of blue fluff came off the first time I shook the flogger once out of the box but this is to be expected with tails made of suede. After a few swishes and whips the suede tails were warmed up and any remnant pieces of fluff had gone.
The packaging is gift-like; the flogger comes wrapped in tissue paper in a black lidded box which is also decorated not only with the Kink Craft embossed logo but also some beautiful contrasting purple ribbon.
The flogger measures 24.5 inches in overall length, comprising of the handle which is 7.5 inches in length (not including hanging loop attachment) and the tails which are 17 inches in length. There are 26 tails.
The Kink Craft Blue Suede Flogger feels very comfortable to hold in my hand and is easy to wield. You have  so many options for play with a flogger; from light and teasing up to heavy thuddy strikes and vicious stinging lashes if you let only the tail tips hit your consenting victim.
I can't really take too much pain – I'm more of a sadist than a masochist. However as you can tell from many of my sex diary entries and erotic stories on this site, I do 'play bottom' to my partner in the bedroom. When he wanted to use this Kink Craft Blue Suede Flogger on me, I didn't feel too afraid as I know he knows what I can take and how much is too much. We have a safeword in place in any case; but with a flogger I felt more at ease than I do with a cane for example, or even with some electrostim sex toys. He can warm up my skin with lighter strokes, even starting with tickling sensual connections of the tail tips over my back and working up to light flicks of the tail over my bottom.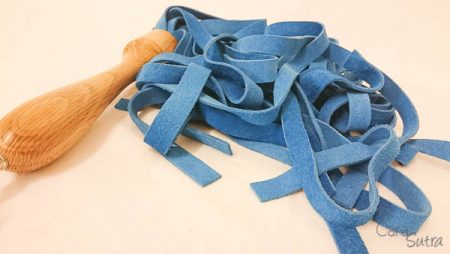 By the end of the kinky punishment sessions I was always very pleased I'd chosen the suede tails instead of the latex option. Having felt and wielded latex floggers myself in the past I know they're more vicious and give a much more stinging bite when lashed at full pelt. Although there can definitely be pleasurable pain involved when the Kink Craft Blue Suede Flogger is used on me, it's more a heavy, dull strike rather than a cutting bite.
In summary? A beautiful, well made flogger which not only offers visual appeal but can also be relied upon to kink up sexy spanking play. I can enjoy sensations ranging from teasingly sensual to powerfully punishing. I can't think of any way to improve upon this specific flogger – it's simple but effective. It looks good and feels good. The only time this flogger will leave my bedside is when I take it out to use on someone else…
Buy BDSM Toys
Sadly, since writing this review, Kink Craft are not selling their BDSM toys through their website any more. You can still find some fantastic advice articles and toy crafting tutorials in their videos area at kinkcraft.co.
You can find bondage sex toys and BDSM implements at great prices through the following links:
Click to read all our BDSM gear reviews 


Contains affiliate links