Kamikaze Angel Silicone Lube Grenade Review
By Pleasure Panel reviewer HystericalEm
The Kamikaze Angel Silicone Lube Grenade is marketed as for 'long lasting anal pleasure'. I had my doubts about those words, and if they might be marketing, but I set aside my concerns and pressed on.
Packaging
The grenade shape of the lube bottle quickly had me enamoured. The strong textures and grip allow you to pick up and manipulate the lube bottle even if your hands are covered in the lube. Furthermore, the dispensing pump allows for easily measured application of lube.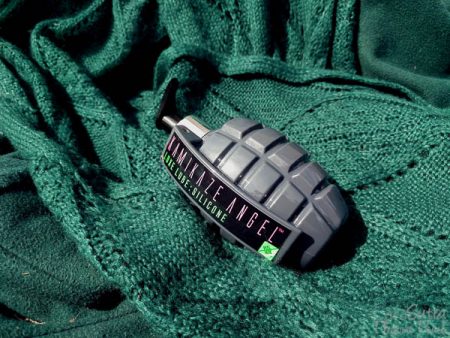 The Kamikaze Angel Silicone Lube Grenade even has a locking mechanism so you can just throw it into a drawer and not worry about leaks. I store my lube in the same drawer as my dildos, so the peace of mind that there won't be silicone mishaps is nice. You could also lock it and take it travelling, but between the grenade shape and the bumpy ride that luggage endures, I'm going to be sticking to sample sachets for my travel needs.
Toy Material Compatibility
If you're looking to play with people, or toys made of a material other than silicone (e.g. glass, steel etc) then silicone lube is ideal. If you really want to try it on silicone toys, be sure to do a compatibility spot check in a discreet spot before you progress. I did spot test the Kamikaze Angel Silicone Lube Grenade on my Vixen Mustang for 20-odd minutes, and there's now a spot on the base without the gloss finish. Please consider yourself appropriately warned.
Consistency
As to the feel of this silicone lube, it's thick and long lasting. I'm a fan of thicker lubes, so the consistency was just what I wanted from a silicone lube. I felt like the skin it covered was protected with a thick cushioning layer of silicone. It still drips and runs, but much slower than the water-based lubes I've encountered. Don't apply too much though, this lube hangs around for a while.
During Use
Since the Kamikaze Angel Silicone Lube Grenade is silicone, I couldn't use it with most of my favourite toys. I can attest that it works excellently for PIV without barriers: my partner and I felt no need to reapply, even during a long session. Provided your condoms are silicone compatible, this lube will fulfil those lubrication needs too. My condom trials went well, and the lube spread well with no signs of beading.
It's worth mentioning that I am a particularly lubricated individual already, so your results may differ with your body.
I tested this Kamikaze Angel Silicone Lube Grenade with glass toys vaginally with no issue, the silky silicone ensured everything glided as desired. Once again, I felt no need to reapply. Learn from my mistakes, though, and don't try to use your phone while you're using this lube, because you'll feel the glide on your phone screen for the rest of the day.
Anal Play
As the Kamikaze Angel Silicone Lube Grenade is specifically advertised for 'long lasting anal pleasure', I put it through its paces on my assortment of glass and metal buttplugs. As mentioned, I expected the anal aspect to be a gimmick, but this is where the Luxe Lube hit its stride.  That slight cushioned sensation was delicious for my butt. The long-lasting nature of the lube was ideal for extended buttplug use. It's become my new go to for anal play.
Drawbacks
As to drawbacks? I'm not overly fond of the residue, but that's a minimal niggle. If you can avoid it, though, don't use this lube for oral. The taste is vaguely unpleasant, with a chemical aftertaste. That silicone consistency will hang around in your mouth and keep reminding you of the unpleasant sensations you've just experienced.
Summary
All in all, Kamikaze Angel have manufactured an excellent silicone lube. My main disappointment is I can't get that cushioned feeling on all my beloved silicone toys, without using a condom and being paranoid. If you're looking for a lube for PIV or anal play, the Kamikaze Angel Silicone Lube Grenade is worth trying out.
9/10
– HystericalEm
---
Thanks to Pleasure Panel reviewer HystericalEm for this review of the Kamikaze Angel Silicone Lube Grenade. Buy yours for £18 from Kamikaze Angel.
This product was sent free of charge, in exchange for a fair and honest review by the Pleasure Panel, by Kamikaze Angel. Thank you! 🙂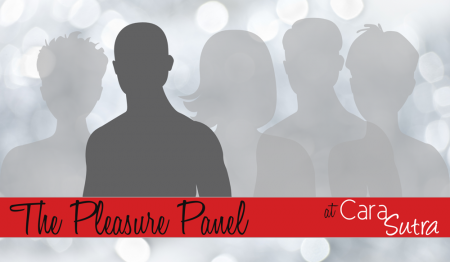 This review does not contain any affiliate links.