Kamikaze Angel Luxe Lube Aqua Review
By Pleasure Panel reviewer Louise Lace
I received the Kamikaze Angel Luxe Lube Aqua to review as part of the Cara Sutra Pleasure Panel. My delivery arrived swiftly in non-descript packaging saving the blushes of both my postie and myself, thank you Cara.
Packaging
The Kamikaze Angel Luxe Lube Aqua was packaged in a printed zip-lock bag, the front clear to give a view of the product and the back printed with brief product description, directions for use, ingredients list and product warnings – what to do if you ingest product etc.
The Bottle
Swiftly discarding the packaging, the Kamikaze Angel Luxe Lube Aqua is in a grenade shaped container with a pump dispenser cap, very manly. As the product was supplied by Clonezone UK, a male orientated website, I guess the grenade packaging was designed with men in mind. The product bio even describes the lube as, "Deluxe water-based lubricant for the man who treats himself every day."
I did find the Kamikaze Angel Luxe Lube Aqua packaging and the wording a little off-putting. Personally I think that lube should be considered a gender-neutral product. That said, it is quirky and doesn't immediately scream lube, it could be left on a shelf with other personal care items such as aftershave or hair products without looking too out of place.
Ingredients
Ingredients wise, the Kamikaze Angel Luxe Lube Aqua contains:
Aqua, Propylene Glycol, Hydroxyethylcellulose, Sodium Benzoate, Potassium Sorbate, Citric Acid and Sodium Hydroxide.
Propylene Glycol has been known to cause irritation to some people so I would recommend that you do a patch test before placing on the genital area especially if you are known to have had irritation issues in the past. It is also worth noting that as with most lubricants on the market, the Kamikaze Angel Luxe Lube Aqua does not contain spermicidal substances and therefore should not be used as a form of contraception.
Dispensation
Dispensing the product is simple, press down the pump dispenser and a dollop plops out, be quick to catch it though, it is a fairly thick consistency but it does run.
Smell & Taste
The first thing I noticed was the smell. Kamikaze Angel Luxe Lube Aqua has a very chemical scent, reminded me of a hospital and definitely made me think that this lube is not for oral use. For the purposes of this review I did tentatively stick the tip of my tongue on the lube and immediately regretted it. I cannot describe the taste but it's nasty. I'd highly recommend that you do not try this yourself or use this lubricant during oral sex. Yack!
Compatibility
The packaging informed me that the product is compatible with latex condoms but doesn't specify whether or not it can be used with non latex condoms which are my go-to condom of choice. To err on the side of caution, I tested the Kamikaze Angel Luxe Lube Aqua using some of my vibrators and dildos rather than risking damaging a condom while in use. As it is aqueous based and does not contain any silicone I did not have to worry about which toys I could use it with. Silicone lubricants can damage silicone toys so always check the label before slathering on your favourite toy.
During Use
Selecting some glass, steel and silicone dildos, I got myself comfortable and lubed myself up. As I mentioned, the Kamikaze Angel Luxe Lube Aqua is fairly thick coming out of the dispenser but once applied quickly turns runny and I could feel it dripping onto the bed sheets soon after applying onto my lady parts. The same can be said when applying to the toys, it was running down the length of the dildos before I had a chance to position them where I wanted them.
In use, the Kamikaze Angel Luxe Lube Aqua allowed all of the dildos to glide easily, prevented any drag of the toys and did enhance my enjoyment compared to using a dildo without any lubricants. However it does dry up fairly quickly and when used with a silicone toy I did have to reapply, this is not something I am used to.
Anal Use
As the Kamikaze Angel Luxe Lube Aqua is predominantly marketed towards men as implied by the product bio and packaging, I thought it best to test its powers of lubrication when used anally. Oh boy… what a mistake that was.
Although I had no issues when used on and in my lady parts, as soon as it entered my anal area it began to sting. Not quite burning but certainly noticeable. I was nervous to continue but considered that I may not have used enough Kamikaze Angel Luxe Lube Aqua on the silicone butt plug I had chosen for this play session so added more lube and powered on. The sting did not intensify during use but it was present the whole time and took away my enjoyment of using the toy.
Curious to see whether it was just me who had issues with the Kamikaze Angel Luxe Lube Aqua when used anally, I roped my hubby into testing it too, I did not inform him of my issues before hand so that his opinion could not be swayed. Sadly, he too experienced a stinging sensation when it was used internally on him, he is a bit more of a wuss than I am and protested that it was burning, bringing our session to a swift end while he dashed off to the shower.
In Conclusion
Overall, the Kamikaze Angel Luxe Lube Aqua did not feel like it was a particularly luxurious lube. There are other lubricants on the market that last a session without reapplying which are silky and smooth, with less dripping.
That along with the stinging problems both hubby and I had with the product and my concerns over the male orientated wording of the product bio and packaging, I'm afraid I would not recommend this as a go-to lubricant. I'd therefore rate the product 5/10.
Thank you to Cara and Clonezone UK for supplying me with the Kamikaze Angel Luxe Lube Aqua free of charge in return for an open and honest review as part of the Pleasure Panel.
– Louise Lace
---
Where To Buy
Thanks to Pleasure Panel reviewer Louise Lace for this review of the Kamikaze Angel Luxe Lube Aqua (250ml Grenade Style Bottle). Buy yours here at Clonezone UK.
The Kamikaze Angel Luxe Lube Aqua was sent free of charge, in exchange for a fair and honest review by the Pleasure Panel, by clonezonedirect.co.uk. Thank you! 🙂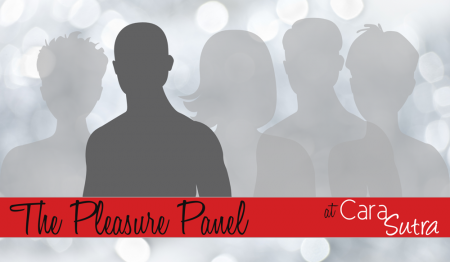 Unaffiliated review