Jimmyjane Hello Touch X with Electro Stimulation Review
By Pleasure Panel reviewer Miss Eve E
Thanks to the Pleasure Panel (which you should totally support on Patreon) Cara Sutra has kindly sent me the Jimmyjane Hello Touch X with Electro Stimulation from Bondara to review.
The Basics
The Jimmyjane Hello Touch X with Electro Stimulation made from medical grade silicone, and the e-stim pads are stainless steel. It has two modes, vibration, and electrostimulation. The two seperate leads and pads plug in to the battery that has three buttons – plus, minus, as symbols and an on/off button. It is waterproof, but I wouldn't recommend dunking it all in the bath. It also has a cuff to pop the battery pack of the device in so you can carry it around.
In regards to the packaging, I quite like the it, but there is a lot for the amount of toy you get, you could bundle it all up into one of the corners of the boxes.
My Opinions
For once the Gent has more opinions on using the toy than myself, after all he was the main guinea pig. However, I did attempt to use it a few times … I'm just going to say it – I hate the Jimmyjane Hello Touch X with Electro Stimulation. I wanted to love it, I really did – it sounded exciting and novel when I first read about it, but I can't bring myself to say anything of substance positive about it.
The wrist strap is nigh on impossible to put on, the controller falls out of the 'harness', the buttons are hard to press through the harness strap, and half of the time I can't even find them because there's just too much material. Not to mention the USB style connectors easily fall out of the battery.
If you're hands don't like vibrations, this isn't the toy for you. There's only one level of vibrations, and they travel through the finger and up the hands. It's also bloomin' fiddly to put on! The Gent had to put them on me. Though the bands on the finger straps are supposed to be stretchy, the straps also hurt my fingers, and my fingers are pretty small. On the Gent's hands they squeezed them and he wasn't too happy about that.
I tried to use the e-stim portion, but I had absolutely no clue how to get it on, and the odd chance it did turn on (the electric current only runs when your fingers ar facing down, and on skin) according to the Gent it went to that painful sort of e-stim, even though there are supposedly multiple levels. One the whole it's useless as any sort of e-stim component, and dangerous. There's no mention in the quick start guide that you should no use electrostimulation above the waist, across the heart, or on the neck amongst other e-stim safety measures. As someone that dislikes reading manuals, and likes to skim the 'quick start' portion, to then delve right in with playing, it's appalling that no warning is there. There is a preliminary warning about pace makers, IUDs, etc which is a good start, but they could do with going one step further. Please, please, please read up o e-stim safety before trying any e-stim, and listen to your body if your nerves are sensitive.
One last negative (though I'm sure I could go on for days), is though it says it is internal, I definitely wouldn't any part of this toy inside of me. It's too unpredictable as an electrostimulation device, the vibrations are harsh, and uncomfortable.
Two tiny little positives; I know there was a previous version of the Jimmy Jane Hello Touch X Vibrator, and the one of the two positives I can give this toy is that it's a better colour – I'm biased I like black. The other, is that if you're using the e-stim it does shut off after itself off after 12 minutes of constant usage, but that's it.
Read up on e-stim safety, don't rely on this sex toy to give you any proper safety measures or warnings.
The Gent's Opinion:
I am very happy to announce that the Gent has decided to give me a full on review, with sentences, and a darn good critique. So, I shall leave you in his loquacious hands!
"To start it's very hard to use. I couldn't tell if it was on or not, especially in vibration mode which led to a lot of 'not fun'. Also when in moment, and excited it detracts from any arousal because it's difficult to put on, set up, and configure.
In regards to the e-stim portion, utter garbage. It's got different modes but when you turn it on you don't know which mode or level it's on. When you press the button you've got no clue what's going on so you press the button more and then suddenly it just hurts. If you ignored the e-stim side entirely, I don't know what you could do. You could put it on the clit maybe, but there's barely anything there."
Conclusion
The Jimmyjane Hello Touch X with Electro Stimulation is not user friendly, it's more a source of frustration than arousal, and the Gent is vehemently opposed to it – that's impressive. The only minor positive is that it's black. That's it, but that's not good enough for a toy with this price tag.
0/10
– Miss Eve E
---
Where To Buy
Thanks to Pleasure Panel reviewer Miss Eve E for this review of the Jimmyjane Hello Touch X with Electro Stimulation.


Thie Jimmyjane Hello Touch X with Electro Stimulation was sent free of charge, in exchange for a fair and honest review by the Pleasure Panel, by Bondara. Thank you! 🙂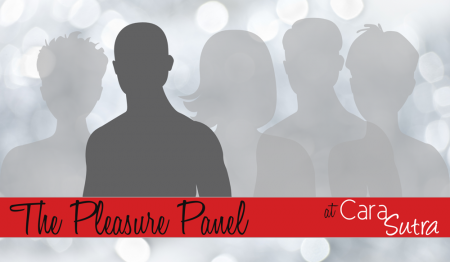 This review contains affiliate links.