ID Glide Water Based Lube Review
By Minxy Mischief
Thanks to Cara Sutra for sending me over some ID Glide Water Based Lube to test and review.
Enjoy all our ID Glide reviews
I have tried a lube or 2 in my time but I don't think ID Glide has been one of them so was interested in finding out for myself what it was like, I had heard some good things.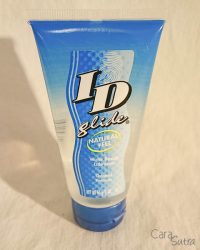 The tube of ID Glide Water Based Lube came with a flip top lid but I found it was sealed so knew it hadn't been tampered with. ID Glide natural feel, original formula is a water based lubricant. It is compatible with latex and polyurethane condoms. Unflavoured, fragrance free and non staining.
I had left the ID Glide Water Based Lube tube out so that my boyfriend and I could try it. I had been busying myself while my boyfriend was in the shower, I went in the room to find him lying down and trying out the ID Glide, I couldn't help myself and joined in, in the name of testing you understand! It felt nice and slick to use without being sticky. I thought it was a good opportunity to see if it was unflavoured like it claimed. All I could really taste was that clean, just out the shower taste, couldn't detect any taste from the lube at all. I couldn't really detect much of a smell from it either.
I thought it was only fair that we try the ID Glide Water Based Lube on me too. I found that the lube was a little on the runny side but I have found that thicker is not always better. After just working the lube into myself for just a few seconds, it almost felt like I wasn't using any lube at all!
It felt very natural, like it was working with my body and not an added extra. Again I didn't find it sticky which I really dislike about some lubes. It didn't dry out while I was using it, I imagine it would dry out eventually but I haven't reached that point.
I have to admit that the first time I tried the ID Glide Water Based Lube I had totally forgot that it was 'natural feel' while I was using it and it wasn't till afterwards when I was cleaning up I picked up the tube that I noticed that it was in fact natural feel. Well done ID Glide, it's nice to come across a lubricant that actually does what it claims. Not had any stains on the sheets or anywhere from it.
ID Glide Water Based Lube is a great all round water based sex lubricant, be it for solo play for males and females, with or without toys and for couples play. I would be more than happy to have a bottle of ID Glide Water Based Lube on my bedside cabinet to have to hand when it's needed.
Pros – Natural feel, unflavoured
Cons – Yet to find any
Overall – Good all round lube for all kinds of play
– Minxy Mischief
---
Thanks to Pleasure Panel reviewer Minxy Mischief for this review of the ID Glide Water Based Lube.
This product was sent free of charge, in exchange for a fair and honest review by the Cara Sutra team.
This review contains affiliate links