ID Glide Natural Feel Water Based Lubricant Review
By Lightweight Toucan
I've never used the ID Glide Natural Feel Water Based Lubricant from ID Glide's lube range before, so I went into this test blind.
Enjoy all our ID Glide reviews
First Impressions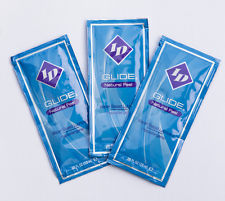 When I ripped the blue sachet of water lube open and squeezed some onto my fingers, the aroma made its presence know. It smelled like expensive hand cream, the kind you'd find in an expensive Parisian perfumery. I sniffed it, just to make sure. Lo and behold, its the lube! What a lovely smell for a lube, its delicate yet refined, it made me want to use this immediately, it made me tingly!
Feel & Use
The feel of the lubricant was even better than the smell (just!). This is a water based lube, yet it feels so silky and oily on my fingers, and a small amount just kept giving and giving. Lube is one of my favourite bedroom accessories, and this one made me want to use it badly, in as many ways as possible. (Yes, I love lube that much that a good one turns me on).
Using the ID Glide Natural Feel Water Based Lubricant was a blast, I used it as many ways and with as many toys as possible. It kept its glide, it refused to turn sticky no matter how long I used a small amount. The only complaint I'd have is cleaning up. The lube made a bit of protest when trying to clean it off myself, (I use condoms on my toys to prolong their life), and I ended up having to have a shower. But I think that's a good pay off for an excellent day in bed!
Score
9/10 to the ID Glide water-based lube. I can't wait to get more of this!
– Lightweight Toucan
---
Where To Buy
Thanks to Pleasure Panel reviewer Lightweight Toucan for this review of the ID Glide Natural Feel Water Based Lubricant.
This product was sent free of charge, in exchange for a fair and honest review by the Cara Sutra team.
This review contains affiliate links