How To Train A Man In 7 Easy Lessons by Chloe Hornett
Pleasure Panel review by Kerrie Lacey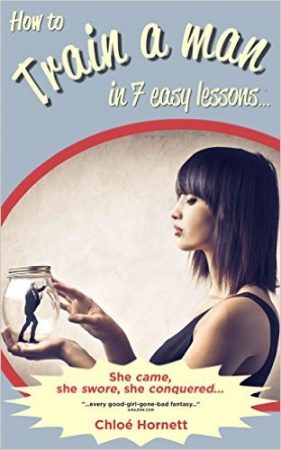 I received How To Train A Man In 7 Easy Lessons by Chloe Hornett to review as an eBook, however this book is also available in paperback on Amazon.
I wasn't sure what to expect when I received the book, purposely not looking at any reviews before reading it.
Would it be  'teach yourself how to be a Femdom' full of tips and hints from those in the know? I was half hoping it would be, because I show a little too much concern for my sub when trying to be dominating, which rather negates things I'm told.
The book starts with an encounter between the books initial protagonist Venecia and an, at that point unnamed man. I say initial protagonist as I feel this changes as the story moves on.
As the plot unfolds we are introduced to Sadie, a girl living without much going for her who, in time, takes over the protagonist reins from Venecia, under her tutelage.
On a night out with her sister and friends she has a bit of a run in with Jerome and his friend John in a casino. Let's just say that there is no love lost between Sadie and John as the evening passes, so imagine her surprise when Jerome sets up the opportunity to ask her to meet John.
Sadie decides to meet John, incurring the wrath of her already disapproving sister for borrowing a dress with history and so the story really begins.
He is, it turns out, is a millionaire with a dark past. Mind screeches to a halt, thinking 'OK, Shades of Grey'
I'm not going to spoil the plot but suffice to say there's very little similarity between him and Mr Grey, beyond being a millionaire and having similar tastes but with a twist, although there are some similarities in the plot, with Sadie initially being a little out of her depth with what is asked of her and the outcome seeing adapt things to suit them both.
He offers her a job – after she sees an ad for a web developers post – getting an interview finding out it it's him. It turns out to be something a bit different. Enter Venecia, who gives her an insight into what she and John expect from her, followed in time by the seven lessons.
The book is erotic, the scenes of Sadie putting her slant on John's training are very hot and I never think of a deep fried Mars Bar ever again without my juices flowing – I have to say I don't like eating Mars Bars, so I hope you get the picture!
There are some comedic moments, some very erotic yet tender moments
with Sadie adapting and in the end enjoying what the lessons have taught her.
Back to me – I don't feel any more dominant than I did before reading it and I laughed when Sadie ordered him to 'clean the flat' with 'sometime this week' being added as an afterthought – would be something I would say in that situation. Maybe giving up on anything but submission is my way forward?
The ending is a little abrupt for me – did they meet Venecia's final challenge or were they just happy with each other slipping in and out of their roles and in love with each other enough not to try and prove their success or failure to Venecia? This left me feeling a little like I was left hanging and not really completing the story for me.
I'm glad there was a little nod to Venecia's back- story. I have to admit to not really liking her but felt a lot of empathy after reading her experience. It left me wondering if Johnny was John?
The book was well written with great erotic descriptions and with a little air of chick lit in places – which some might think sounds a little insulting in some ways but I felt gave a deeper breadth to the story and made it such an easy read.
Despite the, for me, abrupt ending I enjoyed the book. The characters were broad enough for me to invest in them, caring for them and interested to know what would happen in the end.
I would give How to Train a Man in 7 Easy Lessons 8.5/10
– Kerrie Lacey
---
Thanks to Pleasure Panel reviewer Kerrie Lacey for this guest review of the How To Train A Man In 7 Easy Lessons by Chloe Hornett (£6.99)
This book was provided free of charge by the author in exchange for a fair and honest review by the Pleasure Panel. Thank you!
Useful Links
This review contains affiliate links