House of Denial Holy Trainer V2 Small Clear Chastity Device Review
House of Denial Holy Trainer V2 Small Clear Chastity Device review by Tigerlily
Locking up a man's penis is an empowering act, and on the receiving end, being placed in chastity is that of ultimate submission. Any salacious thoughts will quickly end in frustration. If you're looking to bring a little of your sexuality into everyday life, a chastity device is a great discreet way to start.
But not all chastity devices are made equal, and failure to choose wisely may result in more discomfort than intended, and the inability to wear it for extended periods of time.
The House of Denial Holy Trainer V2 Small Clear Chastity Device is fantastic for beginners: a perfect introduction to getting your cock caged. It's reasonably priced too, at just under £35 for a complete set, including the unique cylinder lock. Let's take a closer look at the Holy Trainer v2, and see why it might be just what the dick in your life needs.
Design, Materials and Packaging
The House of Denial Holy Trainer V2 Small Clear Chastity Device comes in a delightfully cute zippered carry case – ours was translucent brown PVC. It's easily large enough to hold the complete Holy Trainer set, and then some.
I opted for the clear version of the Holy Trainer, but it's also available in pink, white, black, or a special metal edition. You have two size options to choose from which relate to the length of the cock cage: demonstrated in this review is small, at 48mm. Regular is also available, with 60mm length – but you'll need to choose at the time of purchase.
All the Holy Trainers also come with 4 different ring sizes, so you needn't specify this and can experiment with a tighter or looser fit as you like. These have an internal diameter of 36, 40, 45, and 50mm.
For those into a more extreme play, House of Denial also offer a spiked cage. You have been warned!
The cage and ring part of the House of Denial Holy Trainer V2 Small Clear Chastity Device are made of what they describe as "biosourced resin", which is easy to clean, hygienic, and super durable. A simple wash with warm water and soap, or a toy cleaner wipe, will be enough to keep your Holy Trainer clean. Don't use an abrasive sponge though, or you may ruin the translucency of the plastic. It's claimed that once the bio-resin reaches body temperature, it'll soften up slightly, and you'll barely notice it's there. Unless you get the spiked version of course – you probably won't be able to forget that. It's certainly comfortable, but I'm not sure I felt it soften up at all.
On a quick safety note, it's apparently also better at absorbing shocks than other polycarbonate plastics. The last thing you want is a cock cage that will shatter into sharp pieces. I expect to see this sort of resin used in more products in the future.
There's a hole at the end of the cage so you can pee while wearing the device, enabling you to wear the House of Denial Holy Trainer V2 Small Clear Chastity Device for days or weeks at a time. Though I've yet to wear it for more than a day or two at a time, I've not had any hygiene issues so far.
Two smaller holes on either side provide a little air flow, but there are no large open bits that your flaccid cock can accidentally slip through as some other cages have.
There's a thin but visible mould line down the centre of the cage, but it can't be felt from inside and doesn't detract from the overall look at all.
Speaking of looks, it's just so adorable – but the photos probably speak for themselves. The House of Denial Holy Trainer V2 Small Clear Chastity Device is sleek, easy to hide under clothing, and if you opt for the translucent design then you can see just how excited the cock inside is.
How to Fit The Holy Trainer
If you're unfamiliar with this style of chastity trainer – a "trapped balls" design – let us give you a quick walkthrough.
First, correctly orient the ball ring so the convex side faces outwards, following your natural pubic contours. Pull through as much of your ball sack and balls as you can, then when the ring is behind both balls, push through the cock. You need to be limp at this point, an erect cock is never going to work. If you have difficulty with this, try fitting it around your cock first and then push through your balls, but it'll be a tighter squeeze.
As mentioned, the House of Denial Holy Trainer V2 Small Clear Chastity Device is supplied with four different rings, so do take the time to experiment and find the right one for you. I found the 45mm ring was best for me.
Once the ring is flush against your body and pubis, put the cage onto your penis and carefully slide it into the rails of the ring. This may be a little tricky on your first few tries due to the small tolerances, but after a while it should slide in easily. Once it's been pushed all the way to the back of the ring, proceed to the lock.
The Lock
The House of Denial Holy Trainer V2 Small Clear Chastity Device is supplied with a cleverly simply cylindrical lock with a straight section protruding from one edge. Two keys are provided in the set.
The end of the cylinder rotates ever so slightly when the key is turned, such that the straight section running down the length will be pushed out of alignment. When the key is in, the end can be rotated and placed back in alignment. The key can only be removed from the lock when the cylinder is out of alignment, so there's much less chance of losing the small lock when not in use.
To lock the device, place the key into the lock and align the two ends. Slide this through the cock cage and ball ring. I found that I needed to place a thumb on the ring and push up slightly from the tip of the cage in order to get the locking hole aligned enough for it to push through, and sometimes it took a little more wiggling around to get everything to align right.
Once all the way through, turn the key to twist the end of the lock. You can now remove the key, and the locking cylinder stays fully hidden within the cage and ring. I must say I must prefer this style of lock to an external padlock, which can tend to stab at you under tight jeans, get caught on fabric, or just stick out unnaturally. There's no chance of fiddling with this lock.
Once it's on and assuming you've got the appropriate ring size, there's really no pulling it off, unless your balls are capable of some insane cat-grade contortion. You could try to pull your penis out of the back, but then you'd have to try and squeeze it back again before your Master or Mistress found out, and the whole thing would still be locked on your balls.
To unlock, insert the key, turn so the end bit is aligned again, then carefully pull on the key to extract the lock from the cage.
I really love this mechanism. On the downside, the lock could be difficult to replace if you ever lose it, and the device doesn't really function without it. You could try a thin cable tie or single-use plastic tag, but I suspect it wouldn't work nearly as well.
Comfort
I'm not hugely experienced with chastity cages, but I've tried a few. First impressions were, without doubt, the House of Denial Holy Trainer V2 Small Clear Chastity Device is the most comfortable. There's no obnoxious sharp or pointy bits, and four ring sizes provided allow for all body types and experimenting with something a little tighter if you want. No lubricant is needed to put the Holy Trainer on either, which I have had to resort to in the past.
So let me clarify my previous experience and put this in context. I've limited my chastity adventures to an hour at most, mainly because of sheer discomfort that develops. I had assumed that long-term chastity just wasn't for me, and that we would be limited to enjoying the act only during play sessions.
I'm happy to report I had none of that with the House of Denial Holy Trainer V2 Small Clear Chastity Device, and was able to comfortably wear it for many hours at a time.
In fact, it was so comfortable that I was able to wear it throughout the night on my first try! This was absolutely a new sensation for me. Not only did I sleep through the night, but I was more than happy to keep it on the next day as well. Nighttime chastity can be difficult for many people due to unwanted night erections, but that just wasn't my experience. Any erections at night or otherwise were short-lived or just couldn't happen at all.
For a real erection stress test, I locked it on, strapped on a VR headset with some favourite porn, then cuffed myself to the ceiling with a time lock for 30 minutes. It was brutally frustrating, but despite being about as turned on as I could be, I just couldn't get fully erect.
Of course, there's still a certain sensation when wearing the House of Denial Holy Trainer V2 Small Clear Chastity Device. It is, after all, a ring around your balls and a cage that's locked on your cock. It's a constant reminder of your ultimate submission. But it's not uncomfortable, and you certainly shouldn't feel any pain.
Who is the Holy Trainer For?
There are many reasons to keep a man locked in chastity, and many reasons they will willingly submit.
If a man has admitted a porn addiction, keeping their dick locked up will put a quick stop to that.
Some just enjoy the constant reminder that they're owned, having given up the ultimate control to someone else. I'm not into the 24/7 submission lifestyle, but the House of Denial Holy Trainer V2 Small Clear Chastity Device is invisible and can be brought safely into everyday life without it being too imposing.
Whatever the reason, there's a clear psychological effect to having your manhood locked away, and the key given to someone else. I've genuinely found myself being more attentive and submissive in daily life, not just in the bedroom.
If you're relatively new to male chastity, I can absolutely recommend the House of Denial Holy Trainer V2 Small Clear Chastity Device. Really, the highest praise I can give it is to tell you that I've gone from playing with chastity as just another toy during bondage sessions, to wearing the Holy Trainer almost every day and night. That's how good it is.
10/10 
– Tigerlily
---
Where To Buy
Thanks to Pleasure Panel reviewer Tigerlily for this review of the House of Denial Holy Trainer V2 Small Clear Chastity Device.


The House of Denial Holy Trainer V2 Small Clear Chastity Device was sent free of charge, in exchange for a fair and honest review by the Pleasure Panel, by houseofdenial.com. Thank you! 🙂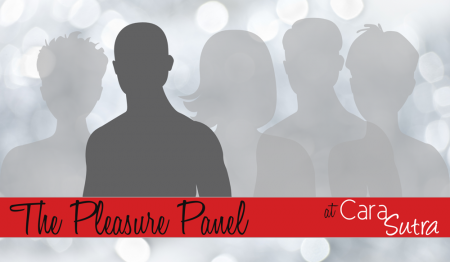 Unaffiliated