House of Denial HoD600 Standard Black Silicone Chastity Device Review
By Ruffled Sheets
The House of Denial HoD600 Standard Black Silicone Chastity Device is a very affordable, comfortable introduction to chastity. It's very similar in design to the CB6000, a device that I always recommend to people. However, due to the rigidity of the silicone used in this device (there is barely any), the design is flawed if intended for use as a serious chastity device. For this reason, I can't really recommend this device for anyone other than a beginner who is interested in chastity, but perhaps a little unsure of what to expect; or somebody who wants a comfortable device that will only be worn for very short periods of time (an evening, for example). But if that describes you then read on.
Like many, but not all, off the shelf devices, the House of Denial HoD600 Standard Black Silicone Chastity Device comes with a number of different size rings, 5 in total. This is one reason this device might be handy for a beginner. Custom chastity devices can be very expensive and it's not worth risking spending hundreds of pounds if you're not sure the ring will be the right size. Because these rings are soft silicone, they bend a lot, so they're not a perfect way of determining size, but they'll give you an indication.
Chastity devices work by keeping the penis enclosed and, more importantly, pointing downwards. This helps to keep any erections at bay. This is where the House of Denial HoD600 Standard Black Silicone Chastity Device falls down as a serious device. The silicone is soft, as you might expect, so it simply does not keep the penis down at all. Most silicone devices solve this issue by attaching the cage to the back ring with a strap, thus keeping the penis pointing downwards at all times. The HoD600 does not have such a strap, or any other way to keep the cage rigid, so escape isn't merely a possibility, it's inevitable. The CB6000, with it's similar (and may I add, original) design works perfectly because it's polycarbonate and extremely stiff. Such designs simply cannot work when crafted from flimsier materials.
This tendency of the cage to move around makes putting it on a bit difficult, so don't be put off chastity if you find it a little awkward. It's all too easy to pop out when trying to slide your penis into the cage, an issue that does not occur with a stiffer device (or indeed a better designed silicone one). Once on though, it is extremely comfortable, as you'd expect from a silicone device.
Wearing the device under clothing is absolutely fine, but you do have to wear tight underwear as it has a tendency of sticking out (due to the above rigidity issue). If you're happy to wear briefs or similar, you'll be fine. It's also comfortable to sleep in, although I can almost guarantee that you'll have escaped when you wake up. I certainly haven't managed to sleep through the night without it being half off. Erections will also do the same thing. They'll push the cage upwards until you pop out, asleep or not. In fact, it's so easy to escape that I actually find the easiest way of removing the device is without undoing the padlock.
Cleaning wise, as with any silicone device, removing every day (or every other day) is recommended. Silicone can stick to skin very easily and enclosed devices always mean that more skin is touching. You probably could try cleaning in the shower whilst still wearing it, but you're very likely to pull at least the cage off accidentally, so you may as well remove it and give it (and yourself) a proper clean.
I know I've mentioned a few times about how insecure this device is; and it really is. The padlock is not necessary at all. I have more secure non-lockable devices. But it still does have its place.
If you've never experienced chastity before and want something to ease you into it, something comfortable, something not too expensive, something that you're not going to worry about *because* you know you can escape, then this is one you should look into. The House of Denial HoD600 Standard Black Silicone Chastity Device is cheap, it comes with a bunch of rings so you can ensure a good fit (for it, and indeed any future chastity devices) and it looks pretty good, too!
Thanks so much Cara for sending it my way xx
2/10
– Ruffled Sheets
---
Where To Buy
Many thanks to Ruffled Sheets for this review and his fabulous photos of the House of Denial HoD600 Standard Black Silicone Chastity Device.


The House of Denial HoD600 Standard Black Silicone Chastity Device was sent free of charge, in exchange for a fair and honest review by the Pleasure Panel, by houseofdenial.com. Thank you! 🙂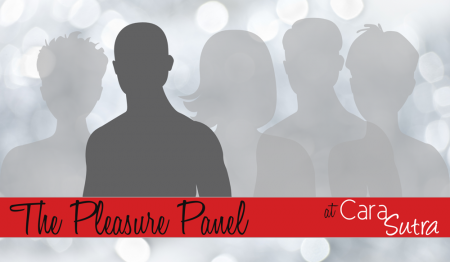 Unaffiliated