GODEMICHE Pearlescent Ambit G-Spot Dildo Review
By Pleasure Panel reviewer WrigglyKitty
I purchased a GODEMICHE Pearlescent Ambit G-Spot Dildo as a present for myself as I'd been eyeing them up for ages and saw they had a special offer on. The dildo normally retails at £30 for the standard base design and I got mine for half-price.
GODEMICHE has come under fire recently for a careless comment on social media, but they've completely owned up to what happened and have gone above and beyond, in my mind, what they needed to do and I'm happy to spend my money with them for this reason.
Options
Of all the options, I chose the purple colour and the standard base. There are fifteen colour options currently listed and three base designs; the standard one which I chose is a circular flared base, also suitable for strap-on harnesses. The other two options are a suction cup (for an extra £5) and a vibrating version that includes an RO80 bullet vibe, costing an additional £12.
Packaging
The GODEMICHE Pearlescent Ambit G-Spot Dildo arrived quickly in a plain brown box and there was no outward sign of the contents or the supplier. On opening, I found the dildo security and hygiene sealed in a resealable plastic wallet. It looked very classy, other than the dildo looked a little squeezed into the packaging. Perhaps if the bag had been a little bigger, it would have been a better first impression, but I am nit-picking.
I like the idea of the reusable bag as it will help keep the silicone clean and fluff-free. One thing I did think was missing was care instructions or mention of where to find them. I did look cleaning instructions up on their website and saw they recommend soap and water, toy cleaner or even the dishwasher. They also suggest water-based lubricant to prevent degradation of the toy with silicone-based lubes.
First Impressions
Unlike cheaper jelly toys, there was no smell when I opened the pack and the GODEMICHE Pearlescent Ambit G-Spot Dildo itself is made of non-toxic, non-porous, body-safe silicone. The GODEMICHE website says that the materials used have been ethically tested – not on animals. It felt really nice in my hand, very smooth (other than some tiny bubbling on one side, but as I found out, it doesn't make any difference to the texture when used and it certainly hasn't affected the material integrity of the dildo upon close inspection). The base was entirely smooth and the pattern gorgeous. The only sign of a manufacturer's mark is a small debossed 'G', giving the overall impression of a great quality item.
Design
I'm not a big fan of vibrating vaginal toys as I struggle to turn them off at the point of orgasm. Although I do own a glass dildo, I find it too hard and the curve isn't enough. The GODEMICHE Pearlescent Ambit G-Spot Dildo has a small amount of give when pressure is applied and I was pleased that it's rigid enough to hold its shape without the dreaded 'flop'. I loved the look of the curve – it's a distinct and well-thought through design feature, rather than a throwaway additional detail and I couldn't wait to try it.
During Use
I used a water-based lubricant but applied too much – the GODEMICHE Pearlescent Ambit G-Spot Dildo is so smooth it only needs a small amount. It slid in easily and I enjoyed the feel of its 5.5″ length, particularly when the tip pressed against my vaginal wall. It did keep sliding out, when I wanted it to stay still and had to squeeze my legs together. Doing this, I found the base a little wide and it dug in to my inner thighs.
It obviously hit me in all the right places though and its diameter was enough that I really could grip round it as I came, adding to the feelings of pleasure. I surprised myself by coming twice, the first time I used it, which is highly unusual for me.
Clean-Up
Afterwards, I rinsed the GODEMICHE Pearlescent Ambit G-Spot Dildo before using toy cleaner and after air-drying, returned it to its packaging for use another day (or two, or three!).
Rating: 9/10. Beautiful handcrafted dildo that really hits the spot, worth every penny.
– WrigglyKitty
---
Where To Buy
Thanks to Pleasure Panel reviewer WrigglyKitty for this contributed review of the GODEMICHE Pearlescent Ambit G-Spot Dildo. You can buy yours from the GODEMICHE website.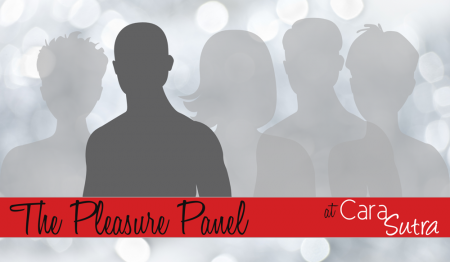 This review contains affiliate links.